We recently moved to the beautiful island of Puerto Rico.  I was a little nervous about the culture shock of leaving our hot, dry desert city and adjusting to small town, island life.  It sounds weird, but it turns out growing up in Phoenix has actually prepared me for living in Puerto Rico.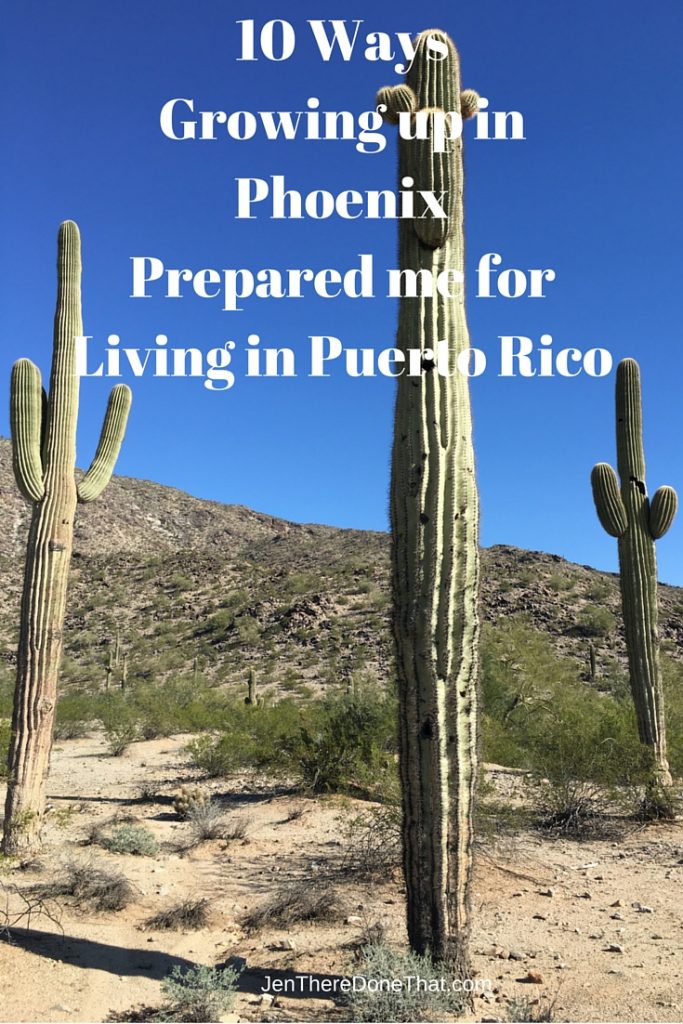 Here are 10 ways growing up in Phoenix, Arizona prepared me for living in Puerto Rico:
Close connection to foreign countries. 
It is faster to drive to Mexico from Phoenix than any state in the US, Mexico is Arizona's neighbor to the South.  Likewise, Puerto Rico's closest neighbors are definitely not the US mainland (Hello Dominican Republic and British Virgin Islands)
Everyone is (a little) Bilingual
Anyone who grew up in Arizona speaks at least a little Spanish. I even attended a bilingual elementary school for English as Second Language (ESL program).  Everyone speaks a little English in Puerto Rico.  Many people are fully bilingual in both Arizona and Puerto Rico.   Admittedly, Arizona Spanglish is a different dialect that the Puerto Rican Spanish, but it is a good foundation to build upon.  Plus I was always really good at charades, so I can act out many difficult phrases.
There are more Snowbirds than Local Residents half the year
Winters in Phoenix are overrun by people from the Mid-west desperately trying to escape the cold and warm up.  Since arriving in January, we have seen the population dwindle as the snowbirds leave the island for summer.  I just cannot escape snowbirds!
Stupidly High Sales tax
Visitors and residents from low sales tax states are often shocked at the total price after sales tax in Puerto Rico – it can really screw up your budget and trip planning!  Many cities in Arizona are right around 9% sales tax, Phoenix is at 8.6% and Puerto Rico recently surpassed this at 11% sales tax.  The stupidly high sales tax hurts less when you are already used to it.
No Daylight Savings Time
Neither Arizona nor Puerto Rico have any need to save daylight, or are silly enough to change the clocks twice a year.  Seriously, how is DST still a thing?
Lizards and Crawly Critters
The Phoenix desert is crawling with poisonous and venomous critters.  There are plenty of geckos and lizards in Puerto Rico, but none of the animals or insects in Puerto Rico are poisonous!  It is a relief to see all of the various new wildlife everyday knowing that none of them are dangerous in Puerto Rico.
Flash Floods
Phoenix has a hot, dry desert climate with very little rain, except for summer monsoon season and winter rain storms.  These two rainy seasons bring high humidity (30-50% humidity) and lots of rain in a very short period of time, resulting in flash floods. The rainy season of Puerto Rico is officially April through November, with plenty of rain the other months of the year.  As I sit outside writing this, 5 minutes ago it was sunny and blue sky, minutes later it is pouring rain.  Rain can come suddenly , and hit hard in both Phoenix and Puerto Rico.
Sunshine Year Round
Phoenix is the Valley of the Sun, with over 300 days of sunshine every year.  Puerto Rico easily matches those sunny days.  Sunblock is part of my everyday routine, and I never leave the house without SPF 30 or more!
Same Wardrobe
My wardrobe in Phoenix is dominated by shorts, sandals, and "summer" dresses that I wear year round.  Not only did I not buy any new clothes to move to Puerto Rico, I was able to reduce my overflowing closet prior to the move.  My Phoenix clothes are my same everyday clothes for Puerto Rico.
Same Activities
My favorite activities in Phoenix are hiking, swimming, outdoor food events, spa treatments, museums and art.  These are also my favorite activities in Puerto Rico! I have more options for swimming, and I now get the added bonus of SCUBA diving!
There are certainly adjustments to be made living in Puerto Rico, and these 10 things have made the transition much easier than I thought!