We recently moved to the beautiful island of Puerto Rico.  I was a little nervous about the culture shock of leaving our hot, dry desert city and adjusting to small town, island life.  It sounds weird, but it turns out growing up in Phoenix has actually prepared me for living in Puerto Rico.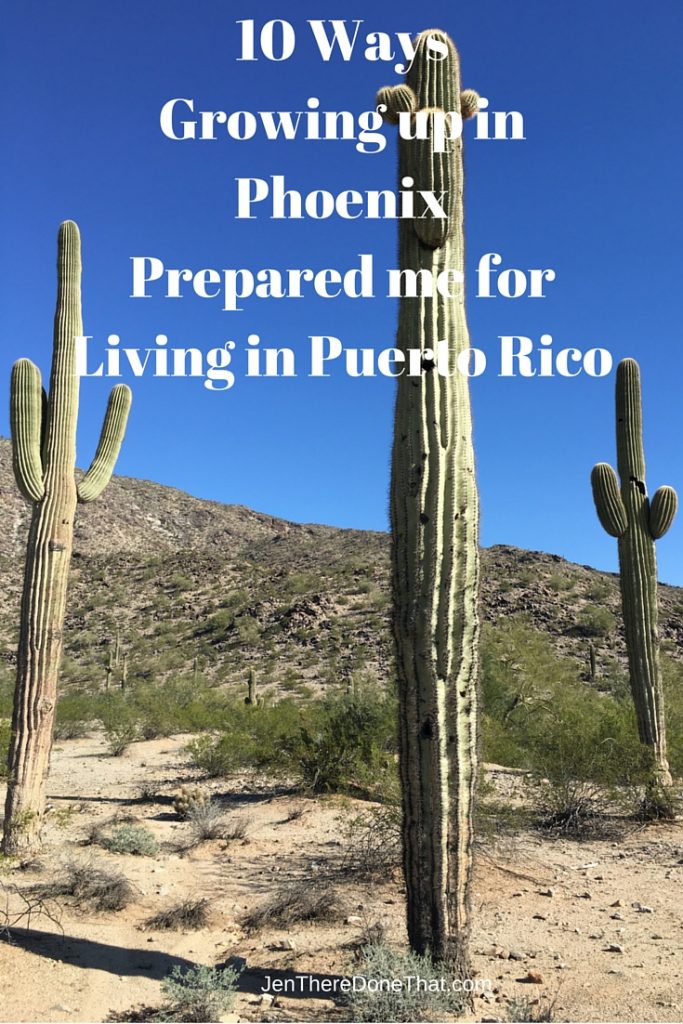 Here are 10 ways growing up in Phoenix, Arizona prepared me for living in Puerto Rico:
Close connection to foreign countries. 
It is faster to drive to Mexico from Phoenix than any state in the US, Mexico is Arizona's neighbor to the South.  Likewise, Puerto Rico's closest neighbors are definitely not the US mainland (Hello Dominican Republic and British Virgin Islands)
Everyone is (a little) Bilingual
Anyone who grew up in Arizona speaks at least a little Spanish. I even attended a bilingual elementary school for English as Second Language (ESL program).  Everyone speaks a little English in Puerto Rico.  Many people are fully bilingual in both Arizona and Puerto Rico.   Admittedly, Arizona Spanglish is a different dialect that the Puerto Rican Spanish, but it is a good foundation to build upon.  Plus I was always really good at charades, so I can act out many difficult phrases.
There are more Snowbirds than Local Residents half the year
Winters in Phoenix are overrun by people from the Mid-west desperately trying to escape the cold and warm up.  Since arriving in January, we have seen the population dwindle as the snowbirds leave the island for summer.  I just cannot escape snowbirds!
Continue reading "How Growing up in Phoenix Prepared Me for Living in Puerto Rico"