Outside of San Juan, just a few minutes from the Airport, is beautiful Isla Verde district of Carolina, Puerto Rico. Close enough to Old San Juan for the tourists, convenient for business in San Juan city center, and perched on the northern coast beach. We stayed at the Courtyard Marriott, but any of the beach front hotels in Isla Verde or Condado are a good choice. The area is a popular destination for business conventions, family vacations, and weekend getaways from the Mainland South and East Coast cities.
The beaches are clean with perfect temperature water year round. All beaches are open to the public and there are many beach gazebos and facilities.
Unlike many islands in the Caribbean, we did not see any vendors on the beach. It was pleasant not to be disturbed by t-shirt sellers and various hawkers.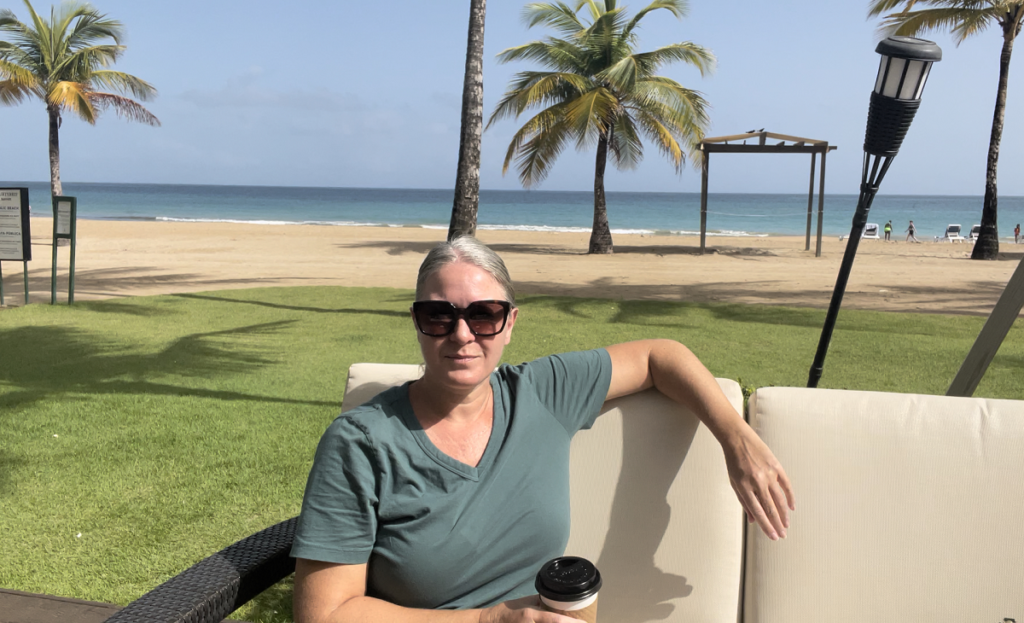 Each of the resorts offer beach chairs and umbrellas to guests. There are jet ski rentals and surf schools all along the beach.
A rental car is not necessary, but Enterprise rental car is down the block for any island adventures outside of San Juan.
Isla Verde offers plenty of delicious, local restaurants walking distance from the beach.
After extensive research, I am happy to report that Platos Restaurant serves excellent pork and the best Pina Colada in San Juan (even better than Barrachina – home of the Pina Colada!).  
There are plenty of great activities to enjoy nearby, including VIVO Beach club next door and Museums and more activities during rainy weather or not so great beach days.
Isla Verde is a great area for a relaxing beach getaway in Puerto Rico!