After Living in Puerto Rico for 3 months, we finally went to El Yunque rain forest on the Northeast corner of the island. The lush tropical rainforest is consistently one of the top recommended destinations in Puerto Rico, for good reasons. The unique landscape and sweeping views will take your breath away!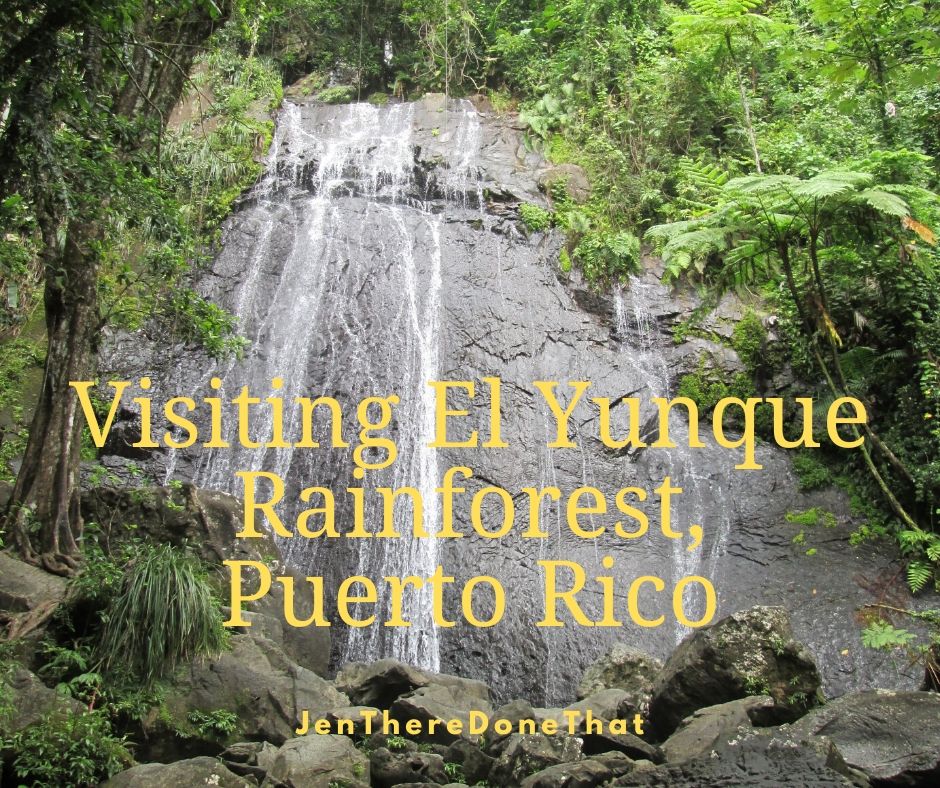 Fees and Reservations
As of July 2020, there is now a $2 per vehicle entrance fee. Reservations and payment are required for entry, there is no same day or cash entry options. You can reserve up to 2 vehicles on a reservation, and the person named on the ticket must be in one of the vehicles. Tickets are available up to 30 days in advance.
To make your reservation create an account (or login to your existing account) on Recreation.gov and select reservations for El Yunque Rainforest trails.
What to Wear
Shoes: Wear study hiking/trail shoes for any of the moderate, difficult, or very difficult hikes. Water shoes and sport sandals with tread are fine for the easy trails. La Coco falls is on the side of the road and Yocahu Tower is next to the parking lot, no need to even get out of the car to see either!
We planned to hike Big Tree Trail to La Mina falls for the hiking and waterfall combo, so I wore my hiking trail shoes and packed my water shoes. Plus, flip flops for the beach stop after our hike. In reality, I only needed my trail shoes for everything.
Quick dry clothes: It is a rain forest, even if it is not raining at the moment, it is humid and moist. We had light rain in the afternoon as we were leaving the park.
Swim suit: There are a few bathrooms to change, but most locals wear swimsuits with a lightweight (quick dry) cover up. La Mina falls is a popular area to swim and cool off in the water.
Towel: Bring a towel to dry off after your swim, afternoon showers, or a particularly sweaty hike. It is a must have item for sitting around the rocks near La Mina falls.
Pro Tip: Bring waterproof bags (Ziplock bags work great) for car remote, phones, camera, and any electronics that are not waterproof.
Parking
There are a few, small parking lots, and parallel parking along the side of the road. If you have a specific hike or area that you want to explore, arrive early to avoid the crowds and to secure a good parking spot. We changed our hiking plans based on where we find a parking spot. At noon on a Sunday, we had very few parking options anywhere near the trail heads.
Trail Maps
The best trail maps were at the visitor center in the form of a giant mural. Each trail head is marked with another high quality large trail map with prominent "You are Here" arrow. This was perfect for us, since we could not park near our intended trail.
We started with a short loop hike at Bano de Oro Trail to a short section of El Yunque Trail back down to Bano Grande (Bath House, not a toilet), then from Palo Colorado down La Mina Trail to La Mina Falls and finally back to Palo Colorado parking area.
There are picnic areas and grill stations (if you arrive very early). There are also a few food stands and a restaurant located in El Yunque. We packed protein bars and found a quiet covered shelter to sit and eat near La Mina River.
Remember to bring plenty of water!
I "only" brought 1 liter of water per adult for our planned short hike and swimming afternoon activities. Since we changed our plans based on the parking situation, I would have added a longer hike if we had more water with us. Our next visit I plan to bring at least 2 liters of water (per adult), and keep another couple liters of water in the car for post hike hydration.
El Yunque rain forest is beautiful and serene, when you can avoid the crowds. There were not too many hikers out on a Sunday afternoon, but by 2 pm La Mina waterfall was packed with people with more on the way down the trail. I am excited for our next visit, when we plan to tackle El Yunque Peak and Los Picahos, or Mt Britton. We learned from our first visit to arrive earlier and be ready to change plans based on parking availability.
If you avoid the crowded areas you just might see one of the rare Puerto Rican Parrots.
Update July 2020:  Several trails are still closed from Hurricane Maria damage in 2017, including La Mina Falls & Big Tree Trail. Here is an updated list of what is open, what is closed, and full details on hiking Juan Diego Creek.