Cayo Icacos is a small, uninhabited island approximately 1 mile wide and over 1 mile long located 3 miles off the northeast coast of Puerto Rico. There are no restaurants, no shopping centers or vendors, no electricity, and no facilities of any kind. The little island is just lush green foliage and perfect white sand beaches.
Day Sail to the Pristine White Sand Beaches of Cayo Icacos
The best option to visit this tropical paradise is by boat. There is a water taxi service that departs just north of the El Conquistador resort in Las Croabas neighborhood of Fajardo, providing drop off and pick up service to Icacos as the least expensive option. A slightly more expensive option is the powered Catamaran sailboats that provide transportation, snorkel gear, shade, food & drinks, and (darn important) onboard bathrooms.
For us, the decision was easy – comfort and leisure on a Catamaran!
For our ride out to Icacos the Catamaran was running engines and the main sail. We enjoyed a more leisurely sail back using both sails and no engine assistance. Personally, I would prefer full sail for the entire trip.
Non-alcoholic drinks are served immediately after departing the dock. There are two scheduled stops, order depending on the weather and water conditions.
For our first stop, we anchored a few feet off the beach. The center steps are lowered into the water. Passengers walk down the front steps into 2-3 feet of crystal clear turquoise water and perfect powder fine white sand up to the beach. My head and shoulders stayed dry the short walk from the boat into the water and onto the beach. Waterproof phone cases (or ziplock bags) are recommended for phones and electronics, in case of a ill timed splash. My phone and drone were protected in a small dry bag that I held above my head.
The remaining evidence of two former docks on the west coast of the island.
We were warned that the island is so thick and lush, it is impossible to walk around the entire island during our short visit. Smaller boats and private charters will go to the backside (east coast) of Icacos, which is the only practical way to see the entire tiny island.
The crew prepares lunch while everyone explores the beach and water. There is plenty of time to eat lunch and enjoy the beautiful beach.
Rum drinks are served starting with lunch until "last call" on the return to the marina. Our excursion was family friendly, with many parents enjoying a refreshing rum drink while happy children played.
The second stop is a quick 10-minute journey along the west coast of the island to a healthy reef teeming with colorful fish at the north end of Icacos.
The crew provided bread and snacks to feed the hungry fish. Kids and adults alike giggled while feeding the large schools of fish surrounding the boat.
Snorkel gear and flotation devices are readily available, and fins were provided dock side for proper fit. Side gates are opened to allow adventurers to jump into the gorgeous water. The center steps are once again deployed for easy entry into the water and back up into the boat. We swam, snorkeled, floated, fed the fish, drank, and relaxed for several hours in the stunning Caribbean blue water of Icacos island. I am ready to go back!
What to Bring
Sunscreen – Apply sunscreen on the dock before getting on the boat and reapply every few hours!
Towel – In addition to drying off after a swim, your towel will serve as your seat cushion during the ride.
Swimsuit – wear your swimsuit on the boat. There are no changing areas on the boat or island. There are a few small bathrooms at Villa Marina docks making it difficult to change dockside, too.
Coverup or shirt – In case of cool breeze or just added protection from the sun, you will be glad that you brought a light weight coverup.
Sunglasses – protect those peepers!
Hat or visor (optional)
Camera and waterproof case (ziplock bags work great!)
Important Information, Before You Go
Villa Marina is located in Fajardo, just north of the much larger Puerto del Rey marina. Sailing from Villa Marina to Icacos is just over 30 minutes, depending on wind and weather conditions.
Since most of these boats depart from same location (Villa Marina), follow the same schedule for day sail, and basically serve the same food & drinks, the only difference is passenger capacity and the personalities of the crew.
We had an excellent day out with Salty Dog and their friendly (bilingual) crew!
Prices and information at time of our Sailing (January 2017), double check current prices and amenities before booking. Adult pricing only, be sure to check pricing and policy for children. Most of the sailing companies offer hotel pick up/drop off services for an additional fee (much cheaper option than taxi).
Cayo Icacos Catamaran Sailing Options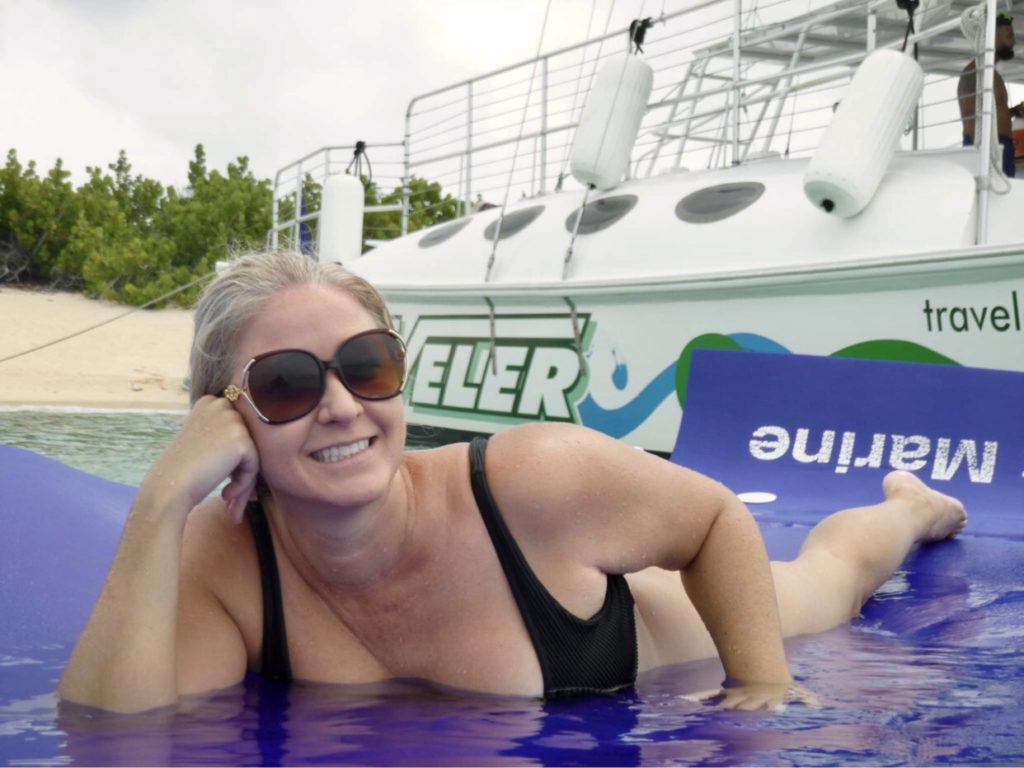 East Island Excursions – Prices start at $75 per person with multiple boat options, the smaller Zatara sail boat is $99 with 19 passenger capacity and upgraded food options. Departs from Puerto del Rey Marina.
Update: Day Sail Catamarans are currently operating at 50% capacity due to COVID. The buffet lunch is replaced with individual sand lunch with social distancing measures onboard.
Snorkel and Sailing trip on the Zatara with East Island Excursions February 2018 to Cayo Icacos.
The Fajardo to Icacos Water Taxi starts at $25 per person and takes about 20 minutes in a small powered boat. Snorkel gear and umbrellas can be rented for an additional fee.