Mayagüez, Puerto Rico is an architectural gem and absolutely worth a visit. Beyond the architecture, Mayagüez boasts incredible restaurants, small town charm, and incredible ocean views.
Founded on September 18, 1760, Mayagüez started with humble beginnings first as a simple Spanish town, then elevated to status of villa, and now it is the 8th largest population municipality of Puerto Rico. It is affectionately referred to as the Capital of the West.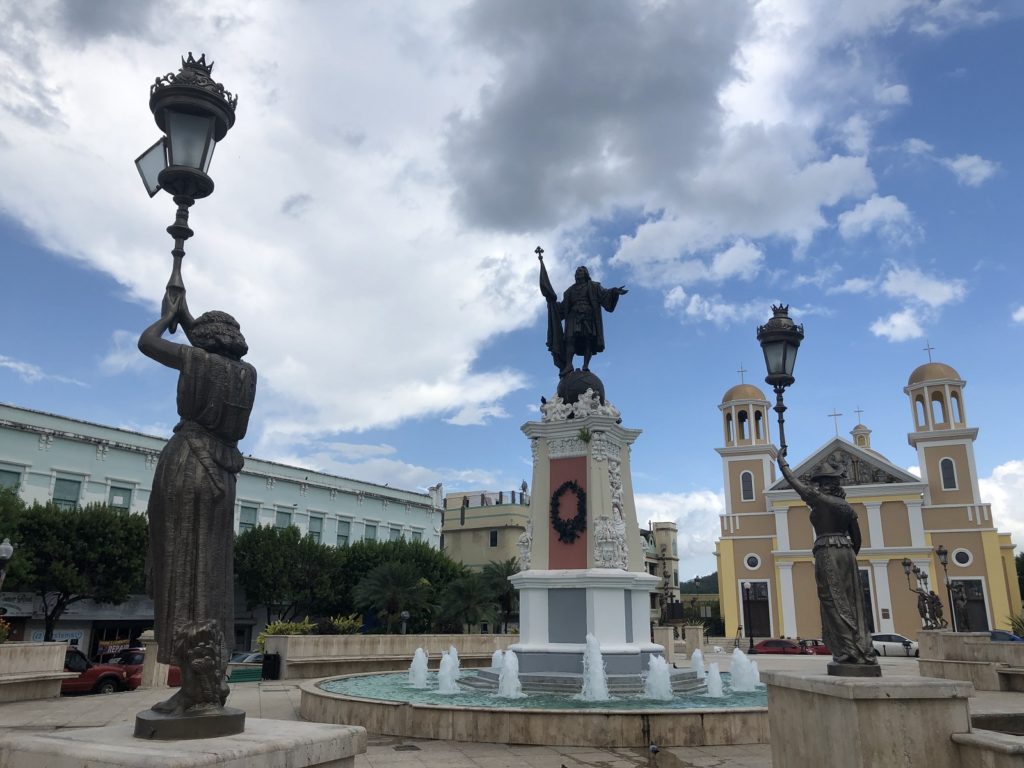 While not my first visit, I was able to spend several days in the oldest part of the city. The highlight of this visit for me is touring the various styles of architecture, especially impressive is that most of these buildings are within a 2 block radius. It is fascinating how much there is to see simply walking around.
Mayagüez Unique Architecture
What makes the Mayagüez architecture so interesting?
Old San Juan, properly known as Viejo San Juan, is the oldest city in the U.S. and its territories. Construction spans four centuries in a matter of a few blocks with 300-450 year old homes and buildings, still in use. Over the centuries construction features various architectural styles such as Baroque, Gothic, and Renaissance.
In contrast, Mayagüez is a living time capsule for the early 1900's, specifically the Art Deco style architecture from the 1920's. Blending the modern elements of Art Deco and the traditional Spanish architecture makes Mayagüez so uniquely special. Any construction head start from the 1760's were almost entirely wiped out by natural disasters (1918 earthquake, hurricanes, 1919 city fire) and now there are very few structures over 100 years old in the city of Mayagüez.
Mayagüez is quite special in how new all of these "historic" buildings are. The unique architecture is just part of the city charm.
Plaza Colon
Plaza Colon displays some excellent examples of the distinctive architecture in town.
If it seems like you have heard of Colon Plaza before, you probably have. There are many cities with a Colon Plaza such as Old San Juan and Santo Domingo to name just a couple. Like the others, this plaza honors Christopher Columbus, also known as Cristóbal Colón. This statue was made in Barcelona, Spain in 1843 and placed in the plaza in 1896.
The entire plaza is paved in marble with these massive bronze lampposts, the lamps are held by lovely statues of chambermaids wearing turbans & veils, wide brim hats, and other unique period garments. The details on these lamps in incredible, be sure to get an up close look at the facial features and outfits.
City Hall – Municipio de Mayagüez
Probably my favorite of all the buildings is the magnificent City Hall. Casa Consistorial De Mayagüez, also known as Alcaldia de Mayagüez is the City Hall located on the West end of Colon Plaza.
Originally built in 1845, it suffered heavy damage in the 1918 San Fermín earthquake, which destroyed or damaged many buildings in town. The town began the rebuilding efforts, and City Hall was rebuilt in 1926.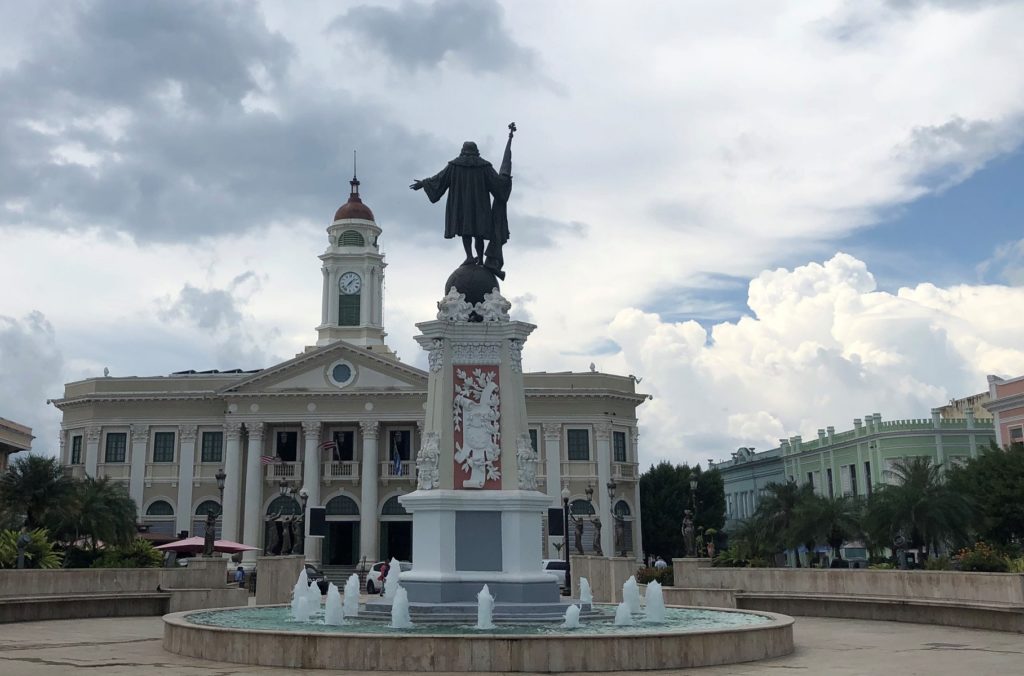 The main entrance boasts an imposing portico and the clock tower popular for the time. The beautiful facade is neoclassical style with impressive columns, much like the fictitious clock tower from the Back to The Future movies.
Oldest Church in Mayagüez
One of the earliest buildings is the city's main Roman Catholic church, Our Lady of the Candelaria. The building of the church began in 1760, and the first masonry building for the church was completed in 1780. Located on the East entrance of Colon Plaza, the town grew up around the church.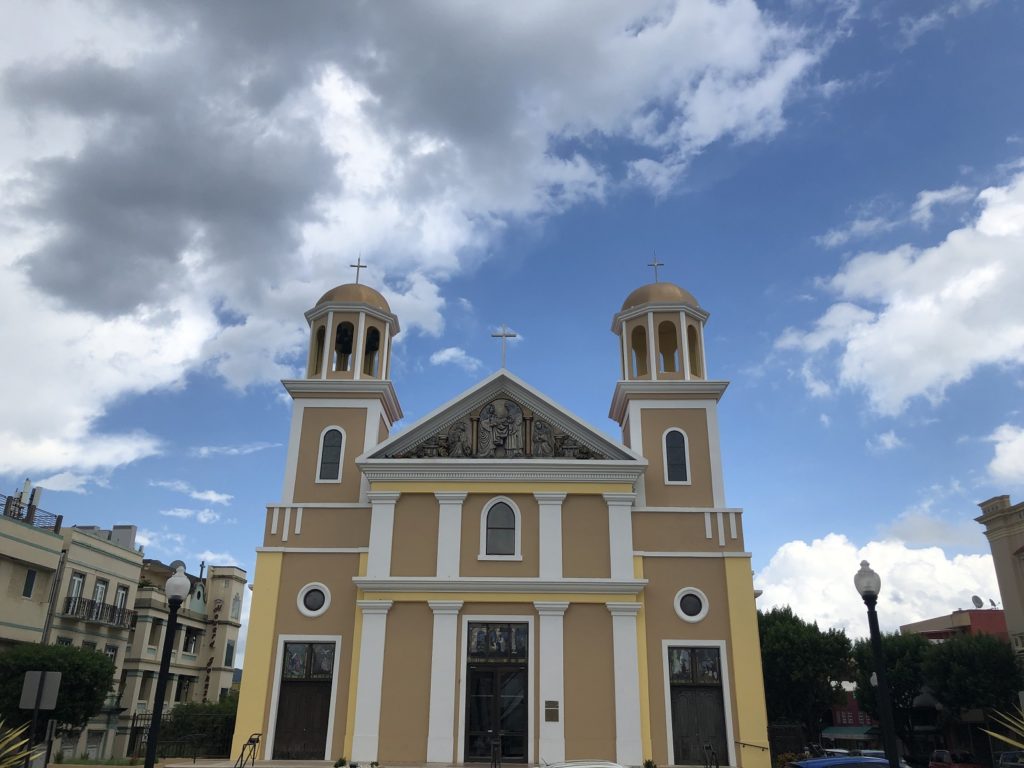 The church was another casualty of the 1918 earthquake which required a divinely planned remodel a few years later.
Converted Accommodations
Just around the corner from the plaza is the former convent & chapel built in the 1920's converted into boutique Hotel Colonial. Since many of these rooms were housing for the Nuns, the rooms are modest and simple. A standard room is fine for solo travelers, but I highly recommend upgrading to the "Deluxe" room with Queen size bed for couples.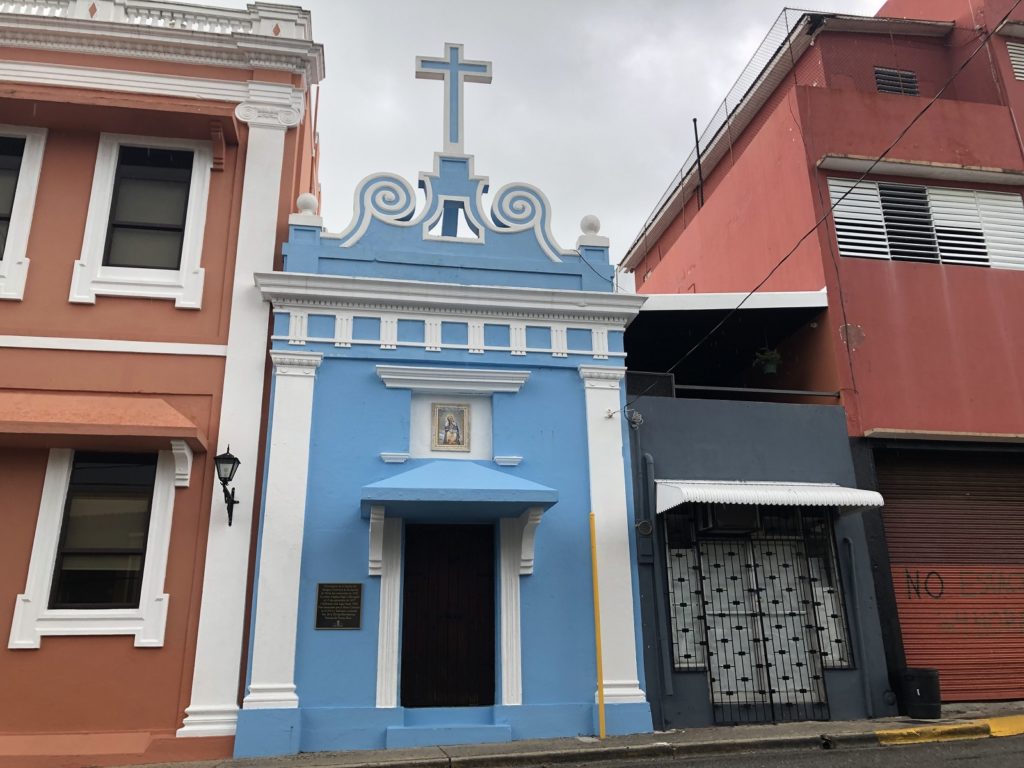 This boutique hotel is a quaint little spot for a night or two exploring Mayagüez. The chapel is now converted to 3 bedroom dormitory style rooms upstairs and down, plus there is an interior courtyard, covered patio deck, and angelic details throughout the property.
Another historic hotel option is the Howard Johnson, affectionately referred to as the HoJo, if you are old enough to remember them.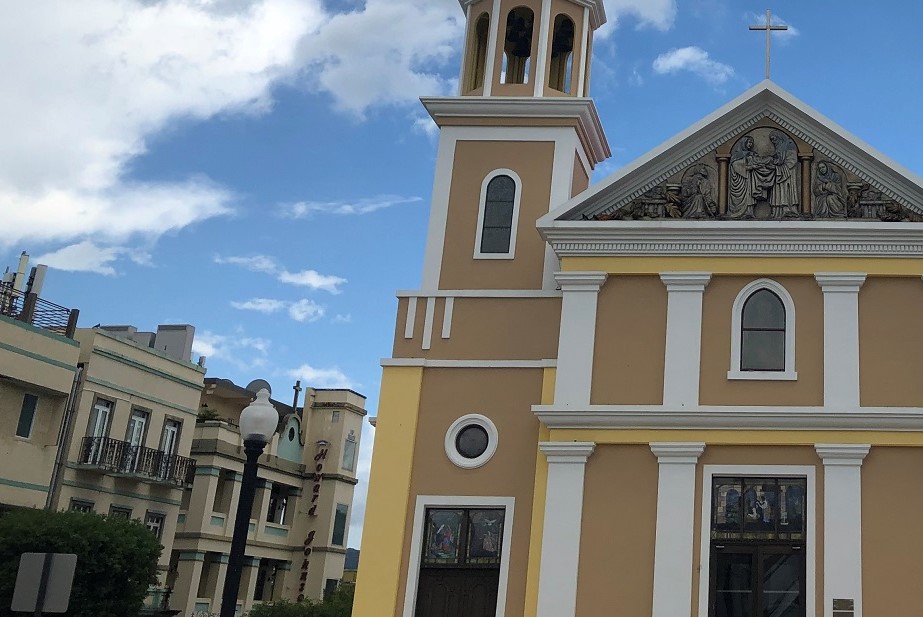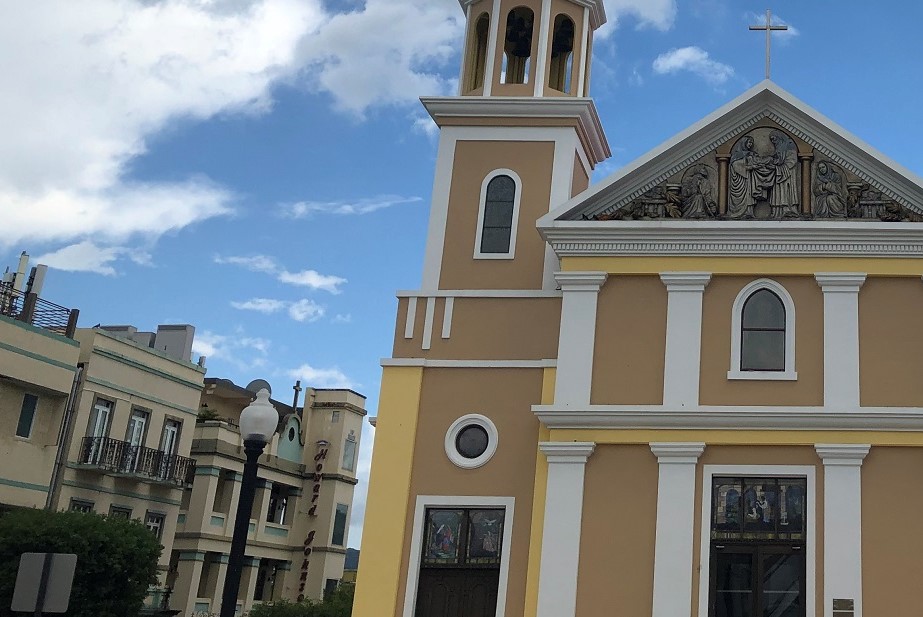 The Mayagüez HoJo, is a historical landmark that served as a monastery in 1904. This converted boutique hotel has 48 guest rooms and a pool, right off of Colon Plaza and other historic attractions in downtown Mayagüez.
Theatre and More
A wider stroll around Plaza Colon also reveals the gorgeous (and operational) performing arts center, Teatro Yagüez. Originally built in 1909, then destroyed by a fire only 10 years later. It was rebuilt & re-inaugurated in March 1921.
Only a few feet away, on the next corner is a department store built in 1895. The sturdy construction helped to survive the 1918 earthquake that destroyed so many other nearby buildings.
New Historic Buildings
What really strikes me is how new all of these "historic" buildings are.
Due to fire, earthquake, and hurricane most of the buildings are 1920's and newer. Many historic areas around Puerto Rico are usually much older, including the Spanish fortifications in Old San Juan from the 1500's, which are some of the oldest European construction in the Americas.
Many of these old newer buildings have strong foundations but are in dire need of restoration. Walking around town reveals a mixture of beautifully restored buildings, buildings in desperate need of repair & restoration, remnants of manor houses, and several active restoration projects throughout town, with new businesses preparing to open.
Nightlife
Some businesses have a different approach to restoration including our new favorite restaurant & bar – La Jibarita. The open roof allows the trees to grow freely inside the walls of this lively bar.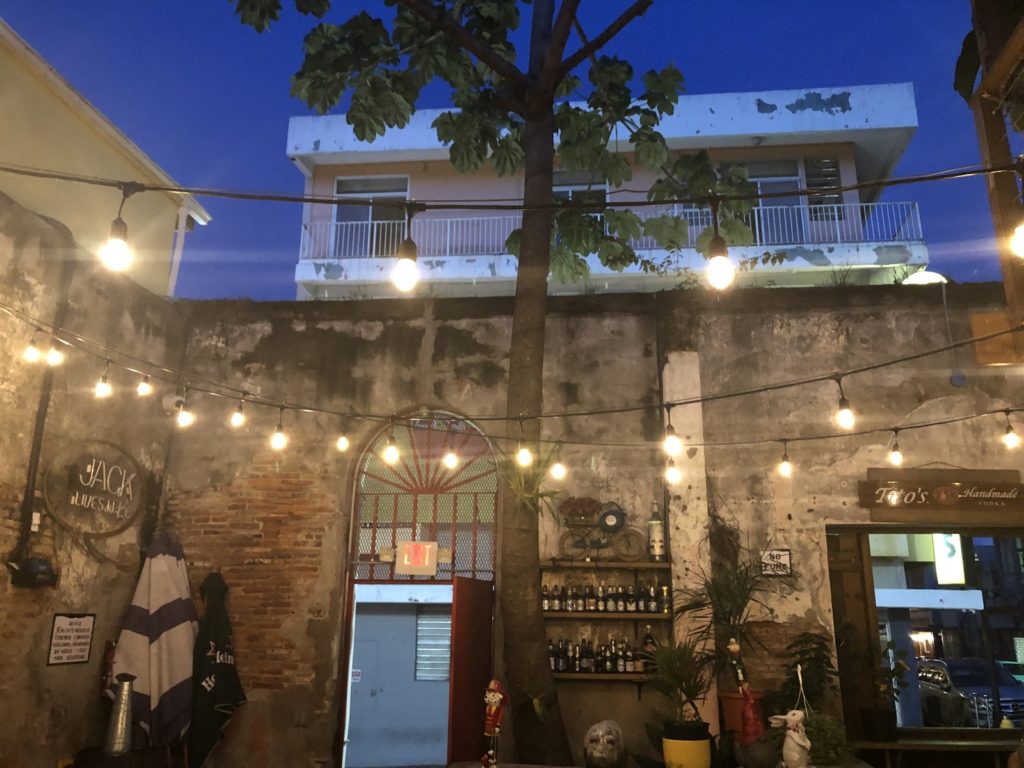 The sliders and tacos are excellent! Plus $2 local beer Medalla on Wednesday & Thursday, no wonder this is a popular local hangout.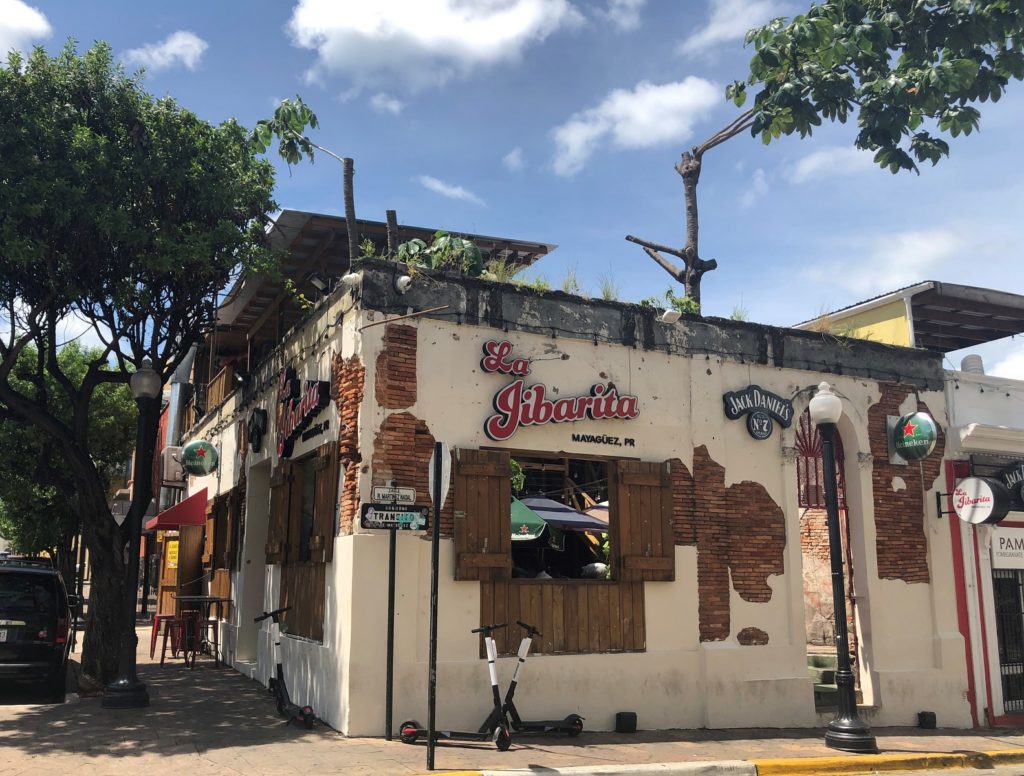 There are plenty of great restaurants downtown, and even more options a few streets out. Located one block east of the city center, La Jibarita, Off the Wall and Ajies are all located on the same intersection, making this a popular hub for live music, drinks, and food. Be sure to stop by for a meal or two at these local eateries.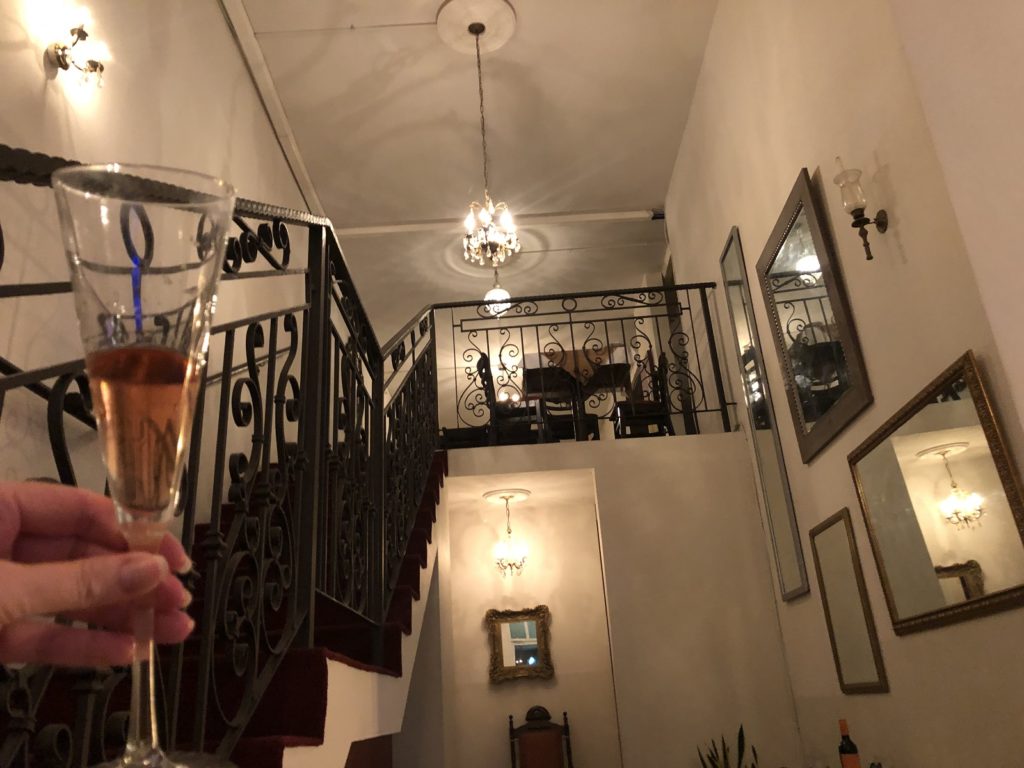 US Customs House
The U.S. Customs House or "Edificio Aduana" is a historic Custom House building located at Mayagüez. Originally built in 1838 as accommodations for distinguished visitors, it became a US custom house in 1898, when the Americans took over Puerto Rico from Spanish rule.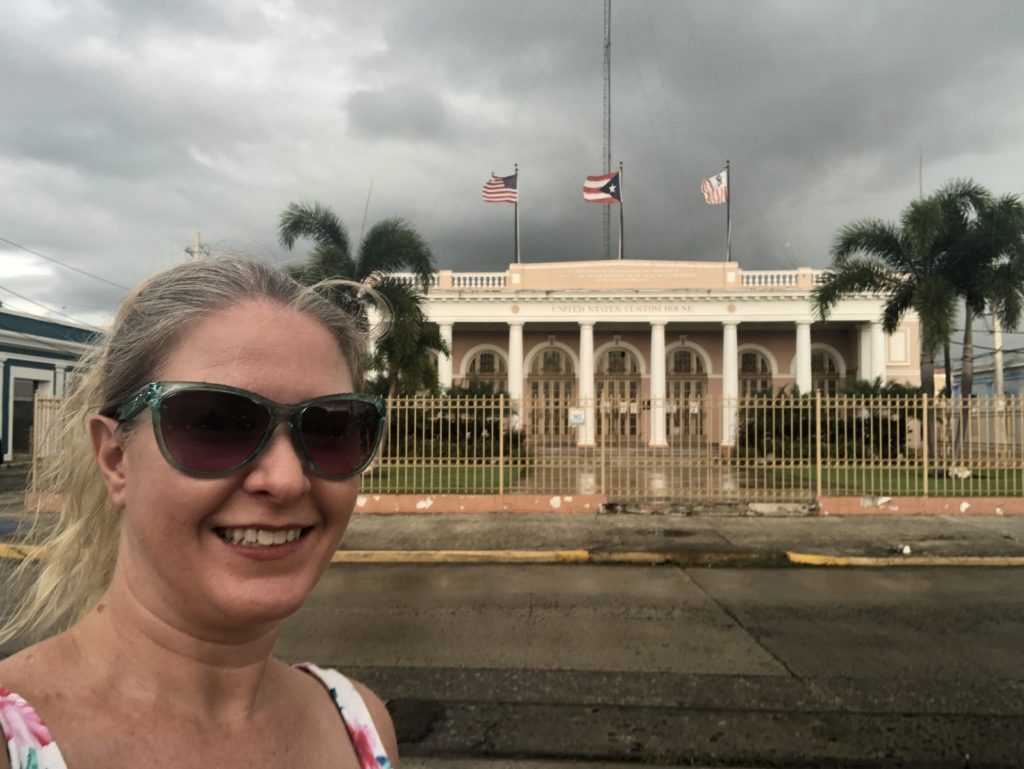 Located a couple miles from Plaza Colon and unless you are very ambitious, you will need to drive here. Originally built as 2 levels, the top was destroyed in the 1918 earthquake and the current single level is from the 1924 rebuild.
The building is surrounded by arches and semi-pilasters of a neoclassical style of Roman influence. The interior is reportedly Renaissance style with white marble floors. It is currently only open on Saturdays, so you will need to plan better than I did for an interior tour.
The good news is that it is very close to the beach and is the perfect excuse to watch the sunset over the ocean.
Mayagüez is a must see city on your road trip around Puerto Rico! Located south of the less popular Aguadilla airport, you will need a car to get to Mayagüez from Aguadilla or San Juan. Mayagüez is the excuse you are looking for to get out and explore Puerto Rico!