Palmas del Mar, Puerto Rico is a resort community best known for golf and the largest tennis center in the Caribbean. But there is so much more to this amazing community for guests and residents alike.
Palmas del Mar is located about an hour south of San Juan in the municipality of Humacao on the east coast of Puerto Rico.
There are always activities and events in Palmas del Mar!
Palmas Athletic Club
Members only club, guest golf and tennis are available on select days, as well as day passes for the Beach Club.
Tennis – largest Tennis center in the Caribbean; Tennis, Pickleball, Tennis lessons, kids camp
Golf – 2 Championship Golf Courses
Beach Club and Water Park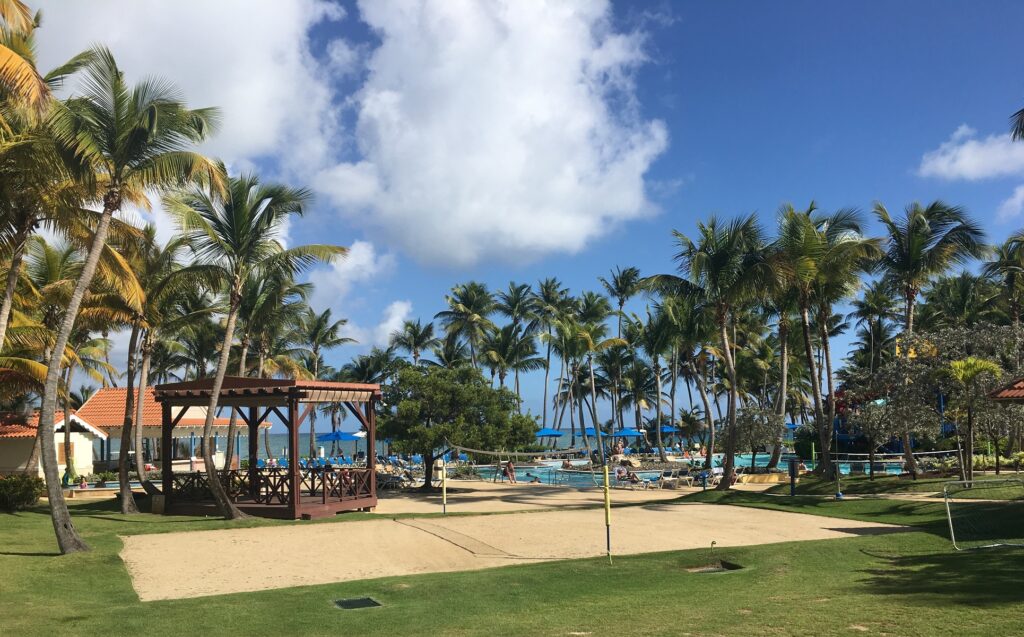 Located behind the Tennis center is the Skate Park and Children's Playground for family friendly play. Open to the public from 9 am – 6 pm, daily.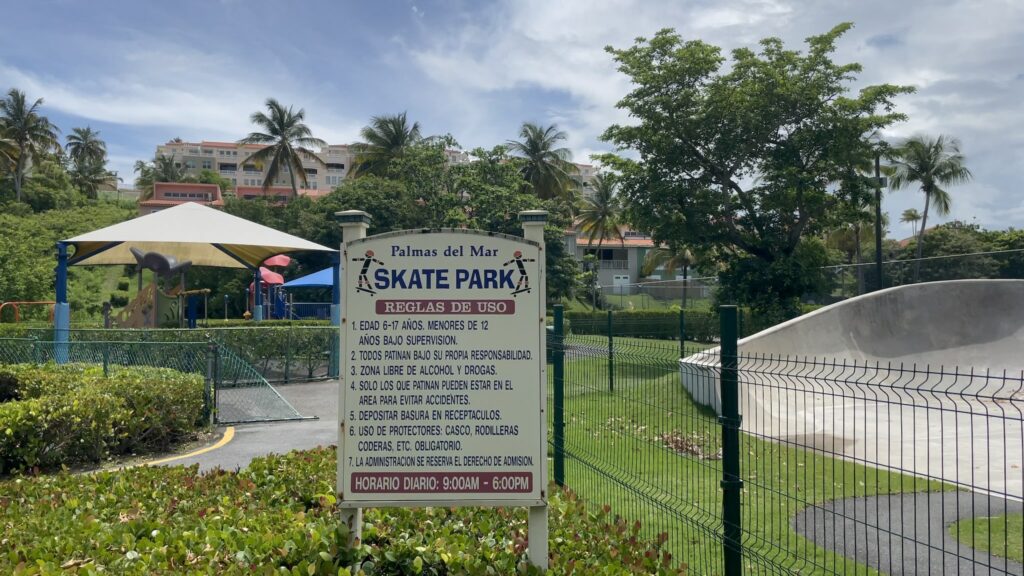 Beach Activities (BYOB):
Lounge around in a hammock
Fly a kite
Kayaking / Stand Up Paddles Board for those calm mornings
Snorkeling – my favorite snorkeling spots are below Punta Icacos and the cove off Shell Castle
Surfing & Wind Surfing on rough/windy days
Watch for manatees and dolphins
Warning Flags on the Beach (there are no life guards on duty):
Red flag is high hazard for strong currents and riptides, swimming is not recommended while the red flags are up.
Yellow flag is medium hazard for moderate current and surf, use caution in the water. Not recommended for children and inexperienced swimmers.
Green flag or no flags out indicate calm conditions.
Purple flag is placed when dangerous marine life is spotted in the area.
Hiking and Mountain Bike Trails
Behind the green gate on Palmas Drive, there are mountain bike trails and hiking trails up to an observation tower or down to secluded beaches. When the water is calm, climb down to the clear, shallow water below the cliffs of Punta Icacos. Wear hiking boots or sturdy water shoes to climb down to the water. Pack extra water, snacks, and your snorkel set!
Bosque de Pterocarpus Nature Preserve
Bosque de Pterocarpus nature preserve is a 56 acre ecosystem named for the prominent Pterocarpus tree throughout the tropical forest. There is golf cart parking right off Country Club Drive and a short walk to the observation tower gazebo. Walk along the wooden elevated path to enjoy the entire experience. The path is stroller and wheelchair accessible throughout the entire grounds. There is a QR code at the entrance to scan for a virtual tour and signs along the boardwalk in English and Spanish to learn about the indigenous flora and fauna. Various frogs and birds can be seen and heard throughout the forest during the day.
Equestrian Center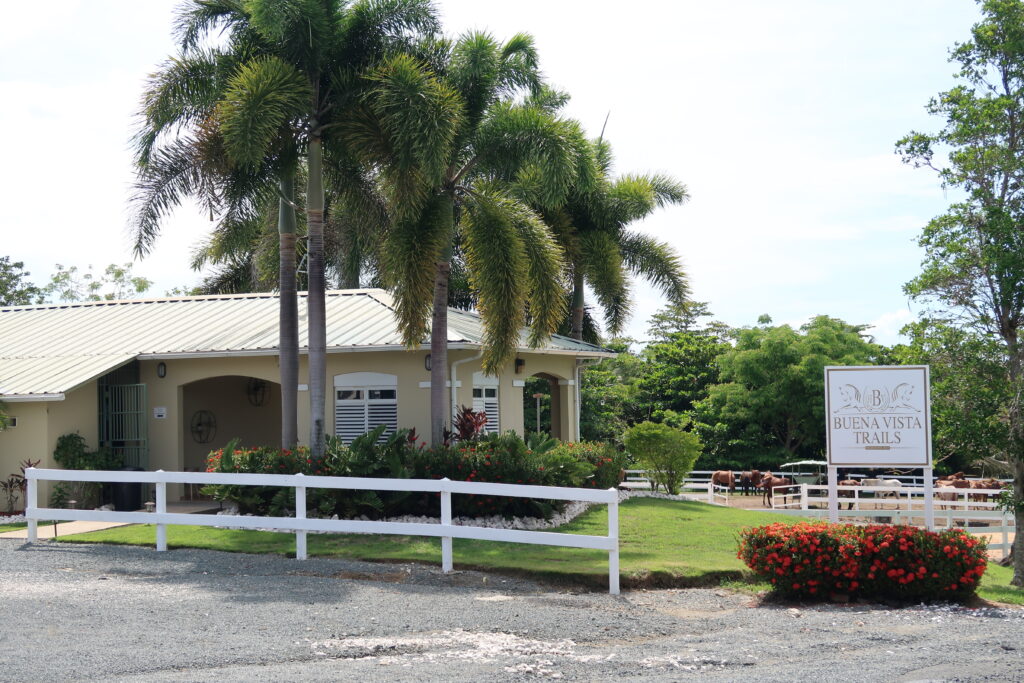 Close to the north entrance of Palmas del Mar, the equestrian center is located behind the Palmas Academy school. It has gone through a few name changes, which can be quite confusing. The front entrance and several buildings still show the original Hacienda Candelero name, newer signs and information are displayed for Hacienda Buena Vista.
There are bicycles for rent at the Equestrian center, and of course, horse rides!

Horse rides are available for riders ages 7 and older, weighing up to 250 pounds. There are also pony rides, riding lessons, and boarding available at the stables.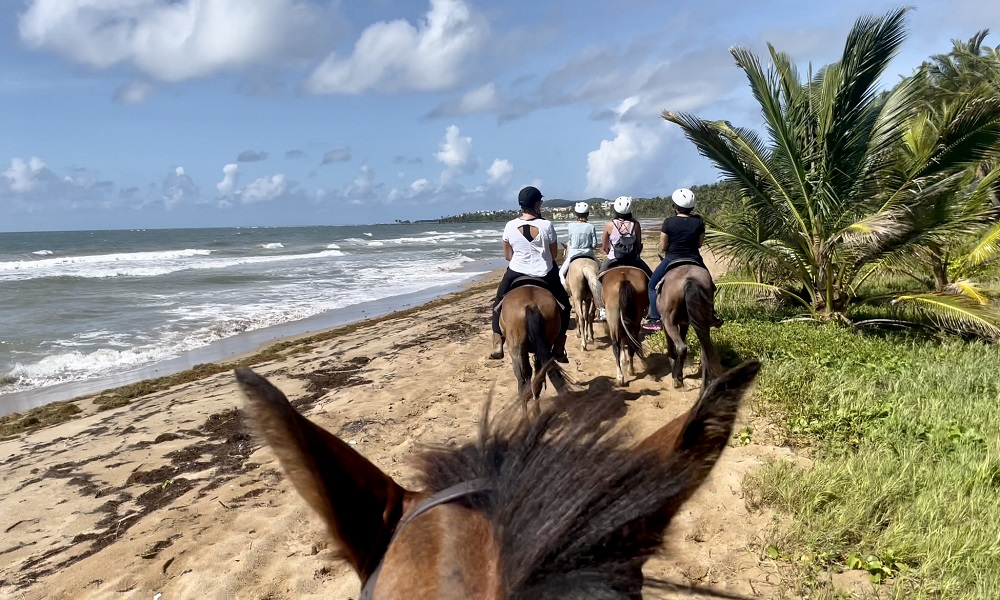 Public Greenspaces
There are many public greenspaces located around Palmas with park benches, open fields, and manicured shade trees.
Duck Pond along Palmas Drive is a great spot for photos near the wooden bridge. Early morning or late afternoon is best, when the ducks are most active.
Palmas Farmers Market
Palmas Farmers Market is a twice monthly event (every 2nd & 4th Saturday) for local farmers and agriculture producers to sell their locally gown and produced agriculture within the community of Palmas del Mar, Humacao. This public event provides an opportunity for local agriculture producers to market and sell directly to consumers.
As of August 2022, the Palmas Farmers Market moved to a larger location at the North entrance (Service gate) of Palmas del Mar. Find it on Google Maps here.
Palmanova Plaza
Palmanova Plaza is filled with restaurants, realtor offices, Banco Popular bank branch, a few clothing boutiques, and the local mail store. There are concerts and events throughout the year in the courtyard of the plaza.
Live & Life Palmas
Live & Life Palmas is a print magazine and online resource for news and events around Palmas del Mar. Stay up to date on the latest Holiday events including; Golf Cart parade at Christmas, Halloween costume contest & parties, Art Nights, Concerts, annual Homeowners celebration at the Plaza, and much more.