Rincón, Puerto Rico is located on the northwest coast, in the farthest west corner of the island of Puerto Rico where the Atlantic Oceans meets the Caribbean Sea.
Known as the surfing capital of the island, this tiny town offers big adventure, a joyful art scene, and plenty of outdoor activities. World famous beaches along the 8 miles of coastline and incredible sunsets are just a couple of the great features in town.
Art Scene
Art is incorporated into everyday life and visible throughout town from the moment you arrive.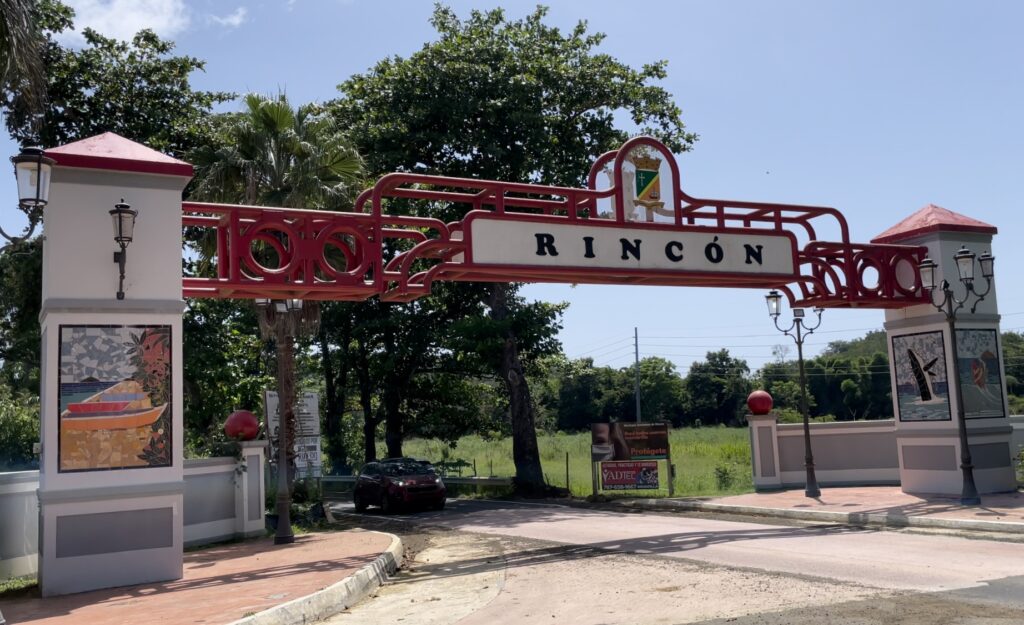 There are two large mosaic tile decorated arches for each of the main entrances along Route 115 on both the north entrance bordering Aguada and the south entrance that borders Añasco. Created by local Artist Edgardo Gardy Rodriguez, the tiled columns feature iconic scenes such as the lighthouse, surfers, whales, and more cultural significant themes.
Thursday Night Rincón Art Walk
Rincón Art Walk occurs every Thursday in the Rincon Plaza 5-9pm featuring locals artists, music, and great atmosphere! There is live music, artists on-site often demonstrating their skills at the booth. Free, family friends activity!
If you miss the Thursday night Art W
All throughout the town, there are painted murals, mosaics, and sculptures. Often, directions are given by referencing which way to turn at the surfer statue in the middle of town.
Beaches
Not all beaches are created equal in Rincón. Each beach has its own personality to entice surfers, scuba divers, snorkelers, SUP & kayaking, and swimmers. There is a perfect fit for every beach lover.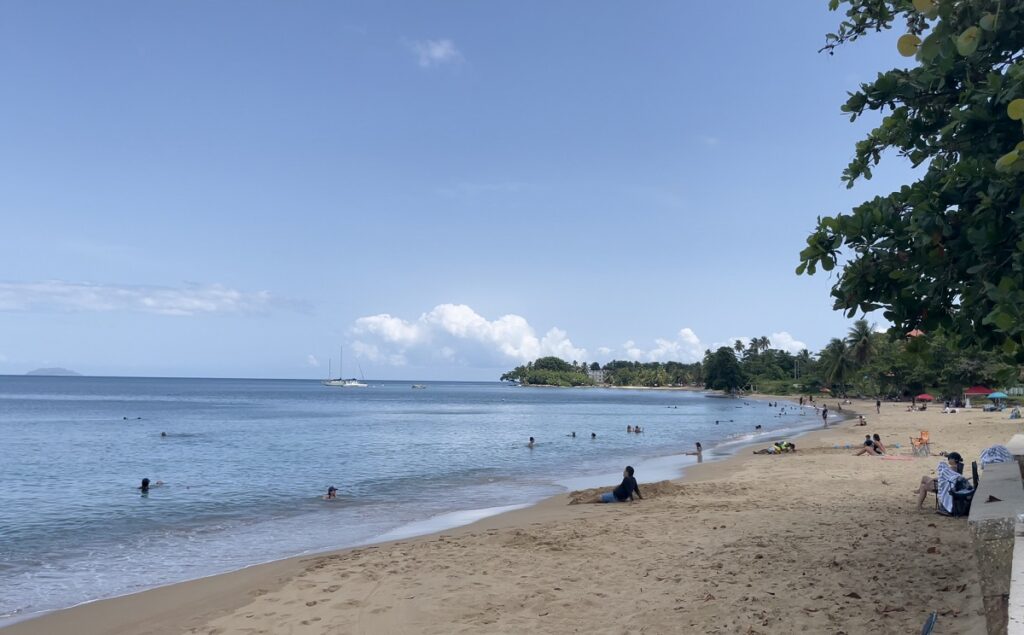 Balneario Rincón features clear, calm water, outdoor showers, bathrooms, and on-site parking. This family friendly beach is my favorite beach in town for the flat water conditions, amenities, and overall relaxed vibe on the beach. Isla de Desecheo Marine Reserve (Desecheo island) is clearly visible from the beach.
Sandy beach is a short walk from hotels, bars, and restaurants making it a very popular spot for residents and tourists alike.
MagicSeaWeed is (MSW) is my favorite app to check live reports and forecasts for beach conditions. This helpful tool provides beach information including low tide/high tide levels, swells, current wave height, windspeed and direction to best plan surfing, snorkeling, swimming, or scuba days.
Surfing Capital of Puerto Rico
Rincón Point consists of Domes and Maria's Beach. These neighboring beaches host various annual surfing competitions, including several pro-circuit events in the "winter" months. This area is ranked the best surfing spot in Puerto Rico and is the epicenter of surfing activity on the island. The surf is typically bigger during the peak swell season of winter and the beaches can get really crowded.
Maria's beach is located slightly South from the point which offers a bit of protection in the summer for a much calmer experience.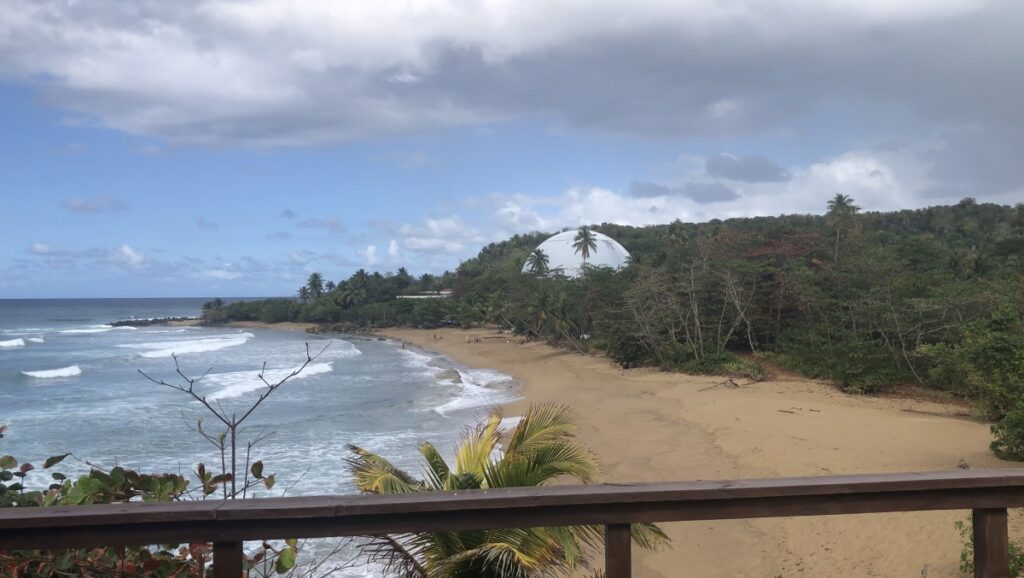 Domes beach is known for strong waves year round that attract surfers from all over the world. Named for the Boiling Nuclear Superheater (BONUS) Reactor Facility white domed shaped building visible from the Rincon Lighthouse park. This decommissioned nuclear plant in Rincón is one of only two boiling-water superheater reactors ever developed in the United States.
Scuba and Snorkeling
Stella beach features a concrete boat as part of the break wall. There is a dive site off Stella that can be reached on a short boat ride or shore dive with 10-15 minute surface swim each way. The surface swim is recommended only to strong, confident swimmers with an experienced dive master. During whale watching season, scuba divers can occasionally hear the whale song at the Stella dive site.
Reserva Marina Tres Palmas is a great area for snorkeling or an easy shore dive. From North to South, this area encompasses Dogman's beach, Steps, and Little Malibu/Black Eagle beach.
Steps Beach / Playa Escalera is great site for a beginner shore dive and excellent snorkeling. This is a very popular beach for swimmers, especially on the weekend, which can make entry & exit a little more difficult getting past the groups of people when weighted down with tanks and full scuba gear. There are shaded spots to assemble tanks & gear, but limited parking, so arrive early to avoid a long haul. The first few minutes of dive path closest to the swimmers is pretty barren. A short swim south of the swimmers leads to the reef with a maximum depth of about 30 feet. The reef top is a forest of Elk Horn Coral, sea urchins, peacock flounder and other colorful Caribbean Reef fish, plus the largest Sea Cucumber that I have ever seen!
While the entire Tres Palmas area is popular with scuba divers, snorkelers, Stand Up Paddleboards (SUP), kayaks, swimmers and sunbathers, Little Malibu/Black Eagle beach includes Black Eagle marina with a small (functional) boat ramp. It is an especially easy entrance for scuba divers to walk along the sand adjacent to the boat ramp for entry & exit. Live aboard sailboats often anchor nearby and come ashore nearby. In addition to beautiful heathy corals, you will find colorful reef fish like the yellow & black stripe sergeant major, spotted eels, turtles, blue tangs, French angelfish, and tarpon.
Beginners can obtain PADI open water certification with the Rincón Dive Center. There are often scuba instructors out at Tres Palmas, certified divers can go with an instructor on a guided tour of Tres Palmas or Steps. Certified divers that prefer to go own your own (with a dive buddy), can rent full gear or tanks & weights, then remember to bring your dive flag and compass.
Lighthouse and Whale Watching
Punta Higüera Lighthouse (el Faro de Rincón) is a great spot for Whale watching during January through March during whale migration season.
Built in 1892 and restored in 1921, the Lighthouse is closed to the public but the surrounding grounds are accessible and surrounded by a beautiful park. There are several brick gazebos, plenty of shade trees, benches, and a small snack shack (Ola Sunset Cafe). This is a beautiful spot year round for gorgeous Caribbean views.
Hiking / Walking trails
El Ultimo Brinco Waterfall is a short walk from the road down the dirt path to the water. The shallow rocky pool at the base of the waterfall is perfect for a quick dip.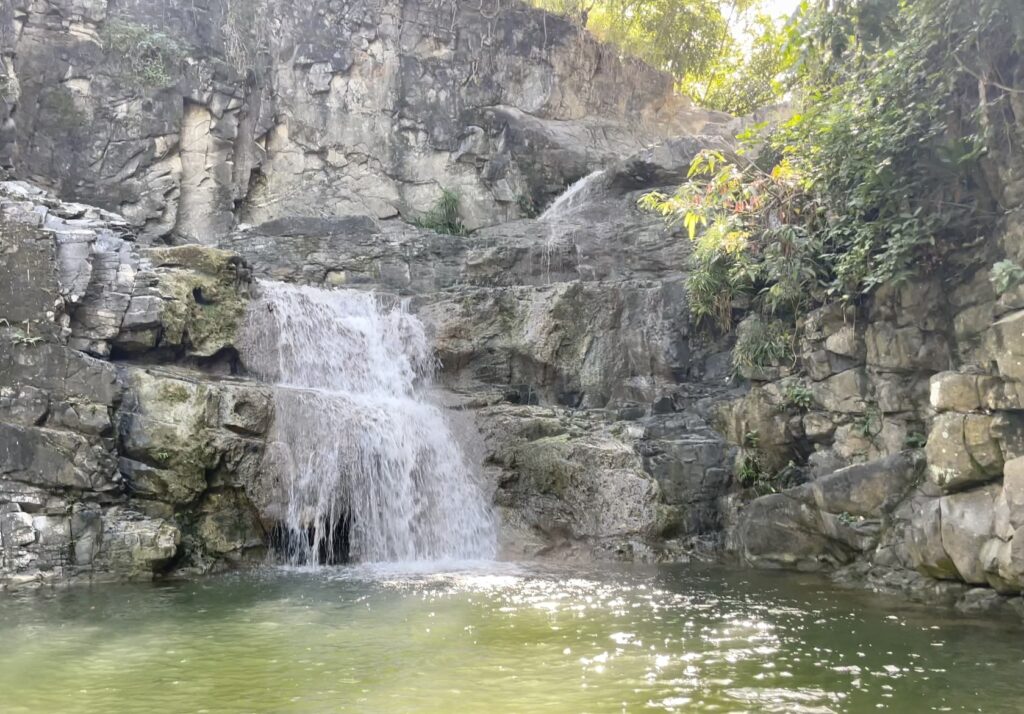 Paseo Tres Palmas is the walking/hiking trail along parallel to the beach along the Reserva Marina Tres Palmas near Steps beach is a pleasant, easy walk.
There are hiking trails along the shoreline on Domes beach, and more mountain bike/hiking trails behind route 4413 on the east side of Domes beach and the light house.
If you do not want to walk the trails, there are horse rides from Pintos "R" Us. They begin near Reserva Marina Tres Palmas and visit 3 beaches, ride behind Domes beach, past the lighthouse, and through the jungle during the 90 minute trail ride.
Dining
Rincón offers a wide range of dining option price points and variety of cuisines. Food trucks, patio dining, ocean front, plus many vegan and vegetarian restaurants around town.
Farmers Market of Rincón | Mercado Agro Ecologico de Rincón
Every Sunday morning, along Road 115, the Mercado Agro Ecologico / Farmers Market of Rincón pops up at the Rincón Self Storage lot from 9 am – 1 pm. The shade tents are set-up to allow for a "walk through" experience with a bit of overflow across the road along route 115. This small but mighty Farmers Market is packed with fresh, local veggies, beverages, prepared foods, and vegetarian food options.
Living in Rincón
Rincón is a dream come true for many people. My friend Anne retired in Rincón and shares her experience living in Rincón, plus a guided tour of the town, and sharing a few of her favorite places & activities.