Earlier this week we attended the Rush 40th anniversary concert at US Airways center arena in downtown Phoenix.  Not wanting to miss a moment of the show, we called our Uber car and arrived almost 2 hours early.  Our plan was to avoid traffic, and get a light snack & beverages at Cityscape before the show, since we had plenty of time.  Great plan, except that every lounge and bar was packed!  We could see the bar at the Blue Hound, but it was so crowded with people it was impossible to order a drink.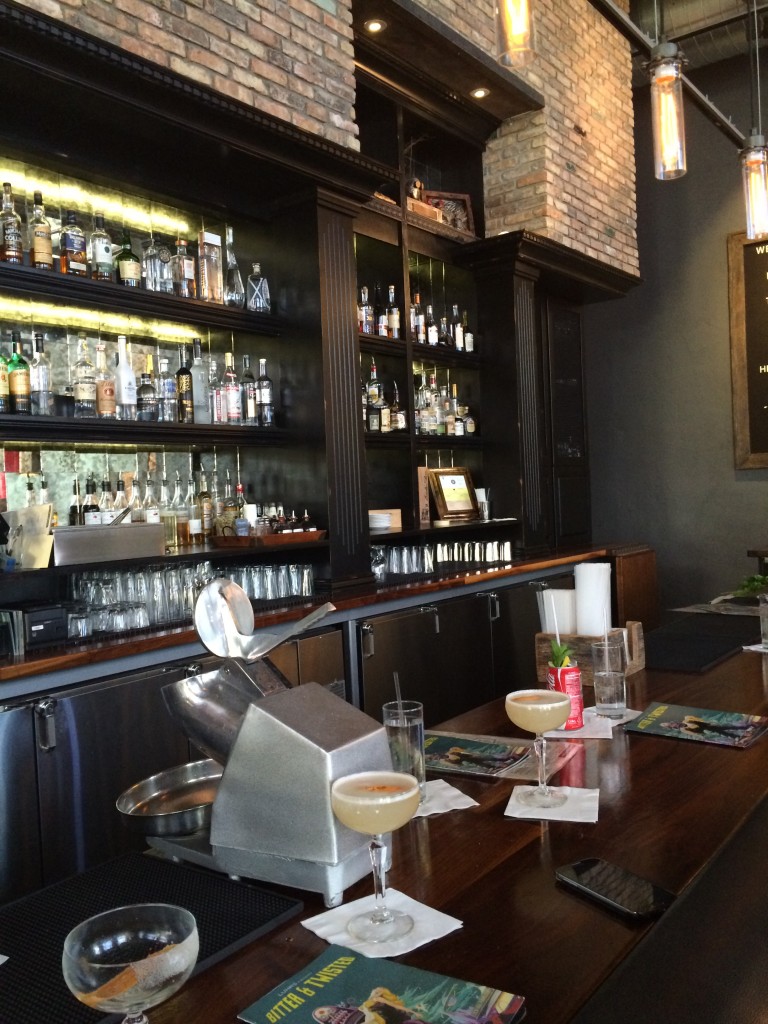 Feeling frustrated and claustrophobic, we wandered toward Central Avenue and discovered the most delightful cocktail lounge.  Bitter & Twisted is deceptively simple on the outside, and a wonder on the inside.  Reclaimed red brick from Chicago and a massive bar, complete with old-tyme bar stools, greeted us on entry.  There are luxurious
golden upholstered booths along the outer wall and a stunning wall canvas.  The atmosphere is glorious!  There were only a few people, which we later learned is because B&T opened on their normal day off to serve the concert-goers (thank you, thank you!).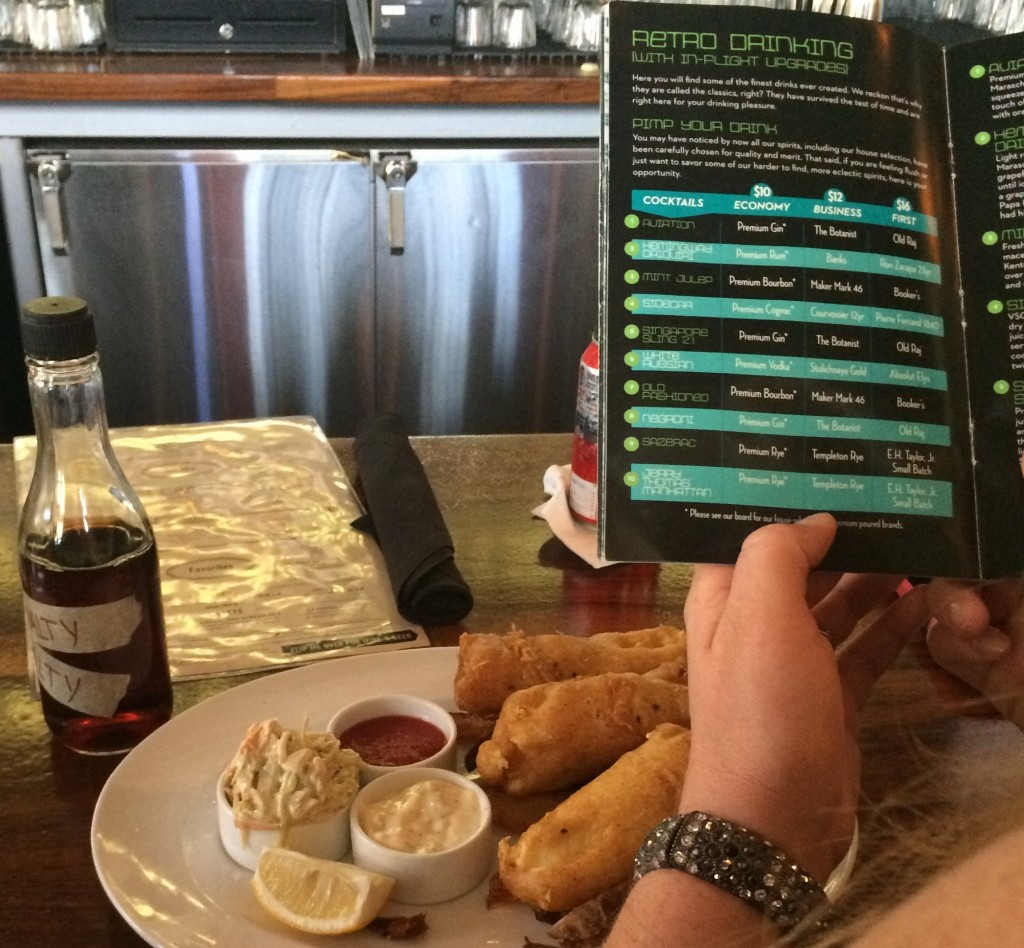 The drinks are exquisite.  Each one is poured with skill and attention to detail.  Average drink price was $12 and took a couple minutes to make – worth it.  We ordered cocktails exclusively, but they do serve wine and other beverages.  I shared the Fish & Chips with my friend, and it was the best that I have had in Phoenix!  Next time I will not eat before going, so that I can try more menu items.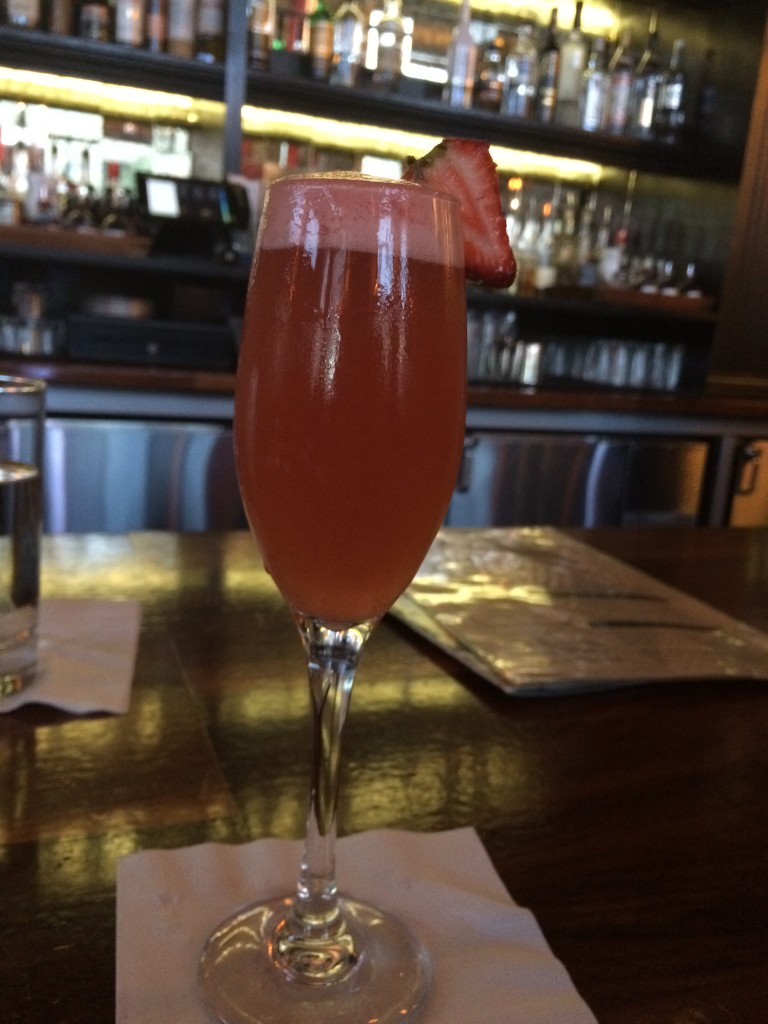 B&T are self-proclaimed "Purveyors of fine cocktails, spirits, and good times" and that is the honest truth.  We had such a nice time before the concert that we all met back at B&T for a post-concert beverage before calling our car to take us home.  Traffic and crowds were overwhelming after the concert, so it was a strategic withdrawal to B&T.
The bartenders are funny, charming and talented. Explaining each drink ingredient when we asked, and offering dead-on suggestions for the next delicious beverage to try.  The staff is clearly having a good time, and they ensure that everyone around them has a pleasant evening, as well.  The bartenders were telling us about the New Year's Eve party, and a few other events that we need to attend.  Turns out, B&T hosted a fabulous Villain's Ball during Comicon – I missed out!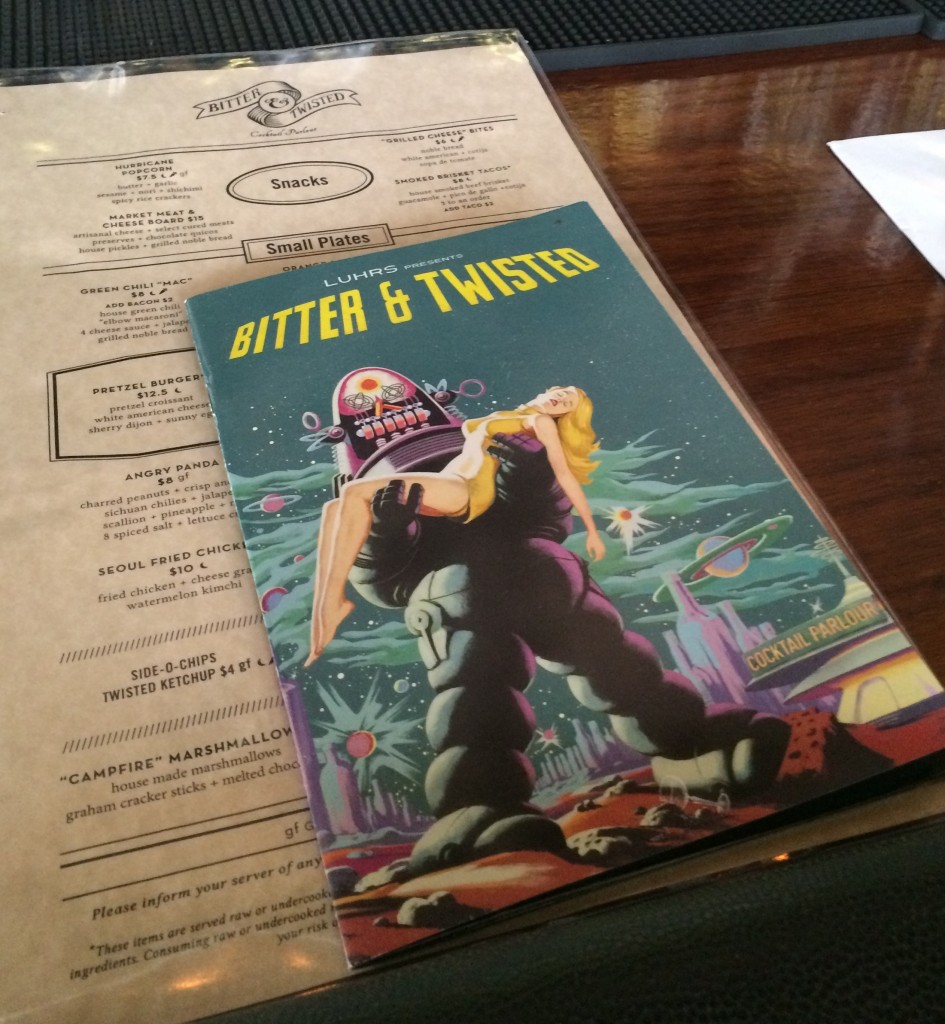 B&T is located at Central & Jefferson, close to US Airways arena, the Phoenix Symphony, Phoenix convention center, and many downtown events.  Bitter & Twisted is my new top pick for Downtown refreshments!