Recently, my friend Jack was travelling for work and asked for restaurant recommendations in San Francisco.  Years ago, I spent considerable time there for work.  Based on the location of his hotel and the style food that he likes, I recommended One Market for a short walk and delicious dinner.  Here is Jack's review of One Market.  Enjoy!  
I arrived at One Market in the Embarcadero District of downtown San Francisco at 6:45pm on a Thursday night and asked the hostess for a table for one.  She looked me up and down — fat man dining alone.   "I think we can squeeze you in, sir."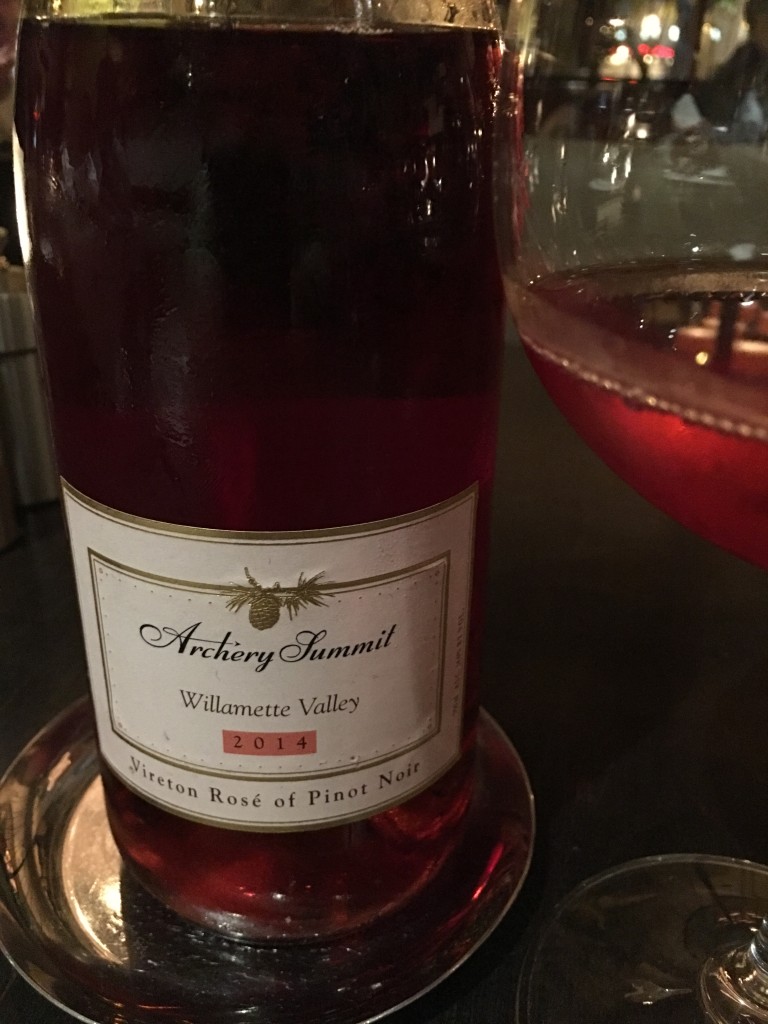 I'd hoped for a half bottle of rose, but nobody ever sells rose in a half bottle.  I compromised and ordered a full bottle of 2014 Archery Summit Pinot Noir Rose from the Williamette Valley.  The color was almost ruby, with a full bodied (for a rose), dried fruit taste.  There was nothing sweet about this rose, and at that moment, I resigned myself to drinking the whole bottle.
The food menu was somewhat limited, with starters capturing my attention far more than entrees.  Of particular interest in the starters column were thinly sliced lamb tongue, a pan seared foie graas, grilled octopus, and ocean trout.  My waiter recommended the ocean trout with an enthusiasm that indicated that the item was either fantastic, or on its last day in the walk-in.  I decided to order the lamb tongue, grilled octopus, and ocean trout, foregoing the foie graas as I was unsure of the penalty for consuming it in the State of California.  The last thing I need is to be part of some weird televised foodie sting.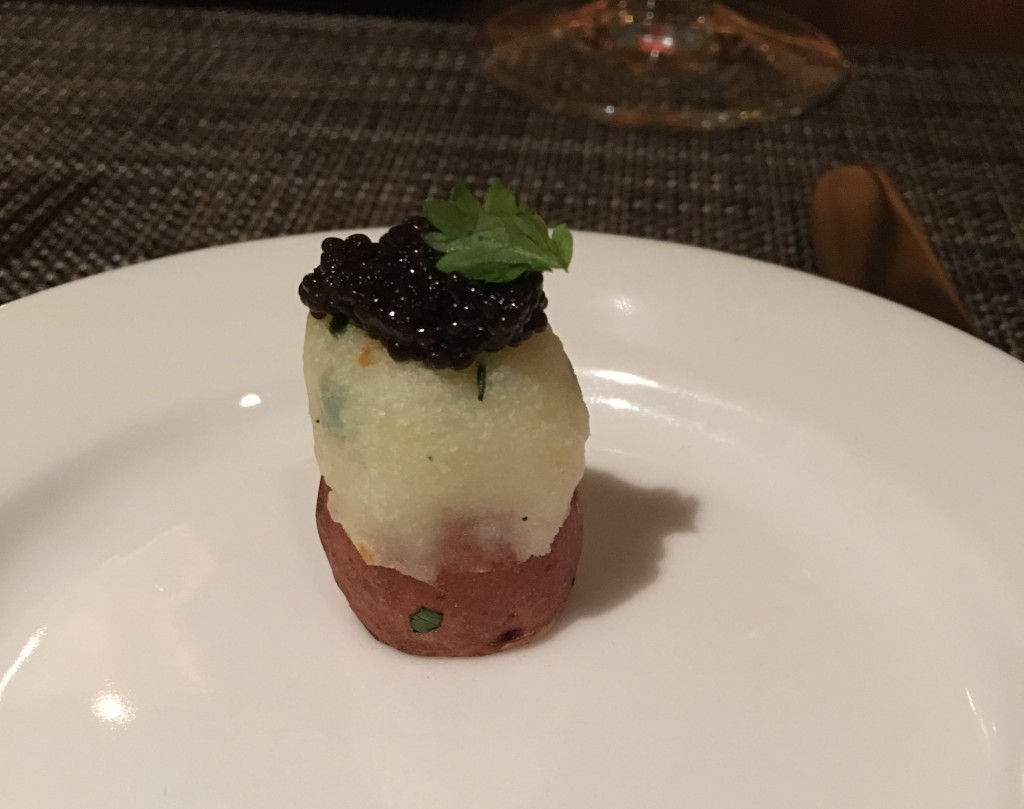 The amuse bouche was a new potato puck topped with domestic monkfish caviar.  Whatever.  I was not all that amused.
Across from me, a mixed generational table of five occupied a booth:  five people and five bottles of wine, before starters.  The table was packed to capacity with glasses – white glasses, red glasses, pinot glasses.  Despite the volume of alcohol, the occupants were remarkably sedate or sedated.   Surely these must be fun people.
My waiter and I negotiated for the octopus and lamb to come out first.  Before that, I was brought a ubiquitous sourdough bun.
The octopus was quickly blanched thrice, cooled in between each dunk, then grilled.  It sat atop a butternut squash puree, topped with a healthy scattering of pomegranate seeds.  The octopus was prepared perfectly, tender, firm, delicious.  The crunch and acid of the pomegranate seeds and the rich mush of the squash played perfectly together.  You can't go wrong with simple, well-prepared ingredients.
The mixed-gen table received their starters.  Leftie, sitting with his right arm to the outside of the booth could barely keep his spoon level on its way to his mouth due to the inebriation and inevitable elbow collisions with Rightie next to him.  Soup dribbled down his chin.  These are fun people.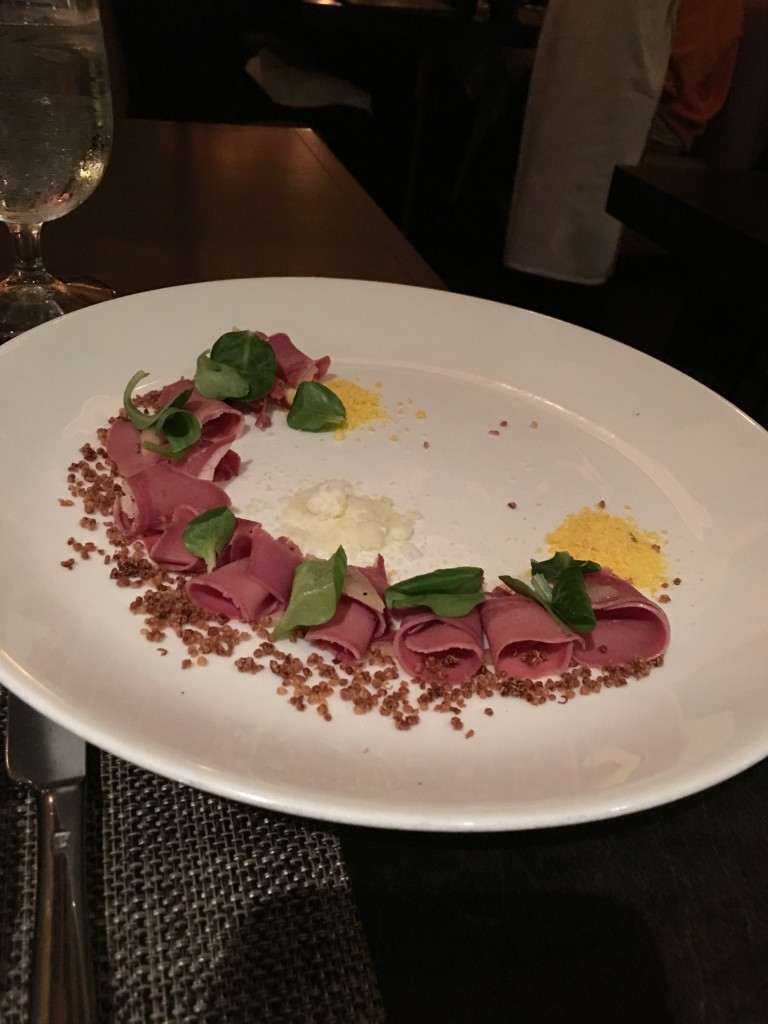 The lamb tongue was well executed – brined and thinly sliced like pastrami, served over a horseradish mustard drizzle, with puffed crispy quinoa and nitrogen freeze dried egg yoke and egg white powder.  This was good, but unoriginal.  I've had the tongue-strami thing.  My friend Shamus does it better.  The lambie didn't come through, so the tongue could have been from nearly any critter.  The dish was tasty, but not memorable or unique.
A table of four young men was seated next to me.  I could smell the douche.  Law douche.  International law douche.  27 year olds who know everything.  "Did I tell you about the time I had lunch with the Deans of the University of Chicago and Northwestern law schools?"  Damn child, how did you keep your lunch down?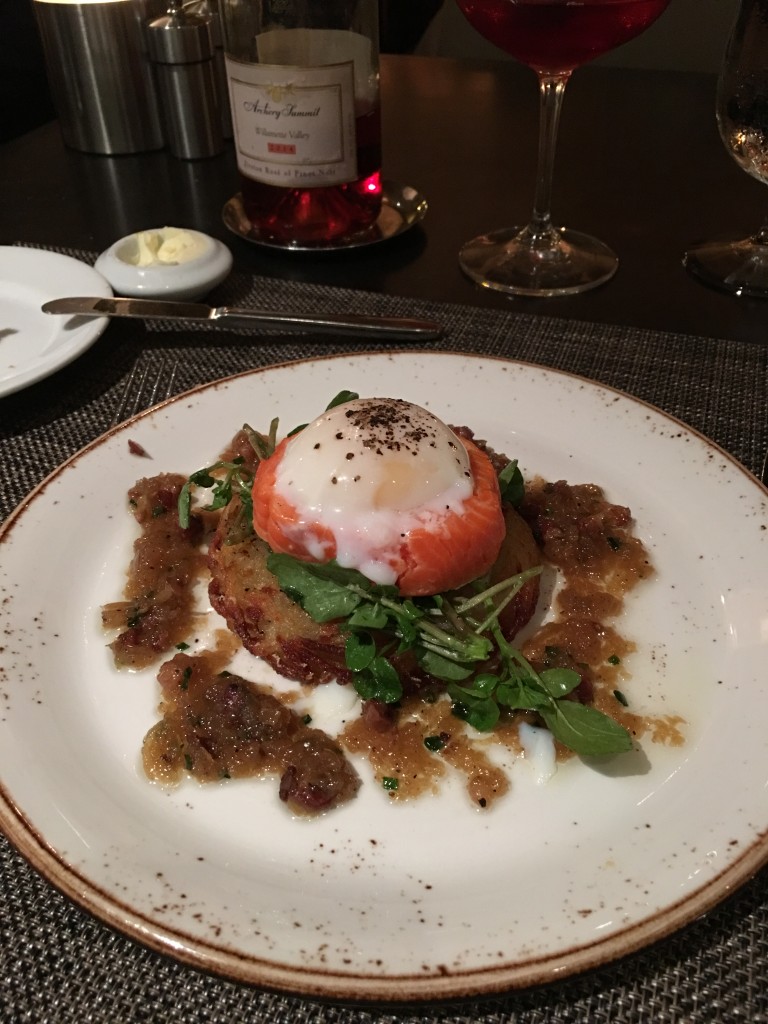 And then came the ocean trout.  Cue a victory march soundtrack.  The fish was prepared perfectly, rare, sitting atop a crisp potato pancake, with a sous vide soft cooked egg sitting atop it, and a warm carmelized shallot, bacon, and vinegar relish encircling it.   Each element was delicious and well-prepared.  Together, they made for a special, remarkable dish, rich in texture and flavor.  This was by far my favorite dish of the night's good meal.
I left One Market for my hotel home a bit drunk and very happy.