The St. Regis Bahia Resort caught my attention over a year ago during a two week vacation in Puerto Rico. Now that we are living in Puerto Rico full time, I booked a spa day at Remede Spa at St Regis Bahia resort.
After reviewing the Spa Menu, I decided that I could not decide. There were so many options, I booked a massage and the customized facial.
St. Regis resorts have a reputation for luxury, and I have been eager to experience this for myself. My expectations were further elevated after reading about the St. Regis pool in Doha, read all about it here. I was not disappointed.
After exiting the highway (PR-3), I drove another 10 minutes on a two lane road to the front entrance of the resort. I arrived at the St Regis property an hour before my first service appointment. Guests are greeted at the front entrance gate, where they confirmed my name and provided easy directions to the spa.
The check-in process was quick, I was introduced to Evelyn, the Ladies attendant. She not only escorted me on a full tour of the spa, she checked on me throughout the entire day, and was available to accommodate my every request.
Facilities
The changing room/lockers, indoor & outdoor showers, whirlpool, cold plunge pool, sauna, steam room, and refreshment stations are gender separated. Only the treatment rooms and a few sitting areas near this fountain are co-ed.
I changed into my robe and took an invigorating dip in the 50 degrees F (10 C) cold plunge pool to wake up my senses .
I found my happy place in the Whirlpool and enjoyed the 102 degree F (38 C) water before my first appointment.
Treatments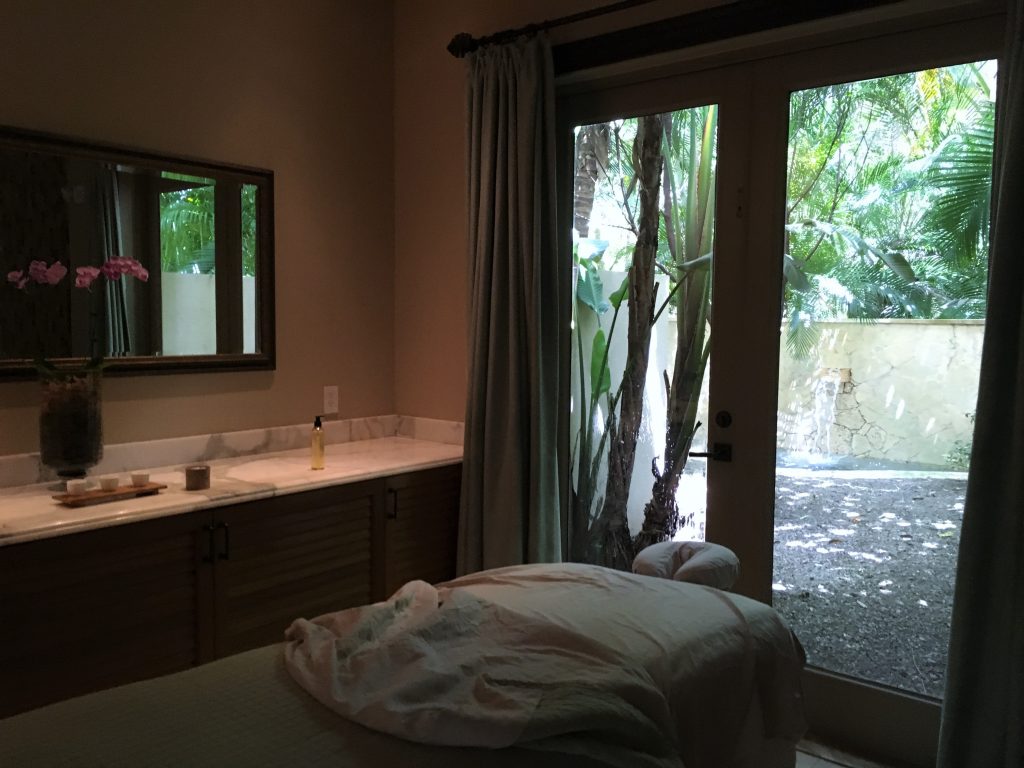 Massage Treatment room at Remede Spa
Before my massage, we discussed specific concerns, preferences, and essential oils/scents to be used. Over the next hour, all of my problem spots were addressed and hot stones incorporated for a few large knots. My therapist was excellent and provided deep tissue pressure as needed, and overall therapeutic massage leaving me relaxed and composed.
Relaxation Area
I walked back to the ladies refreshment area to be greeted by a cold glass of Champagne from Evelyn, plus a time check for my next treatment. The complimentary Champagne was a wonderful surprise. And time enough between treatments to quietly sip my fizzy beverage.
Honestly, since moving from a hot, dry desert climate to the tropics, my skin care routine is completely turned upside down. I wanted guidance to establish a new, tropical beauty routine. I discussed all this and more with my aesthetician. I explained my concerns and desired goals for the facial. She asked me a few questions while analyzing my skin, then explained her customized treatment for me. I agreed with her plan of attack, and started the facial. While various masks and creams soaked into my face, I received a paraffin wax treatment & massage for my hands, foot rub, and neck & scalp massage. Already relaxed from my massage and Champagne, I spent the hour facial in a pleasant, dreamy state.
Dining at the Spa
I slowly walked back to the ladies relaxation area, ready for my lunch of Caesar salad with grilled shrimp, from the spa lunch menu. It was delicious and filing, with two kinds of bread. The asparagus was a delightful addition to my salad.
After lunch, I alternated between the refreshing cold plunge, sauna, and the whirlpool, before finally ending my day with a refreshing shower and heading back to the real world.
Spa Review Recap
Overall, the service was excellent. The spa grounds are gorgeous, and the little details are what really made my visit exceptional. Each service was precisely what I wanted.
Remede Spa at the St Regis Bahia Resort in Puerto Rico is a decadent experience that I hope to make a regular habit. I am looking forward to many more spa days at Remede!
No special consideration was given to me other than being a paying guest at this property.