Are you dreaming of island life? You are not alone!
Before you pack up and move to Puerto Rico, you probably want to know about Cost of Living, Safety, Healthcare, and a million other details!
Before we moved to Puerto Rico, there really wasn't much information available online and I had no idea who to ask. Speaking with Puerto Ricans that moved to the US helped me to understand some of the challenges (lack of jobs in PR) and some of the cultural differences, but we really had no idea what we were getting into until we officially moved here.
These are my tips learned in the past few years living in Puerto Rico, information that I wish I had known before moving and trying to adjust to my new island life. The purpose of this information is to guide you through the challenges of island life and help set expectations for your move to the Island of Enchantment!
Feeling restless and wanting a major change in life, we started researching warm weather locations outside the continental United States. We started planning a move "somewhere" several years before we knew Puerto Rico was the ONE!
Where to Live
Months before moving, we spent 2 weeks driving through neighborhoods around the island. We went to the local grocery stores, compared prices, explored local festivals, and asked everyone that we met about their island life.
The criteria we considered important:
Proximity to San Juan Airport (SJU) – one hour or less drive
Beach access – sand beach, not rocky cliffs
Community with activities
Affordable
Good telecom – access to cable internet and good phone coverage from AT&T
Dog Friendly (more information on cargo shipping dogs and large pets here)
Some of the areas included in our search are:
Condado
Dorado
Fajardo
Isla Verde/Ocean Park
Luquillo
Palmas Del Mar
Many gated communities will not grant you access without an appointment (usually coordinated with a realtor or on-property leasing agent). The private residences at the St Regis in Rio Grande have a strict access policy, whereas Palmas del Mar can be accessed for public visitors easily (tell them you are considering moving and ask for a map, you can also stop into Palmanova Plaza for food & drinks on your visit).
Search for housing options (long-term rentals and properties for sale) on Clasificados online and Facebook Marketplace in your area, and many home purchases are listed on Point2Homes site. Zillow is not as common in PR, but a few friends have found some great properties to purchase on the site.
Ultimately, we decided to move to Palmas del Mar. Our first rental was a condo in Beach village (booked via VRBO). We signed annual leases for our next 2 homes. Renting gave us the opportunity to see more of the community and not feel rushed to buy something without all of the facts.
Update 2021: We moved full-time to Cabo Rojo!
Some of our housing criteria changed with the loss of our dog, and we have a new perspective of requirements after settling into our island lives. Renting our home(s) proved to be the right decision for us. I do recommend that new residents to Puerto Rico rent for at least a year before buying. Whereas, I know people that found the perfect home, in a great neighborhood, that they bought right away and are very happy with their choice. Do not feel like you have to rush into buying a home.
Cost of Living
Housing
Our first short-term rental was $2000/week including all utilities, paid in peak winter season for a 2 bed / 2 bath furnished beach front condo. The view was spectacular and steps from the ocean.
Signing an annual lease, we found a 4 bedroom/3 bath house, 2 car carport, with dog appropriate yard for under $2,000/month. This home was partially furnished with washer/dryer, water heater, dishwasher and appliances. We purchased bar stools, couch, coffee table, patio set, and bedroom furniture. Most of the furniture in the home, including what we purchased, was damaged from Hurricane Maria.
We checked suitcases of clothes with us on the airplane, then shipped some larger electronics and artwork via USPS. After researching the cost of shipping containers and how long everything would take to arrive and clear customs, we opted to purchase new rather than ship our existing stuff. As an example, it was less expensive to buy a new color laser printer than to ship our 3 year old model to us.
When negotiating your housing lease, it is very common in PR, the renter is responsible for maintenance on everything, even on large issues. The appliances in our second home were older and not maintained in the previous years. Our lease agreement did not cover any expenses or repairs $200 or less, including basic appliance repairs. Funny enough, every repair ended up $190 or less, for each occurrence. The first 6 months I paid $300-500 "extra" in basic repairs that I did not expect and had not budgeted for cost and hassle. This amount is completely negotiable as part of the rental agreement, and I made sure that our "deductible" was $100 for our current home.
Our current home is a 3 bedroom / 4 bath house with rooftop balcony and 2 car garage. This home is completely furnished, dishwasher, washer/dryer, water heater, couches, beds, TV, tables and chairs. We replaced the artwork with our own and brought in our computer desks and electronics. As part of our move-in agreement, the landlord added a backup generator with transfer switch.
Three bedroom homes in Palmas del Mar can range between $1,000 – $5,000 or more per month depending on location, view, amenities, square footage, floor plan and more.
Some of the "unfurnished" properties did not have appliances such as missing refrigerator and stove! Dishwashers and water heaters are not standard in Puerto Rico, and will not be included for many of the lower priced housing options. Look for "equipped" to indicate refrigerator and stove.
Utilities
Below are our actual utility expenses, based on 2 adults and the occasional house guest. We run the AC unit at night and a few hours during the afternoon.
Water (Palmas Del Mar has a private water utility) is around $90/month
Electricity is around $230/month based on 23 cents/kWh, compared to average 13 cents/kWh in mainland United States.
Cable internet from Liberty is just under $100/month
Satellite internet (as a backup) from HughesNet offers plans as low as $60/month. Satellite dish and installation are about $500 (one-time fee).
We kept our existing AT&T phone plan, Puerto Rico is part of the US and covered territories for our plan, there is no difference in price and coverage is good around the island. Verizon and Sprint also include Puerto Rico in their regular US plans, but several friends have expressed concern to me regarding their poor coverage on the island. Claro is the local phone service for mobile and land lines, with lower advertised rates than AT&T for mobile service and good coverage around the island.
Landscaping/Yard Maintenance is $100/month for lawn care and maintenance for a small grass yard (depends of size of the yard and if this is included in the rental lease).
Groceries / Food expense
Our grocery bill is lower in Puerto Rico than Phoenix, Arizona. We buy local meats, fruit, and vegetables (as much as possible). We eat very little processed food. We also have significantly reduced how often we eat out.
Processed and imported foods are more expensive on the island. Anything in a box, bag, can, or jar is likely imported and may be 20% more expensive. Buying in the "gringo" stores will also ensure that you may be paying up to double the price as shopping in local grocery stores like Econo, Amigo, Ralph's, or even Wal-Mart. Mini-markets near the tourist zones are also more expensive.
Healthcare
As soon as you establish residency in Puerto Rico, you can apply for local health insurance. As a territory ACA is not mandatory and health insurance is different in several ways. My island health insurance cost is significantly lower, and many other friends have also shared that their health costs are lower here, too.
Going to the Doctor and Emergency room visits are very different than in the mainland US. Here is a complete guide to healthcare and what to expect in an emergency in Puerto Rico.
There are good Doctors around the island, but this will involve some research to find them. Elective procedures are very popular for medical tourism on the island.
Transportation
Public transportation is virtually non-existent on the island. There is a small commuter train that runs between Bayamon and San Juan financial district. There is also limited bus service operated by Metropolitan Bus Authority (AMA – Autoridad Metropolitana de Autobuses). I have not ridden either of these transportation options.
Car share apps (Uber) are available in the metro areas for pick-up. I have taken Uber rides around San Juan and all the way out to Humacao, but pick-up is not an option in many areas.
Taxi Turístico operates throughout the island. There are set taxi rates from the airport and around metro San Juan. Check taxi fare before getting into a taxi, so there are no surprises. Some taxi drivers are able to accept credit cards, most will only accept cash.
Driver's License
You can buy a car without a PR driver's license, but you if you plan to make the island your full-time, year round home, here is step by step guide to get your Puerto Rico driver's licence. PR Driver's license is a requirement for most (if not all) the tax incentive programs such as Tax Act 22/Tax Act 60 (specific incentives).
Vehicle Purchase
We were able to downsize and are now a single car household. Based on the shipping and registration costs, we decided to buy a vehicle on the island rather than ship a car here.
Traditional vehicle leases are not available and most people end up buying a car. You will need proof of residence (usually a water or electricity bill) for vehicle registration.
Buying a car private party involves a trip to the CESCO office with all the required documents. Both buyer and seller need to show identification, bring the vehicle title, and current year registration document. Both parties show identification (CESCO office will take a copy of both licenses and confirm your identity), and both parties sign the title. Then go to another office to buy the stamp (really it is a sticker) for $17 or $21 if purchased from the lawyers office. Back to the CESCO to present the stamp and transfer the title. When complete the new vehicle owner has a clean title for the vehicle and the sale is complete. This can take as little as 30 minutes (especially if you have a senior citizen as buyer or seller, they get priority through the lines), or this can take several hours.
Car Registration
The Marbete sticker is vehicle registration and minimum required auto insurance. This sticker is placed on the inside of the passenger side windshield. The expiration month is indicated by hole punch in the sticker and renewed annually.
Any traffic violations, speeding tickets, parking violations, or other issued tickets stay with the vehicle, not the driver. Buyer beware when purchasing a (used) vehicle, any outstanding tickets will be transferred with the vehicle.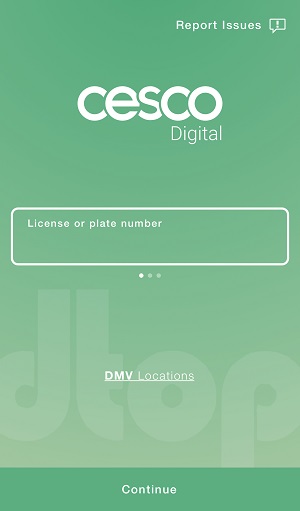 Even paid tickets are sometimes "forgotten" by DTOP and will remain with your vehicle. These tickets will need to be paid (re-paid or prove that you already paid) before DTOP will issue a new Marbete registration and sticker.
The vehicle owner can verify registration and any outstanding tickets on the DTOP website or download the CESCO app for verifying tickets, paying fines, and getting your car registration form.
Any traffic tickets (speeding or parking tickets) must be paid before the annual car registration. Any outstanding tickets can be paid via the smartphone app with VISA or MasterCard.
Start or Move a Business
While many people have the opportunity to transfer to Puerto Rico with their current job, or even more rare to obtain a job in Puerto Rico to move to, another great option is to start or move an existing business to the island.
There are many incentive programs to bring businesses and the corresponding jobs and economic development to the island, including the Tax Act 60. Previously known as the Tax Act 20 /22 incentive program, businesses that export goods or services from Puerto Rico while operating on the island qualify.
Here is more information on Tax Act 60 program and some of the qualifying businesses. There are tons of programs to encourage businesses to move or start up in Puerto Rico including export services, manufacturing, agriculture, Research & Development, and more!
Hurricane Preparation
Hurricane season is June through November in Puerto Rico and the Caribbean Sea. Historically, the most active months are August & September. The National Oceanic and Atmospheric Administration (NOAA) provide forecasts, calculated paths, and evacuation information for hurricanes and tropical storms.
Stock up on non-perishable food (shelf stable food in cans and jars) and store several gallons of water. I stock up on supplies in the months leading to Hurricane Season (the worst months are August – October), then donate or use these supplies starting in November to keep my inventory fresh.
My complete hurricane preparation checklist includes food, fuel, solar lights, cash, and other supplies to stock ahead of time.
If you are caught by surprise, here are 9 last minute hurricane prep tips.
Most importantly, if the authorities issue an evacuation notice – LEAVE! Grab your emergency backpack, pets, family members and get to a shelter or family/friend's house in a protected area immediately.
Hurricanes are part of living in the Caribbean. Puerto Rico is recovering and most residents are better prepared for disasters than a few years ago. Here is more information on recovery from Hurricane Maria.
Is Puerto Rico right for you?
I love my island life! It is not easy, and there are certainly challenges living here.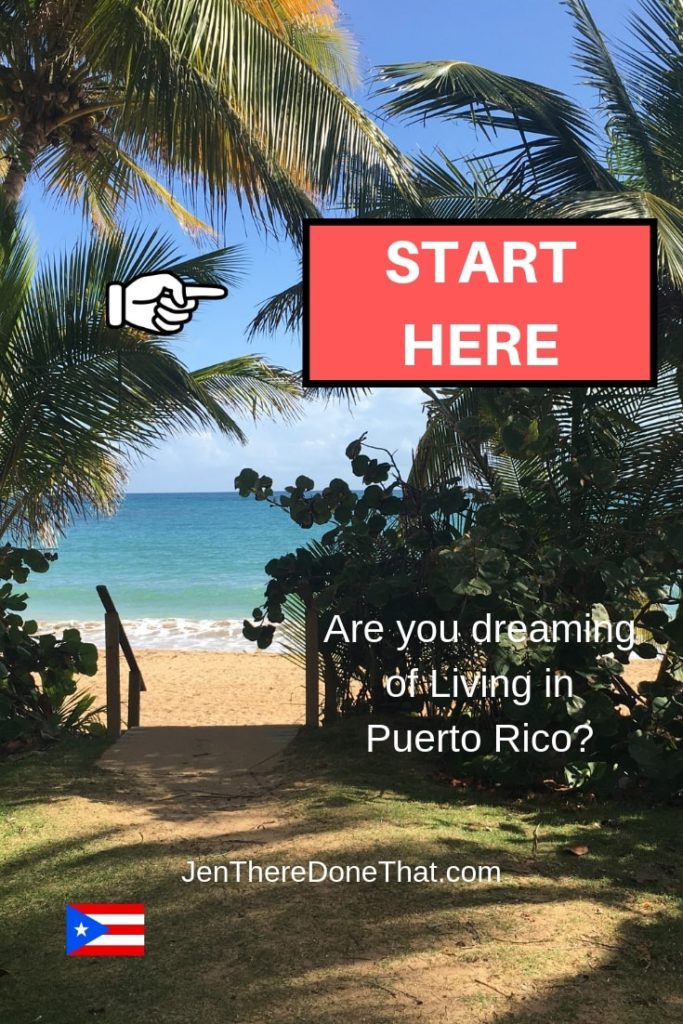 Most information is shared verbally and it was very difficult to find any information online before we moved. I hope this guide is useful to you in your research on living in Puerto Rico. Only you can decide if the island life is right for you, but I certainly hope this provides a starting point to make a more informed decision.
Did I miss something? Leave a comment below if you have questions or other topics that I should add.