My family consists of Him, Her, and Dog.  I would never consider a move even to a new place in town, without my dog.  Moving 3,000 miles away and over an ocean would not be possible without transporting my dog to be with me.  Our dog is 50 pounds and not a service dog (I would never lie about that or try to scam the system), so travel in cabin was not an option.
Here are the 10 questions you need to ask when booking Cargo travel for your Pet, and my recent experience (good and bad).
Scenario 1: Complete Failure!  Weeks before our travel date airfare was purchased over the phone, with a real live person, for our dog's flight and our people airfare.  Then 4 days before the flight, as per airline recommendation, I called to confirm flight and ask a few questions.  That is when everything fell apart.  One customer service rep said it was not possible to fly my dog to Puerto Rico and I was offered a full refund, or leave the dog in Phoenix.  Several more phone calls and completely different representations with conflicting options each time, just left me with that queasy felling that I am going to go to jail for assault the night of our flight unless I make other arrangements.
Scenario 2: That evening (four days before our big move), I called United to discuss the PetSafe travel options for my dog.  Less than 30 minutes later, I had my dog's travel booked, all questions answered, assurance that he would be in climate controlled environments the entire time, and let out of his kennel between flights for potty breaks and exercise.  His flight cost more than mine, in FIRST class, but he is my baby.  United confirmed that he would need a Health certificate within 10 days of flight, and no quarantine at our destination (or any part of our travel).  I was provided a tracking number, and I was able to view his travel progress on-line the entire time he was in United's care.  He arrived safely in San Juan, he and the kennel were undamaged, and he was very happy to see me. SUCCESS!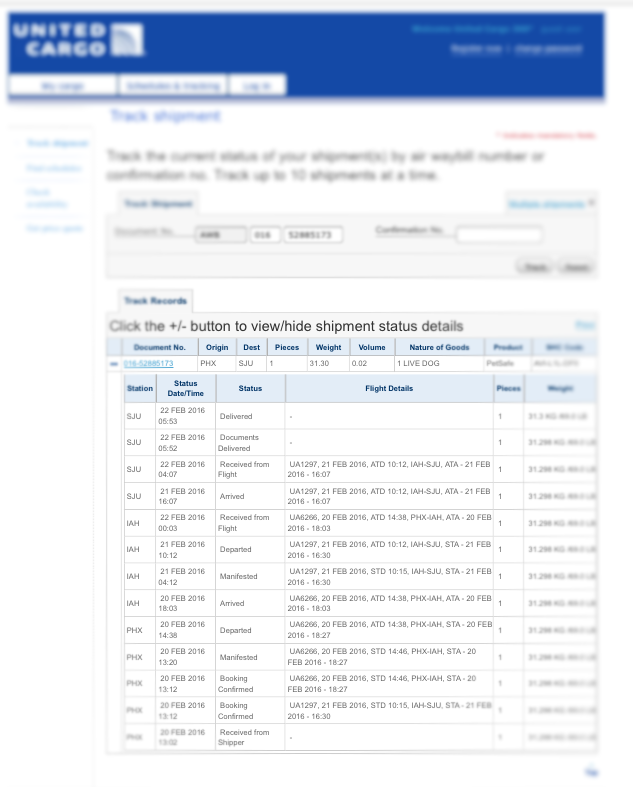 If I ever need to Cargo ship another pet, it will be with United PetSafe program!
Here are 10 questions to ask when booking Pet travel in cargo:
Will my Pet be in climate controlled environment the entire trip? Some airlines have temperature restrictions because your Pet will be left out on the tarmac in heat, cold, rain, whatever.  Airlines without temperature control can CANCEL your Pet's travel at the last minute if the temperature exceeds tolerance (colder than 45 degrees or warmer than 85 degrees at any of the airport stops/connecting flights).
Is there an option for exercise and potty breaks? United charges an optional $100 Comfort fee for breaks between flights, or overnight boarding in a temperature controlled facility outside of their travel kennel.
Is there a flight duration limit, or option for overnight boarding? Direct flights are not always possible, and multiple segment flights can have long lay-overs.  Some airlines have a restriction for 12 hour or less travel time, which may not be possible for certain routes.  United could not transport my dog in under 12 hours due to layovers, but offered an overnight boarding option where he was fed, exercised, potty breaks, and cozy night sleep in the boarding facility.
Can my Pet travel without me? Will the airline allow Pet travel reservations without a people passenger on the same flight?  United allows unaccompanied Pets to travel in their care, no people travel reservations are required.
Where is the drop off and pick up? Baggage check-in or off-site Cargo location?  The other airline offered pet drop-off at baggage/ticket counter.  United has a separate drop off and pick up outside the normal airport perimeter for Cargo Pets.  Confirm on a map, the exact location of the off-site Cargo facility.  The address listed and provided by United was a mystery to Google Maps – we drove around the airport in San Juan for over an hour trying to find the location, which was hidden a mile in the jungle!
What do I need to bring at drop-off? United requires a Health Certificate dated within 10 days of travel, current Rabies certificate, and verifies pet breed to ensure there are no breed restrictions at the destination.
How much will it Cost? Some carriers charge a flat fee.  United charges by weight, plus comfort fee.  This is another reason why so many people lie about service animals, they avoid the cargo pet fee and their Pet is allowed in cabin.
What is allowed in the kennel with my Pet? United only allows food and water dishes, and piddle pad in the kennel.  With comfort break, United also allows leash and 16 oz of dry food, taped to top of kennel with feeding instructions.
Does the Airline offer tracking or update service? United provides an Airway number that shows each step of your Pet's travel.
When can I pick-up my Pet? United asked for 2 hours after flight arrival to unload and transport the Pet to the Cargo facility.  United confirms photo identification of authorized pet handlers at drop off and pick-up.  The flight arrived 30 minutes early, so next time I would plan for an hour after scheduled arrival, so my dog does not have to wait on me (he is so spoiled).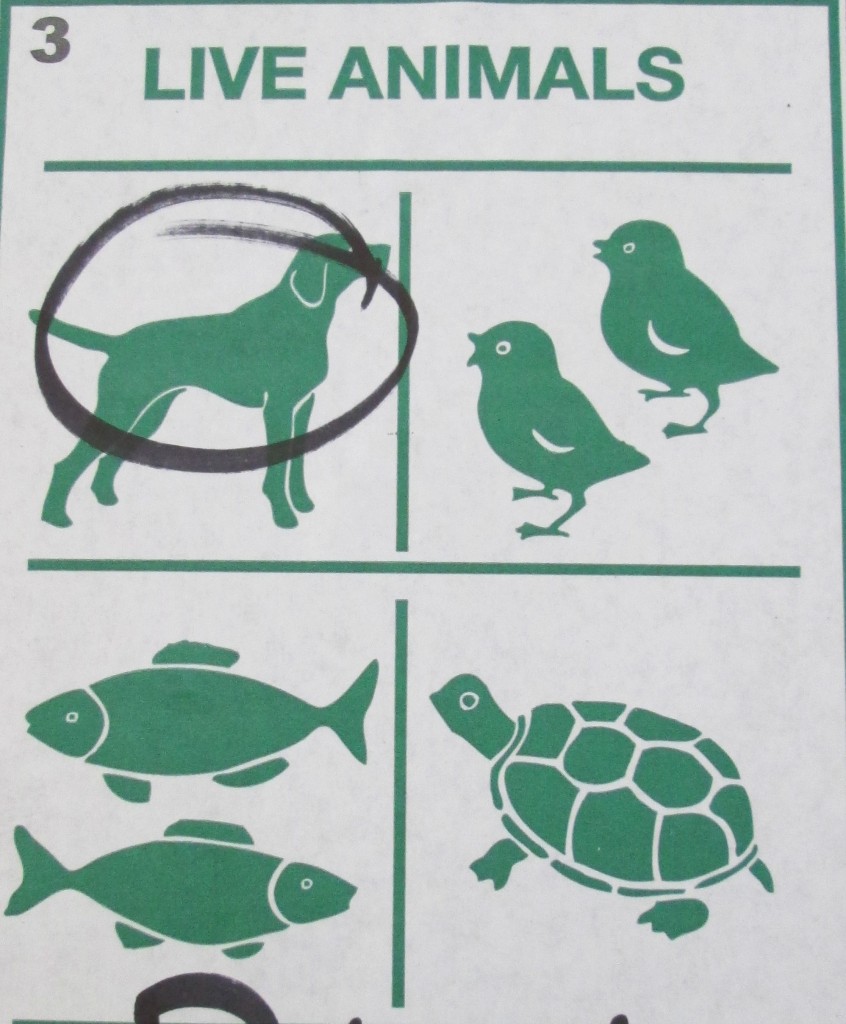 The two most important lessons that I learned are 1) Book United PetSafe to avoid the majority of Pet travel headaches and 2) Verify on a map the exact drop-off and (especially) pick-up location for the destination airport.
Safe travels for you and your (Cargo) Pet!