Puerto Rico is a US Territory, and it seems more like a foreign country when it comes to healthcare. Here is everything about medical care, prescriptions, and laboratory tests that I wish I had known when we moved to Puerto Rico. Here are some helpful health tips and information for both visitors and new residents living in Puerto Rico.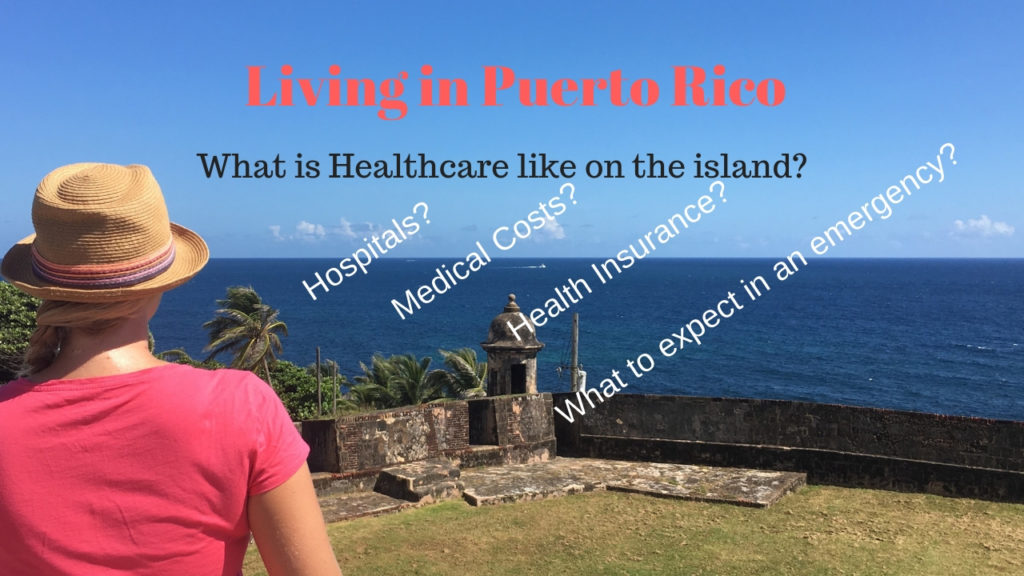 Healthcare for Visitors
The first time that my parents visited Puerto Rico, my Father ran out of his prescription insulin. His prescription and corresponding refill was through Walmart and we assumed that not only would Walmart US and Walmart Puerto Rico be the same, that also the US Medicare healthcare program would be the same. We never did get consistent information, but long story short, the insurance would not cover his prescribed insulin but did offer a lower dose insulin (without prescription) for less than the regular co-pay. The crisis was diverted and now my Father always verifies his insulin and all medication before coming to visit Puerto Rico.
To be safe, when visiting Puerto Rico bring a complete list of your medications, do not assume you can get a refill of a prescription here, and assume you will be "out-of-network" while on the island. Double check if your insurance covers emergencies in Puerto Rico. Travelers insurance is a good idea if you have health issues or are accident prone.
Healthcare for Residents
As soon as we moved to Puerto Rico, we gave up our US based health insurance and signed up for the far less expensive, better coverage Puerto Rican health insurance plan. My previous US based insurance (self employed) was over $350 per month, and my new Triple S (Blue Cross Blue Shield of Puerto Rico) insurance in Puerto Rico is $180 per month now. My insurance is widely accepted around the island, it has low co-pays, many $5 co-pay for prescriptions, and high coverage.
Finding a Good Doctor
The doctor lists provided and maintained by health insurance companies on the island are outdated and contain wrong information. The best way to find a good doctor is to ask friends and neighbors.
There are Doctors and medical facilities located all around the island, but my personal experience is that the best doctors and medical care are in the San Juan metro area, some of these Doctors may also have offices in/around Ponce. I highly recommend Salus clinic for Triple S insured patients. The website has good information, and while it states that they take online appointments, that is a lie. You must call and make your appointment. There is a paid parking lot near the front entrance of the clinic, and the laboratory is on-site for one-stop medical care.
One of my Doctor's office is located in the Maramar Plaza of San Patricio in Guaynabo. This was a referral from my Primary Care Physician, otherwise there is little information online about my Doctor and the other medical offices located in the building. There are 20 medical practices located in this building, at least that is what is listed on the sign for directory information posted on the elevator door and in the lobby. Like most things in Puerto Rico, it is difficult to obtain information in general, there is little to zero information online, and often the only way to get information is to physically go there in person.
Concierge Medicine
There are several concierge medical groups on the island such as Pravan Health. These concierge groups provide a wholistic approach to your healthcare. The annual membership fee includes a complete annual exam and labs, plus regular appointments throughout the year, access to 24×7 emergency care, specialist referrals, and many other health related services. Concierge medical provides actual medical appointments (not an appointment window, or first come cattle calls common throughout the Caribbean).
Patients with chronic medical conditions and other health issues will certainly benefit from a concierge plan.
Going to the Doctor
The "country" medical offices around the island tend to look run down and often have the appearance of an abandoned building. There may only be a couple parking spaces, or none at all. Many of these offices only have one Doctor on staff, they tend to be very overcrowded and rarely take appointments. Patient medical forms tend to only be available in Spanish and maybe one English speaker on staff, maybe none. Bring cash, not all Doctor's offices accept payment for co-pays via credit card.
San Juan and surrounding areas of Bayamon, Guaynabo, and Condado tend to have nicer, more modern facilities. These are the medical practices with more than one Doctor, modern equipment, on-site parking (paid or complimentary), medical forms available in Spanish and English, and more English speaking staff. Many of these facilities offer appointments or an appointment window (Example, 6 patients between 1-2 pm, first come first serve).
In general, most Puerto Rican medical facilities do not follow any kind of patient privacy or HIPAA guidelines, I am not even sure if they are required to. Patient sign in is visible to everyone, and there is no indication of privacy and security of health information. They avoid the standards for electronic exchange by doing everything manually and there are very few electronic records. Much like banking, medical information in Puerto Rico is stuck in the 1980's for technology.
Do you want to see what it is like to go to the Doctor in Puerto Rico? Here is a video of my experience, frustration, and helpful tips for doctor office visits in Puerto Rico.
Laboratory Tests
Laboratory facilities are located throughout the island. There is no appointment necessary, first come first serve basis. Many Lab technicians are bilingual. The biggest difference between labs is how quickly they complete the test and have results completed.
Bring your prescription for lab work into any lab facility. Sign in, take a seat, and your name will be called pretty quick for co-pay and the laboratory tests.
Before leaving, confirm when your lab results will be ready for pick-up. Unlike everywhere else in the modern world, lab results are not sent directly to the prescribing Doctor. You, as the patient, are expected to pick up your lab results and deliver them to the Doctor. When you go back to the lab and show your identification to pick up your results, then you need another appointment with your Doctor to review the results.
Be sure to ask if the lab can send results "electrónico" and email the results directly to you. There are some tests that require a physical stamp and must be picked up in person, but more labs are able to support sending the results via email or login to a results website.
There are many independent testing labs around the island. Laboratorios Borinquen has 39 branches (as of August 2021) around the island and offers electronic results for many tests, if you specifically request them. High Profile Laboratory has fewer physical branch locations, but offers at home visits for blood and urine tests for patients located as far away from metro San Juan area as Humacao (including Palmas del Mar).
What to Expect in an Emergency
Recently, my friend's sister came to Puerto Rico to visit. On the third day of her visit, she had a medical emergency that required a lengthy hospital stay and multiple ambulance rides. Jaime shares the story in this interview style video.
Some of the information that my friend learned (the hard way) was:
In an emergency, call 911! They may put you on hold to find an English speaker. Asking a Spanish speaker to call for you could get a response faster and avoid any delay to locate an English speaker.
Ambulance companies are privately owned and may require payment in cash before the patient will be transported to the medical facility.
Emergency transportation will ask you to decide which medical facility for transport.
There does not appear to be any coordination between ambulance and medical facilities to prepare for incoming patients or to recommend the best facility for the emergency or trauma.
The patient is responsible to provide blankets, pillows, bed pans, and all hospital supplies. The hospital will only provide information on what and how many to bring, such as how many sets of clean night gowns. The patient's family are critical to provide these items. Even the medicated cream for bed sores must be provided by the patient's family. I have no idea what would happen to someone without a support system to provide these hospital necessities.
The Doctors and Nurses are qualified professionals and they provided good healthcare that ultimately had a positive outcome. The healthcare providers work hard for patient care and genuinely cared about their patients.
These are my personal observations and experiences and in no way should be taken as medical advice. I am not a Doctor or any kind of medical professional.