Nevis Island is one of the best kept secrets in the Caribbean! This warm weather, tropical destination boasts amazing mountain views, stunning white sand beaches, fresh & healthy cuisine, adorable wildlife watching all wrapped up in a safe and relaxing environment.
Saint Kitts and Nevis is a little country located in the Leeward Islands chain, the arched group of islands dripping down the eastern side of the Caribbean Sea, beyond the USVI and BVI islands. St Kitts and Nevis is the country name, as well as the names of the individual island states.
Nevis is often overshadowed by the larger and more populated island of St Kitts, and that is part of the charm of Nevis. This 36 square mile oval shaped tropical wonderland is secluded with a small population. There are five parishes (neighborhoods), including the capital of Charlestown, that form the pie slices of the island. With a mere 12,000 residents after only a few days on the island, there will be familiar faces to greet you and ask about your day. Faces that were strangers just hours earlier are now added to the Christmas card list and this year's birthday celebration.
There are no chain restaurants or stop lights on the island. There are plenty of Oceanfront restaurants, Mom & Pop operated businesses, secluded beaches, natural mineral hot springs, hidden hiking trails, free roaming donkeys, sheep, horses, and of course, monkeys.
How to Get to Nevis
Saint Kitts and Nevis are the two islands of the namesake country. Each island has an international airport to welcome guests. The larger airport is located on St Kitts (SKB) and is the best option for North America and Europe originating flights. Nevis (NEV) is home to a smaller international airport perfect for island hopping around the Caribbean, and especially convenient for Puerto Rico flights. Despite how close they appear, it is not possible to drive between islands. The islands are separated by a 2 mile wide stretch of ocean known as the narrows, that can easily be crossed using the St. Kitts and Nevis Ferry or a water taxi service.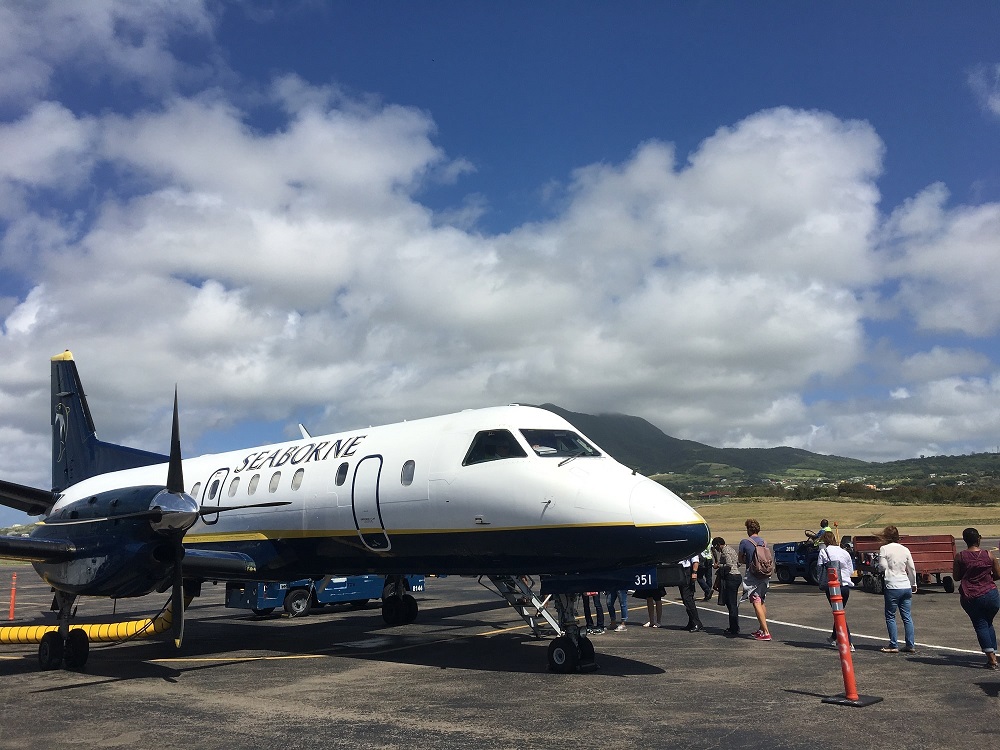 Seaborne airlines offers a one hour direct flight from San Juan (SJU) to both St. Kitts and Nevis island airports. This is the perfect excuse to stop by Puerto Rico to visit for a few days before heading over to my new favorite island of Nevis.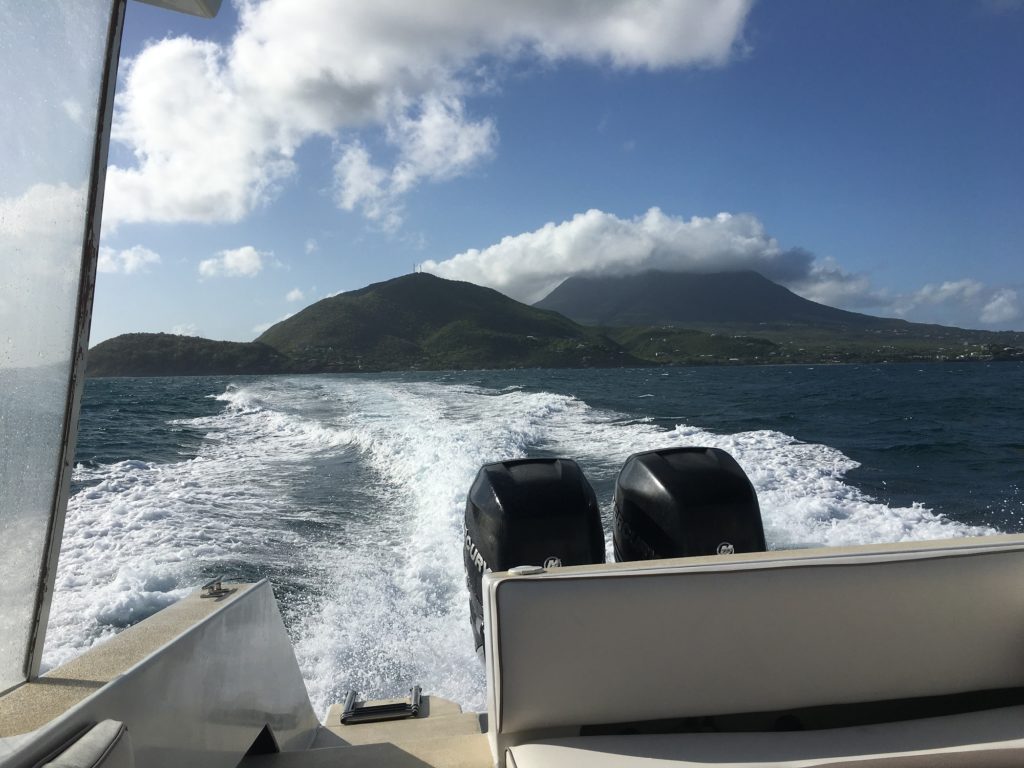 On my first visit to Nevis, I flew into Nevis island and departed from St. Kitts. It is a short water taxi ride from Nevis to St. Kitts, then taxi car to arrive at the airport terminal. Overall, I enjoyed the water taxi boat ride and the opportunity to see a bit of St. Kitts. My transfers were seamless and pretty quick, but this could easily cause delays and extra time should be allowed before a flight. If I was just popping over for a short weekend getaway it is certainly easier to fly into/out of Nevis directly.
10 Interesting Facts about Nevis
English is the official language. Some locals also speak a Creole dialect.
The country name is St Kitts and Nevis. These are two separate and distinct islands with individual airports.
The southern tip of St. Kitts is separated from Nevis by a 2 mile wide shallow channel of water known as "the narrows".
There are more monkeys than residents living on the island.
Vehicles drive on the left (British style).
There are no stop lights, only stop signs and traffic circles (roundabouts).
Almost all of the food for the island is grown on the island.
The mangoes are not exported off the island, you must go to Nevis to eat a locally grown mango. The annual Mango Festival is held the first week of July.
There is a natural mineral hot spring known for healing properties.
The official currency is Eastern Caribbean Dollar (XCD). Many restaurants display prices in United States Dollars (USD) and it is widely accepted as currency. A few ATMs offer the option of USD or local currency for cash withdrawal.
Accommodations
As a general rule, Nevis is not cheap. There are no Hostels or Motel 6 accommodations anywhere on the island. The moderately priced options are still pretty darn nice, and there simply are no bad locations anywhere on the island! There are a wide variety of accommodations to fit your mood, with more budget friendly options to eye watering expensive, Nevis is ready to spoil you!
Romantic Getaway on a Budget
Firefly Cottages are tucked in the lush tropical rainforest for a secluded stay perfect for honeymooners and couples that value a private setting "away from it all". Be sure to get contact information for local taxi drivers or rent a car for this hideaway.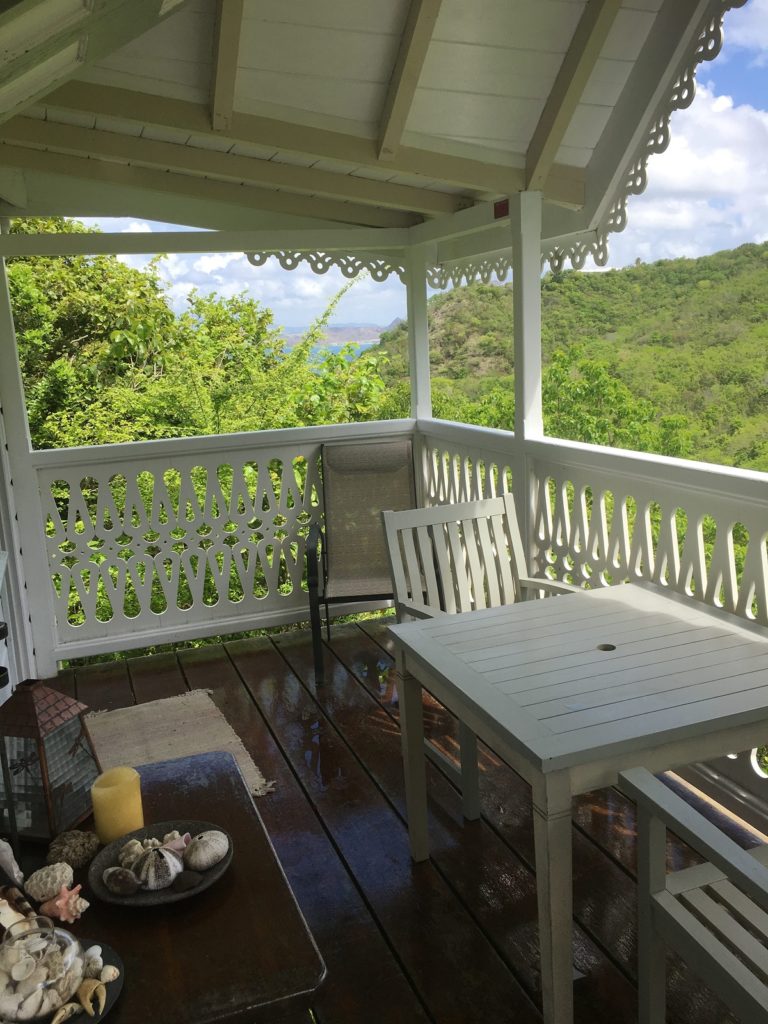 Family friendly long stay accommodations
Looking for an extended stay on this paradise for a few months? Nelson Springs offers longer term rentals over looking the stunning white sand beach. Full kitchens and living spaces, these apartments are a great option for snowbirds, digital nomads, and summer vacations.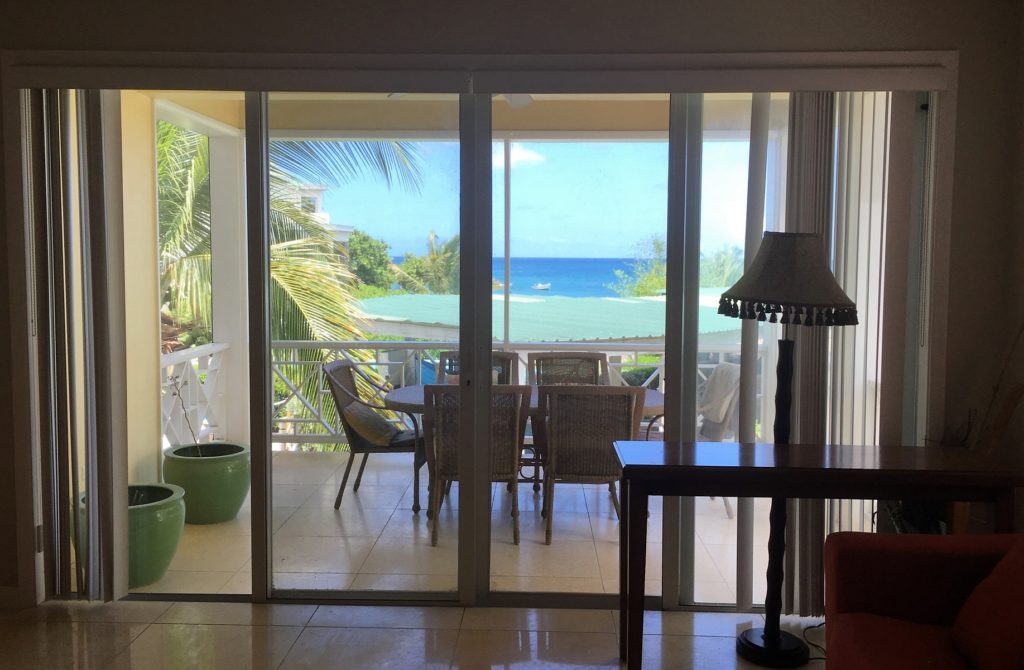 AirBnB/VRBO options
Private homeowners have a wide range of properties available around the island. Check for updated listings, prices, and amenities. Most of these residential homes are offset from the beaches and restaurants, so you may want to rent a car or have the number for a couple taxis.
Moderate Priced
Mount Nevis Hotel features views of St. Kitts across the narrows from the private room balconies or hotel pool. While this hotel does not have direct beach access, on this tiny island it is just a few minutes away to your choice of stunning beach. This prime location features fantastic monkey watching, as I encountered numerous monkeys on my morning walks and driving around the property.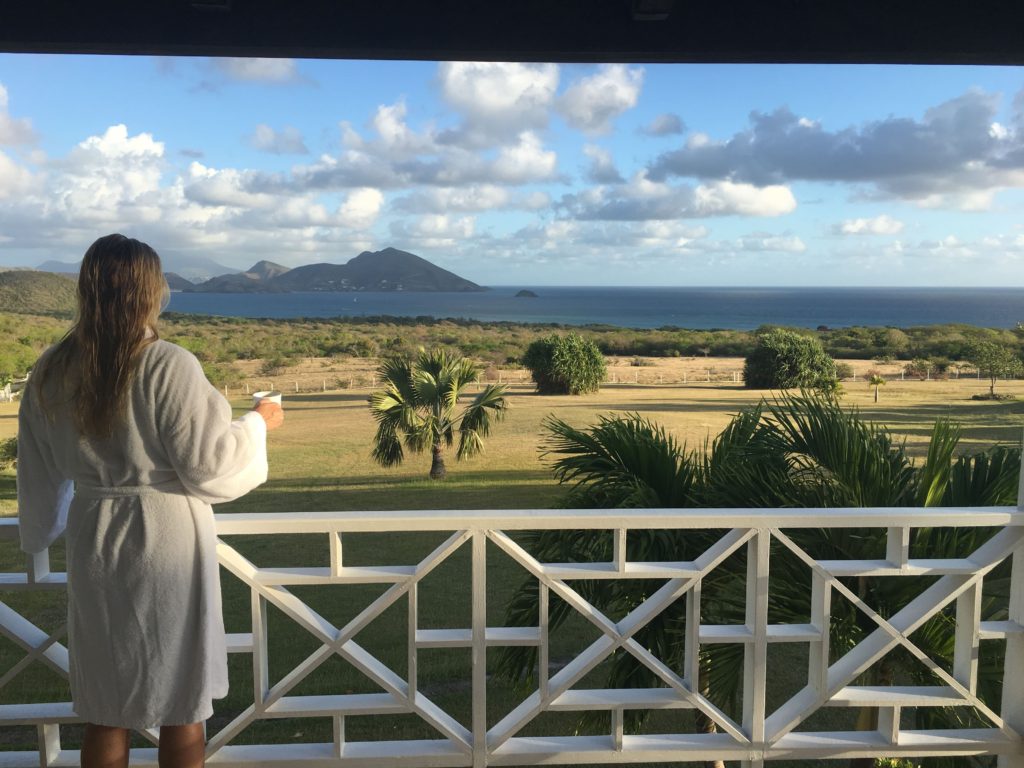 Luxury
The Four Seasons is the largest, and most luxurious hotel in Nevis. With on premises luxury spa, multiple pools, and beach side cabanas, this is the luxury stay that you should expect at a Four Seasons 5 star property.
Extreme Luxury
Private luxury villas are available through the Four Seasons resort (located on their exquisite property) in a range of high end homes. We spent a morning touring several high-end luxury properties, including this monkey themed villa.
Activities
ATV Tour of the Island
One of my favorite activities is the Funky Monkey ATV tour around the island! Several days into our trip, we explored the island on ATV with local tour guide. This adventure is a great way to see a little bit of the entire island in a single morning, including beautiful beaches, historic sites, epic views, and plenty of wildlife including free roaming horses and monkeys.
Several of the historic sites such as Cottle Church, Hamilton Estate, and outdoor sugar mill museum are jam packed into this tour. The 4×4 ATV zips across the island with back road views not accessible by car. My only regret is that we did not start our island stay with this tour! I highly recommend making the Funky Monkey Tour your first morning activity upon arrival.
Visit Historic Landmarks
Cottle Church was the first racially integrated church on the island, built specifically for a wealthy family and slaves in 1824. The roof is long gone, leaving only the foundation walls in this important site.
St. James Anglican Church is an active place of worship and home to a Crucifix depicting a black Jesus, only one of three in the entire Caribbean.
New River Sugar Mill Outdoor Museum allows an up close view of the machinery used in sugar cane production including the rusted remains of 1800's steam engine and sugar cane mill stone building. Experience the rich Caribbean history of sugar production on St. Kitts and Nevis.
With the rise of Lin-Manual musical Hamilton, there is more interest in the birthplace of Alexander Hamilton and Hamilton estates around the island. Visit the Museum of Nevis History in Charlestown for Hamilton history or explore the ruins of the Hamilton Estate.
Hot Springs
While Nevis Peak is still technically classified as a "potentially active volcano" there are active hot springs on the island, and better yet no warning of eruption. Locals and guests visit the mineral springs with water up to 109 degrees F (42 C). Walk up through the flowing river to the covered outdoor thermal springs for a relaxing soak in these therapeutic waters. The covered area is accommodates for 4-6 adults at a time. Shoulder massages are available for $6 (on select days) using locally made treatments and oils. ​
Beaches
Calm, white sand beaches surround the majority of the island. There are a few spots with slightly rougher water and a small section of rocks, rather than soft sand. Sand color may vary from snow white to a beige-brown around the island. It would be difficult to find any complaints with these picture perfect beaches of Nevis.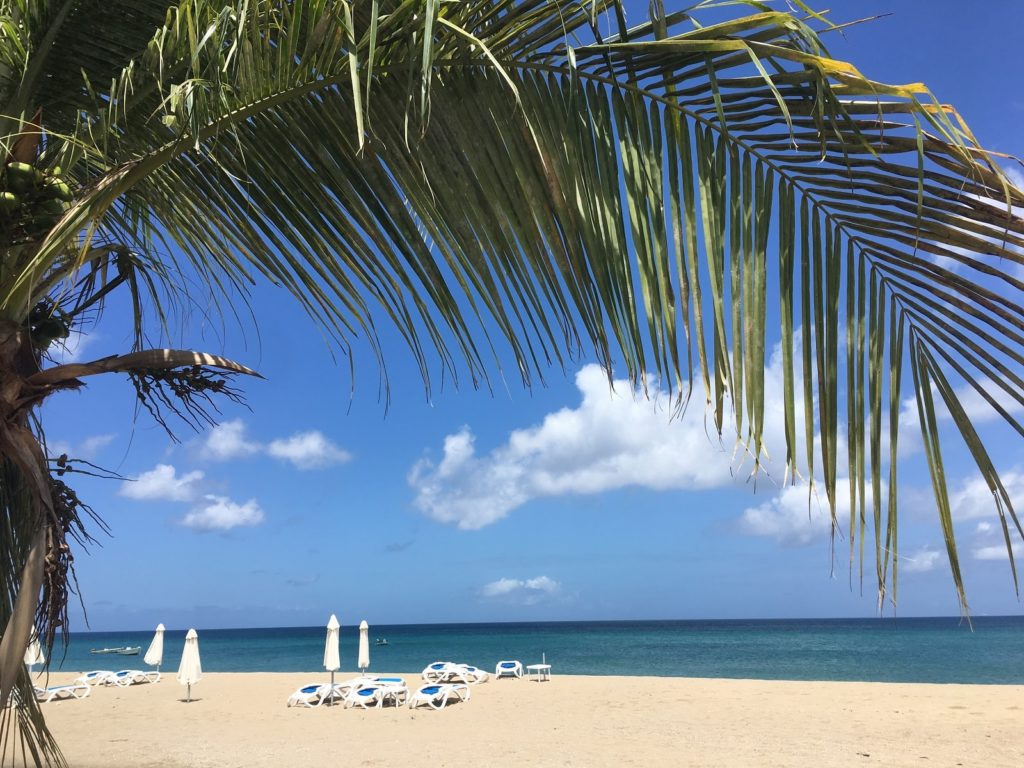 Hiking
Nevis Peak is a potentially active volcano in the center of Nevis Island. Consistently surrounded by cloud cover, the peak is the tallest point on the island at 985 metres (3,232 ft). It is recommended to have a hiking plan and a good map or local guide. Hiking trails are rated Challenging, with many locals warning me about steep trails. Other descriptions include rugged, muddy climb to the summit, so this absolutely requires advance planning.
Unprepared with proper hiking boots and gear, Nevis Peak is absolutely on a must do for my next visit.
Sea Adventures
There are multiple SCUBA Dive, boat charter, and sailing options in St. Kitts and Nevis. Our sunset sail was the relaxing end to the day and is a great activity for your last night in Nevis.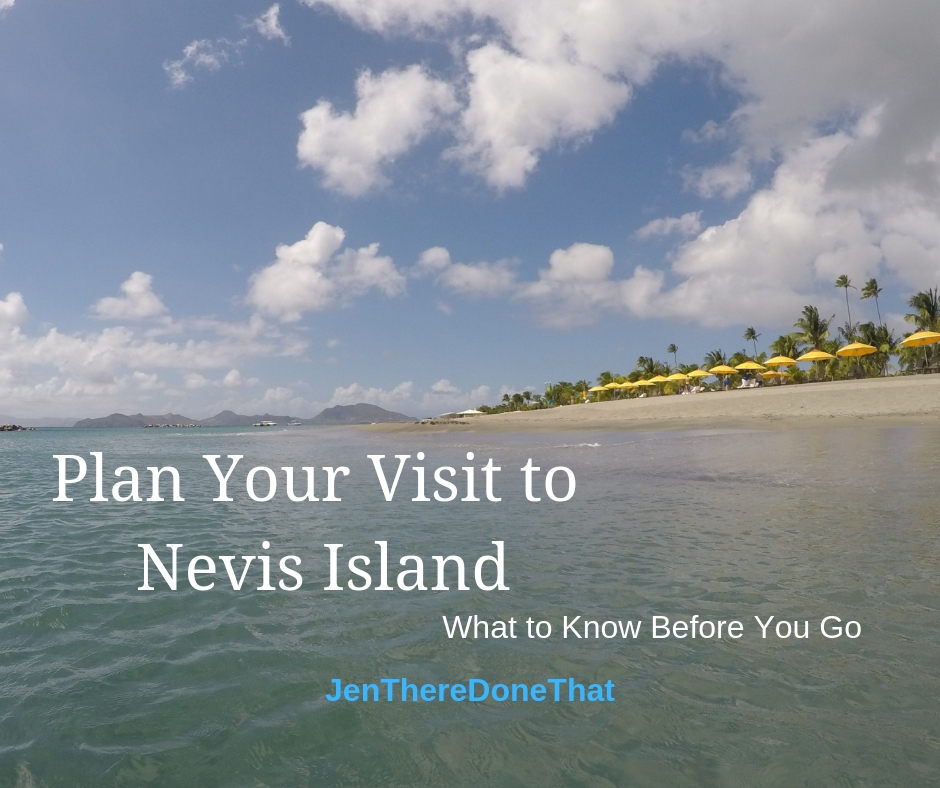 Disclaimer: Special thanks to the Nevis Tourism Authority for inviting me and arranging my travels in Nevis. While I was an invited guest, all opinions are my own.