Travelling solo sounds like a lonely, dangerous activity, but with some common sense strategies travelling alone can be a great way to relax and have a vacation just for YOU.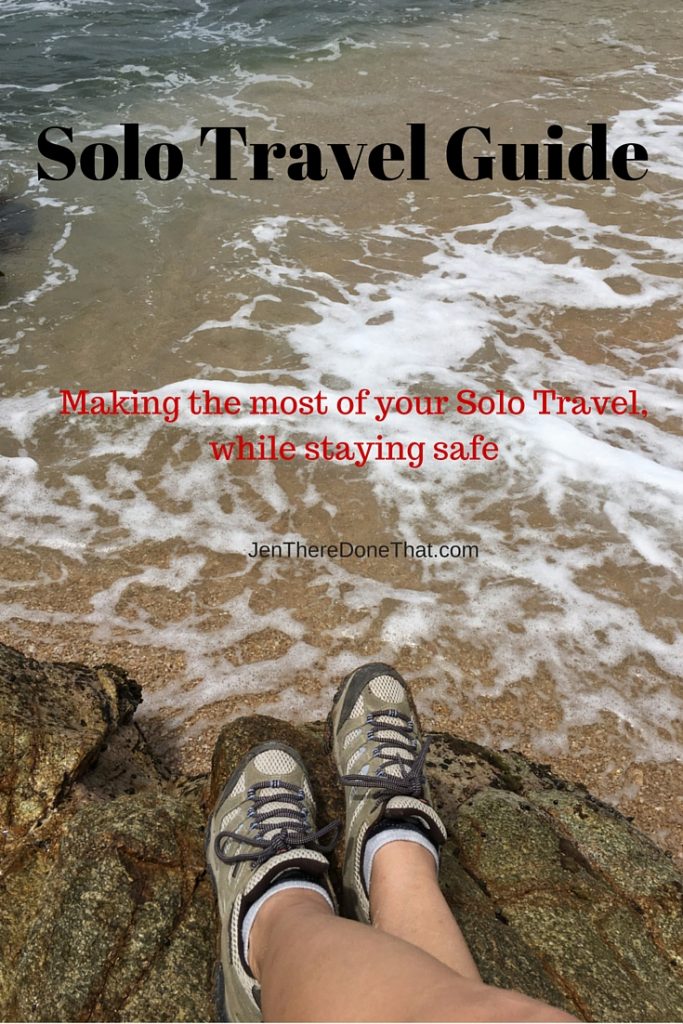 For many years I was a road warrior. I traveled for business (often by myself), vacation alone, and many solo road trips. By choice or necessity, travelling solo is a rewarding experience that I highly recommend.
If given a choice, why would I want I want to travel alone?
Single Tickets
Buying last minute concert and theater tickets for one are easy to purchase right before the show, and often amazing seats! There were many times that I walked up to the box office for a (smallish) theater and was able to negotiate the price down on a single ticket for a performance that day. Several times this landed me in the first five rows! Mention that you have cash for better negotiation on the ticket price. A good friend told me how she scored a same day single ticket for Lion King, she was diverted to a cash only line and ended up with a better seat than non-cash singles in front of her.
You are more likely for train and airline upgrades when travelling alone. It is so easy to take the travel vouchers for oversold/over booked flights when offered by airlines, there is less coordination involved with changing travel plans for one.
Travelling solo is the ultimate choose your own adventure!
Set Your Own Pace
There is no early bird/sleeping in conflicts, or how late you want to stay out. Deciding when and where to eat is easy. No waiting for anyone else when you are ready to eat, and food for one is very fast (dessert is all yours!). Solo travel is ideal for art galleries and museums, where there is no pressure to rush through an exhibit, and no waiting to leave when you are done with an activity. In fact, there is no pressure to go or stay at an event or activity that you do not like! Downtime is when and where you decide, for as long as you want. The schedule is completely up to you and provides for a wide range of spontaneity.
Go Incognito
It is easy to blend into the background to people watch and observe activities when solo. Sometimes it is nice to quietly sit and soak in the culture of a new place. Armed with coffee and a book, I would find a bench to sit and watch – this is also a handy trick to plan the next activity discreetly.
Photos
Before the built-in camera phone and selfie stick, I was stuck asking someone to take my photo, or skip it. Now I have more control over the photo results and can travel in remote areas alone with photographic evidence of my journey. Traveling alone has given me more opportunity to improve my photography skills. There is no distraction where I miss the big moment to capture a great shot. I can wait for the perfect lightening, or crowds to clear without worrying about delaying a travel companion.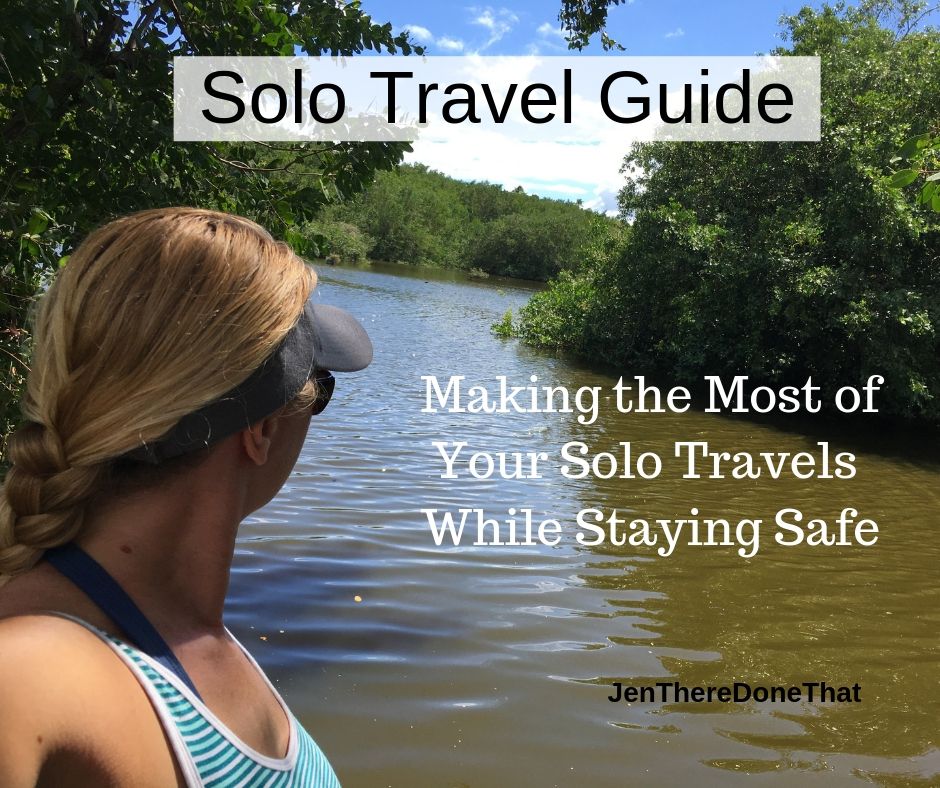 Confidence
The more that I traveled solo, the more confident I became.  I started travelling alone in the US (my native country) for single day trips.  I was close to home and I always had a plan to get home for the night.  My first trip out of the US was to the Bahamas, which is still close to home and English speaking.  When presented with the opportunity for a short-term work assignment in England, I jumped at the opportunity!
Even if you are travelling with a group, you may still have the opportunity to branch out on your own. Before you commit to an entire vacation alone, try spending the day alone.
For international travel, or just going outside your medical "network" get a travel medical insurance policy for piece of mind, and to give your confidence a bigger boost against accidents.
You are travelling alone, now what?
Dining Alone
Table for one? When eating out, opt for a place that serves the full restaurant menu at the bar. The bar staff/waitstaff tend to be understanding and attentive to solo diners. On weekends and busy season, eat early or later for better seating. Some restaurants offer communal or group seating, this is especially common in Europe and gaining popularity in the US (True Food Kitchen offers community dining). If your do end up sitting at a table for one, ask for a table near a window.
My favorite Russian restaurant in London would always seat me against the wall near the front window, it was the best people watching and out of the flow of other diners. Since I ate there every week, it became "my" table, and the waitstaff treated me like a princess! Of course I tried new cuisine and places to go, but if I ever had a bad day or felt lonely I would go to one of my regular restaurants as my go-to comfort zone.
Single Hotel Occupancy
Just one room key? Checking into hotels by myself was a bit awkward at first. No need to explain or apologize upon check in, just state matter of fact that it is just you in the room. Get two room keys, one for your wallet and the other for a pocket or laptop case as a spare to reduce the risk of being locked out of your room.
Travelling in a group or alone, here are my Top 10 Travel Safety Tips.
Stay alert and act confident.
Money Handling and Payment
I am extra cautious traveling alone, especially with money. Before going to any outdoor markets or area where many people are watching you spend money, duck into a bathroom to count money or get money out for an upcoming transaction, put that money into your pocket so you do not need to access your wallet. Spend money discreetly without drawing attention to your self.
Go into the bank when you need more money and choose your ATM carefully. Be alert for any added bulk on the ATM card reader, devices known as skimmers, are often placed on top of the real ATM card reader to steal your card data. Coordinate your cash withdrawal during the day, if possible, and in a public area that is not too crowded.
Just Do It!
The next time there is an event or activity that interests you, but you cannot find anyone to join you, go solo! You may just find that solo travel is your new favorite way to travel!
Special thanks to my friends Evette and Cory for their input. These 2 ladies are expert foreign & domestic solo female travelers.