The Venetian and Palazzo Resorts are currently my favorite on the Las Vegas strip! This self-contained resort is my favorite for gambling, shopping, dining, spa, pools, and sleeping accommodations.  This visit, I tried a bit of everything.
We arrived on a non-sports event evening and immediately found a quiet table at Lagasee's Stadium for Po'Boys and BBQ Pork sandwiches. Delicious comfort/bar food in massive portions. Any evening with some sort of sport event this place is jam-packed and expensive due to set spending requirements for the privilege of sitting at a table. So we were lucky to have the place (mostly) to ourselves.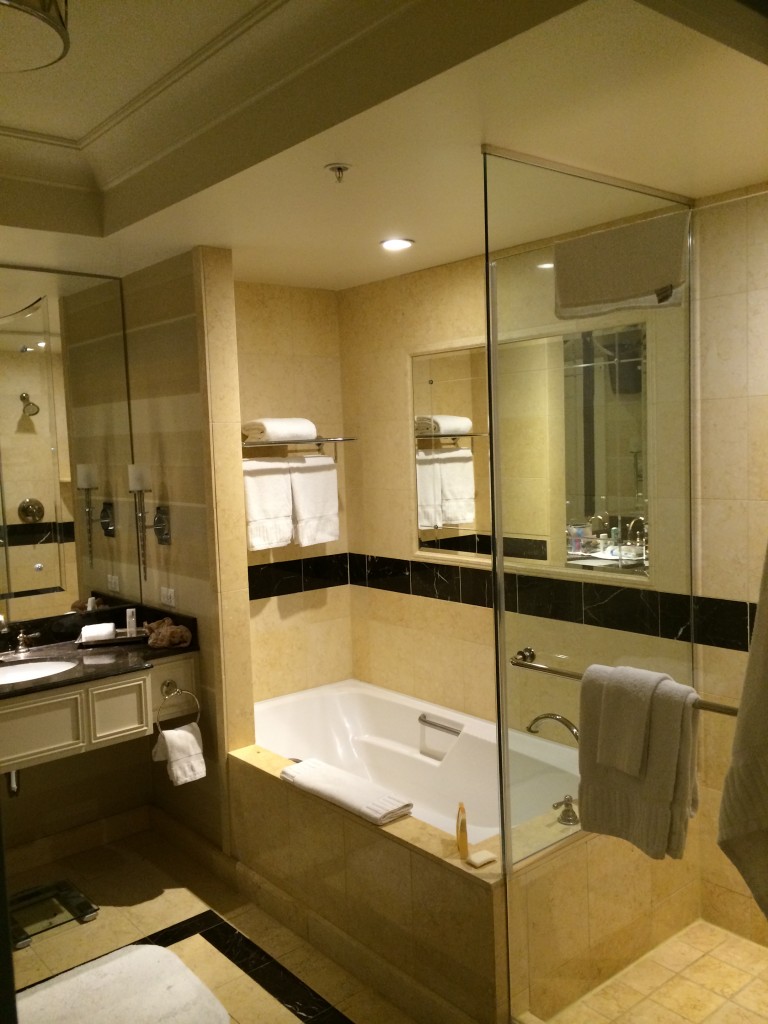 The rest of our group arrived for Girls' weekend in Vegas and we checked into our adjoining suites. Connected through the bottom few floors, the Palazzo and Venetian hotel suites are almost identical. They each have the slightly sunken living room area and the same bathroom layout. We just happen to be on the Palazzo side of the resort.
Our first evening, we walked across the pedestrian bridge to Treasure Island and only stayed a few hours. The air filters are not as efficient as some of the more upscale resorts and the smoker smell was starting to give me a headache. It was the only time we left the Venetian/Palazzo property the entire visit.
The Venetian and Palazzo share everything, Grazie loyalty program, restaurant row, and the pools – where we spent our days. There are various options for pool depth, view, and nearby cabanas (daily rental).
After the pool there is plenty of entertainment at the Grand Canal Shoppes, where the water filled streets of Venice are recreated complete with Gondolas. There are plenty of casual and not-so casual dining options with canal views and even more "above ground" choices without leaving the property.
OpenTable is my favorite way to check availability, reviews, menus, and reserve a table. For a table of 5 of a Friday night, OpenTable suggested Morels french steakhouse & bistro. We were seated looking at an enormous wine wall and cheese bar. With so many scrumptious options, I went straight for the 4 course tasting menu. Crab appetizer, salad, steak dinner, and dessert – plenty to share. As expected, the steak was cooked to perfection and served in a tangy sauce. My dinner finished with a proper french cream filled pastry and side of hot chocolate sauce. However, my friend hit the dessert jackpot with the pistachio souffle! WOW.
Table 10 offers a choose-your-own style tasting menu, of 2 or 3 options for each course. Rather than picking one of the typical salad options, I could not resist the summer sweet pea soup with creme fraiche. It was rich, frothy, and light all at the same time, and my favorite course of the evening. The bar was packed during happy hour, then cleared out for an hour sweet spot before the dinner crowd started to arrive. The kitchen view bar seating looks like a great option for solo dining.
There are new restaurants in the Venetian/Palazzo corridor opening all the time! In addition to the established dining options, it is a great excuse to try something new.  Which I think is the other motto for Las Vegas.
We rounded out our sleeping, shopping, spa retreat, pool lounging, and eating vacation with a bit of gambling. It was a fantastic little break for quality time with the girls!