Aji Spa is the best kept secret of Sheraton's Wild Horse Pass Casino and Resort. The spa is positioned away from the cars, crowds, and casino, hidden behind the edge of the golf course and tennis center. Little did I know that Aji spa would be such a hidden oasis and my new favorite spa, but it almost wasn't.
My first visit (before the 2015 remodel) was okay, the facilities were dated, the restaurant was blah, and the services were good (not extraordinary). I was not interested in returning, but the cool pool was beckoning me and a group of friends on a HOT summer day. The remodel has just completed, and Aji spa offered a summer discount to entice guests after the remodel.
Brilliant!
The new and improved Aji, is clean and sparkling! The cafe was completely revamped with an updated menu and the results are delicious. After each treatment, my friends would gather and show off perfectly manicured nails, glowing skin, and the relaxed look only achieved after a skillful hour long deep tissue massage.
Aji had transformed into a luxury class spa over the summer remodel and my spa buddies and I were hooked! Admittedly, this post required an update from meh to marvelous, so here goes.
Location
Aji Spa and Salon is located in a secluded area of the Phoenix desert, just south of my Arizona backyard on the I-10 south of Loop 101.  Not quite walking distance for me, it is still very close by to my home in Ahwatukee, and I had never been there… until this week.
The Aji Spa is located offsite from the Sheraton Wild Horse Pass Casino & Showroom, near the side of the hotel surrounded by golf course. Hotel guests informed me of a complementary hotel shuttle to the Casino, Outlet stores, and around the resort since it is so spread out. Very smart idea!
Update January 2020: Since my original visit in 2014, Aji has become one of my favorite spas in Phoenix. For a few years living in Ahwatukee, Aji was my go-to local spa for monthly appointments. Now I am back for a video tour and review of my recent spa treatment.
Amenities
Upon check-in guests are shown to the co-ed relaxation room, then escorted to the Ladies or Men's Lounge, assigned a locker, robe & spa shoes. The facilities are thoughtfully planned so the tour of the spa is pretty quick, including the ladies lounge, sauna, steam room, indoor hot tub, outside Ladies hot tub, outside pool & hot tub, plus relaxation area and snack service.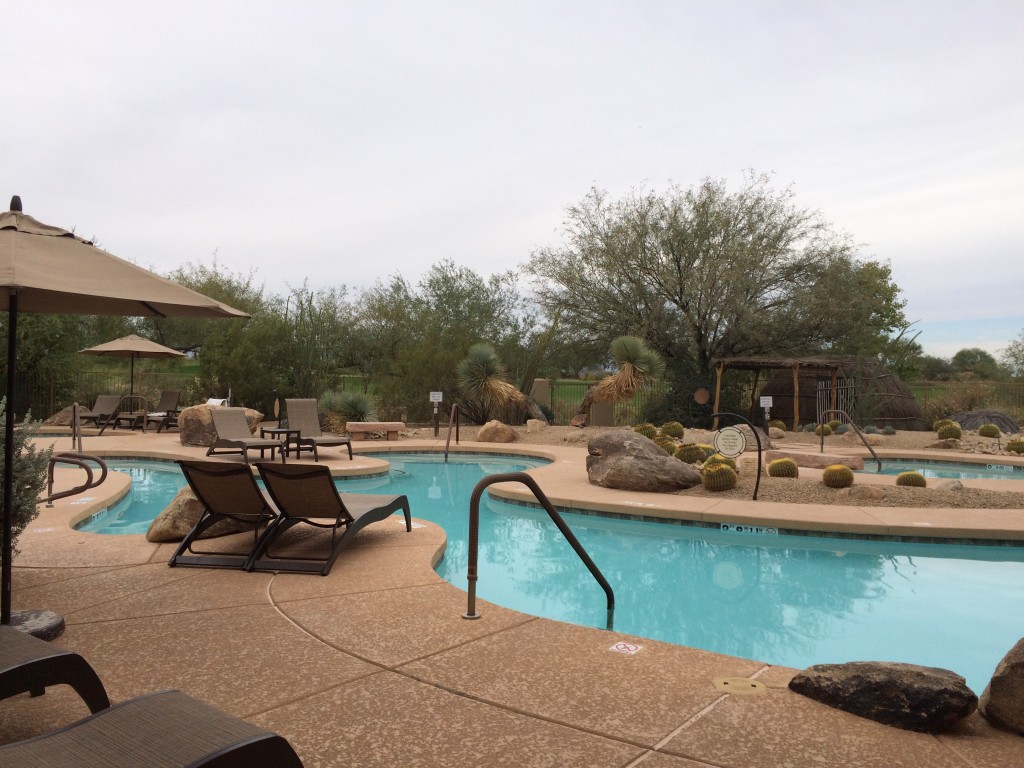 Aji Spa does have a private co-ed pool & hot tub, just for the Spa patrons, backing up to the edge of the golf course.  The entire area essentially is the unwritten rule of Adults only, no children in the spa facilities, with separate areas for Men and Women.
In additional to robes and slippers, hygiene items (in case you forgot), and they also provide bags for your wet swimsuit. It is the little details that can make a big difference in the overall experience.
There are gender private indoor whirl pool, steam room, sauna, relaxation lounge, and outdoor lounge chairs and hot tub.
The Men's side even has a cold plunge, which was absent from the Women's side. Dear Sheraton, please add a cold plunge to the Ladies side of the spa.
Overall, the facility has many features in the secluded desert hideaway.  It is tucked so far away from the I-10 freeway, the Casino building, and miles away from anything, it really is a relaxing oasis in the middle of the desert!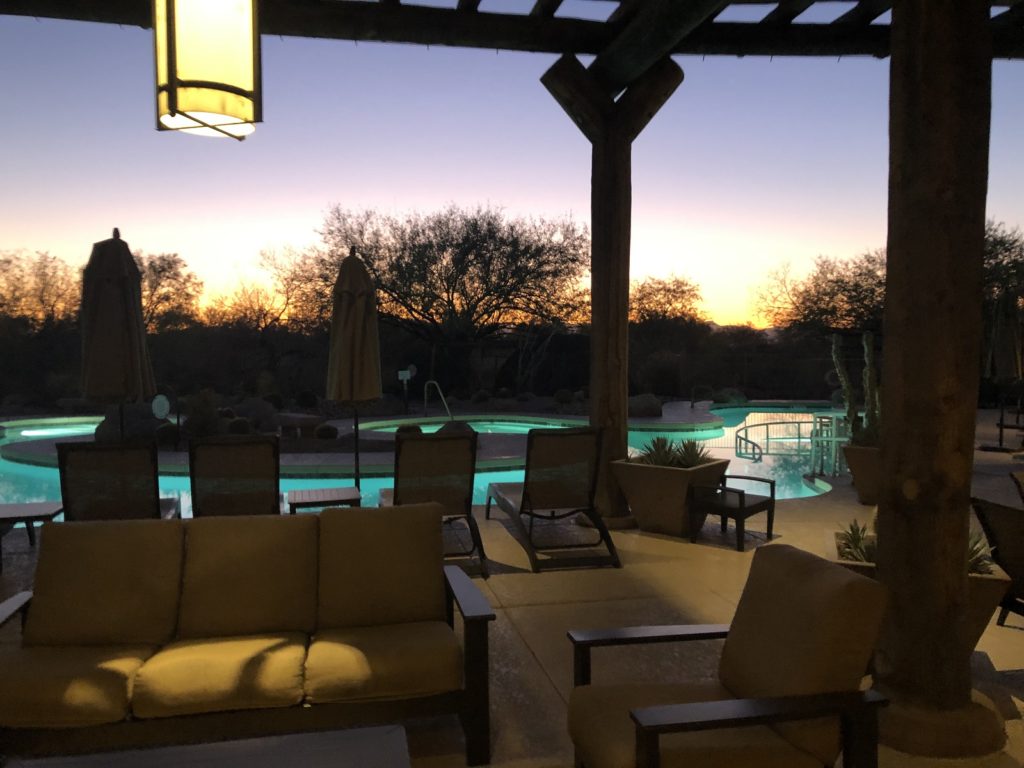 Service
All treatments are Native American influenced for name and details.  This may include desert sage and other desert plants for scents and aromas.
The facials are good, with extra bonus points for hand massage while my face was under steam, and a shoulder & neck massage during the mask.  I have started to think less of places when they do not include these little extras in the down time (the steam needs time to work and the mask has to soak in, so might as well extend my pampering).  Extractions were also included and she did a good job. My skin looked good that evening, and even better the following days after my appointment.
There are a wide variety of massage options. I typically select the deep tissue, with the occasional sinus relief or other add-on as necessary. There is nothing better than the hot stone massage in the chilly winter.
I disclose previous injuries, area of pain, that I am right handed and I sit behind a computer (a lot), then provide any additional information about current woes and worries.
The deep tissue massage is divine! Absolutely working my trouble spots and releasing tension that I was holding onto. The time flew by and I left feeling relaxed and calm. Everything feels … better.
The facilities are clean and well maintained. The service staff is constantly cleaning and checking on my well being, quietly without being intrusive. Anything that I needed was taken care of quickly and efficiently.
Property Remodel September 2015 – BEFORE and AFTER
Aji Spa was closed for part of Summer 2015 for a much needed remodel. There is a fresh coat of paint on everything, new carpet and flooring, new furniture and fixtures, and completely remodeled shower facilities.
Since the 2015 remodel, I have tried the hot stone massage, another Travel Zoo facial and massage. After urging from a spa buddy Spring 2015, I have given the cafe another chance, as well. The menu is improved as well as the food being served. Overall, the services are consistently better than my first visit in 2014, and are now quite good. The 2015 remodel is exactly what Aji needs to be a premium luxury resort spa in the metro-Phoenix area.
No special consideration was given to me other than being a paying guest at this property. I did receive a discount by purchasing a Travel Zoo voucher, and did not receive any special consideration from Travel Zoo for any of my visits.