The right food and drink not only provide nutritional substance, but cleanse & calm the mind.  I drink a lot of tea of many different varieties.  High quality Tea is a thing of beauty.
My friend and I often share Tea stories, varieties, recommendations, and have enjoyed Japanese Tea at Nobuo for lunch earlier this year.  Looking for another great tea experience, we consulted TeaMap.com and started on the list.  Some of these locations have  closed, and others are quite a drive.  Another Tea enthusiast friend just had Afternoon Tea at the Biltmore Resort last weekend, and it was the perfect choice.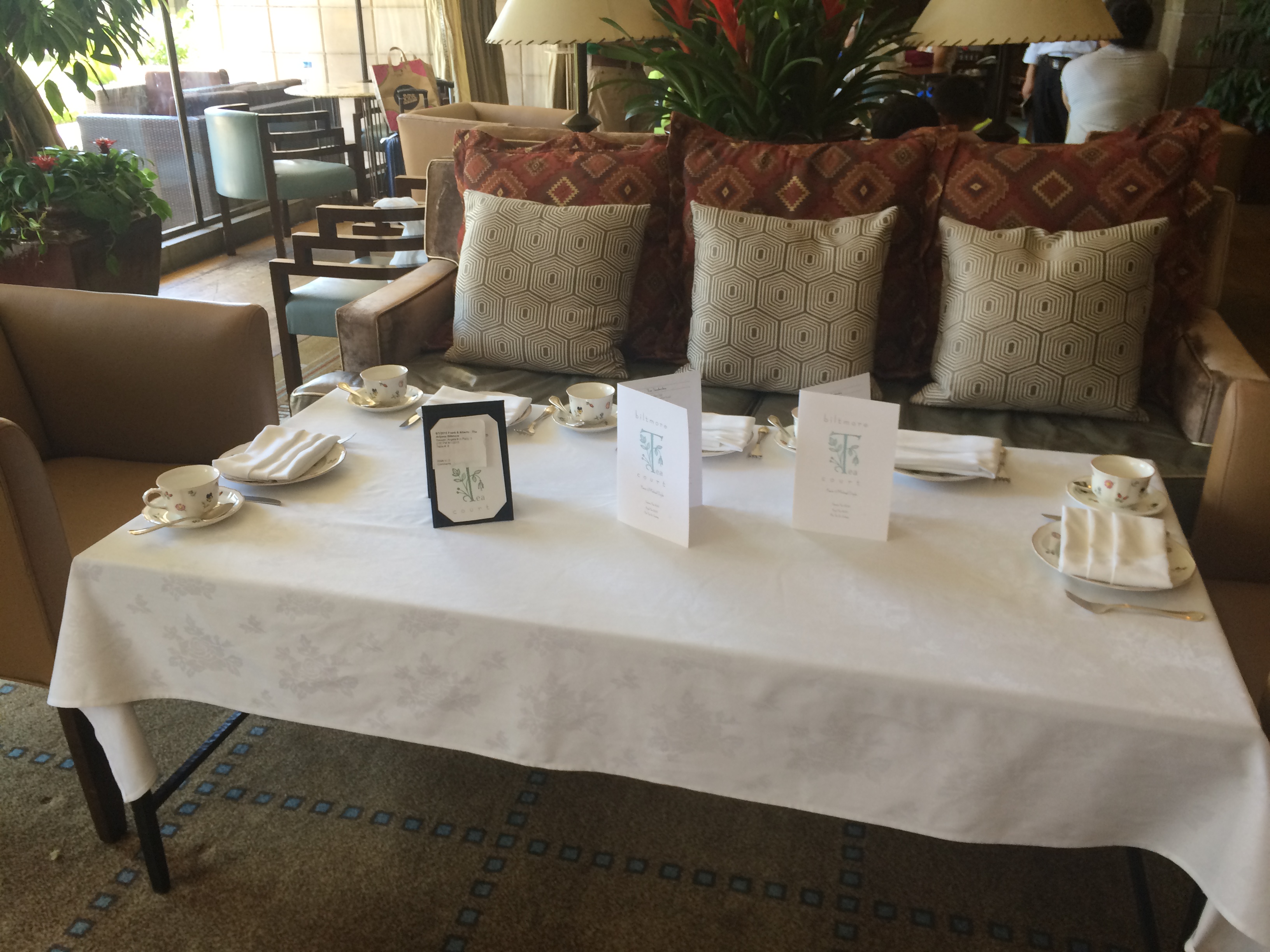 The Arizona Biltmore Resort is Waldorf-Astoria property built in 1929 in the art-deco style of design.  The atmosphere is old Hollywood glamour.  It was a stark contrast to Afternoon Tea at the American Girl Doll Cafe in Chicago last year, but both very enjoyable. Tea at the Biltmore is served in the main lobby, near the restaurant, by the front windows.
Admittedly, we had a rough start.  Previously, I tried to make a reservation from the direct phone number for Tea reservations, but it rang & rang and no one actually answered.  I finally called the Biltmore concierge desk and made my reservation.  When we arrived they could not find my reservation, then later discovered that the concierge booked us for lunch at the restaurant the following day.  The Tea Sommelier immediately selected a table by the window for us and retrieved linens to begin our tea service.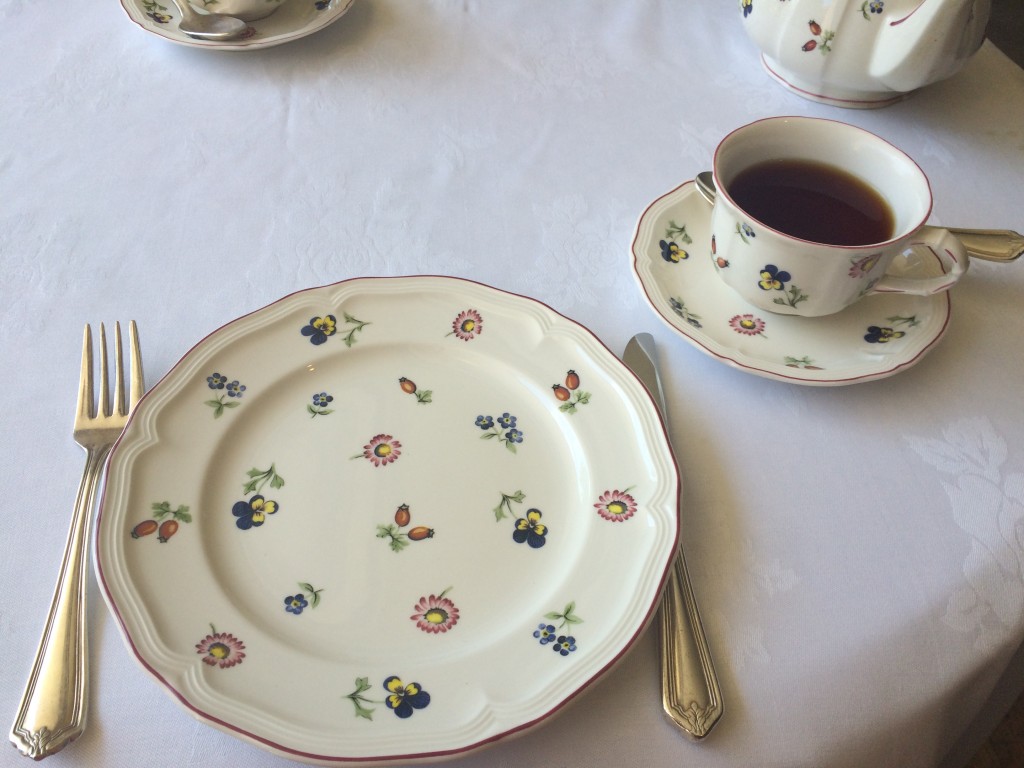 Our first tea was a hot Roobios served in beautiful floral China.  It is a black herbal tea (caffeine-free) and smooth.  We did not require any sugar, and probably would have been kicked out for even asking!
A 3 tier serving tray is brought to accompany the tea.  The bottom tier are tiny, savory sandwiches.  The middle and top tier are sweet pastries including scones, tarts, cheesecake, custards, and cakes.  The tower of treats is not for the faint of heart, or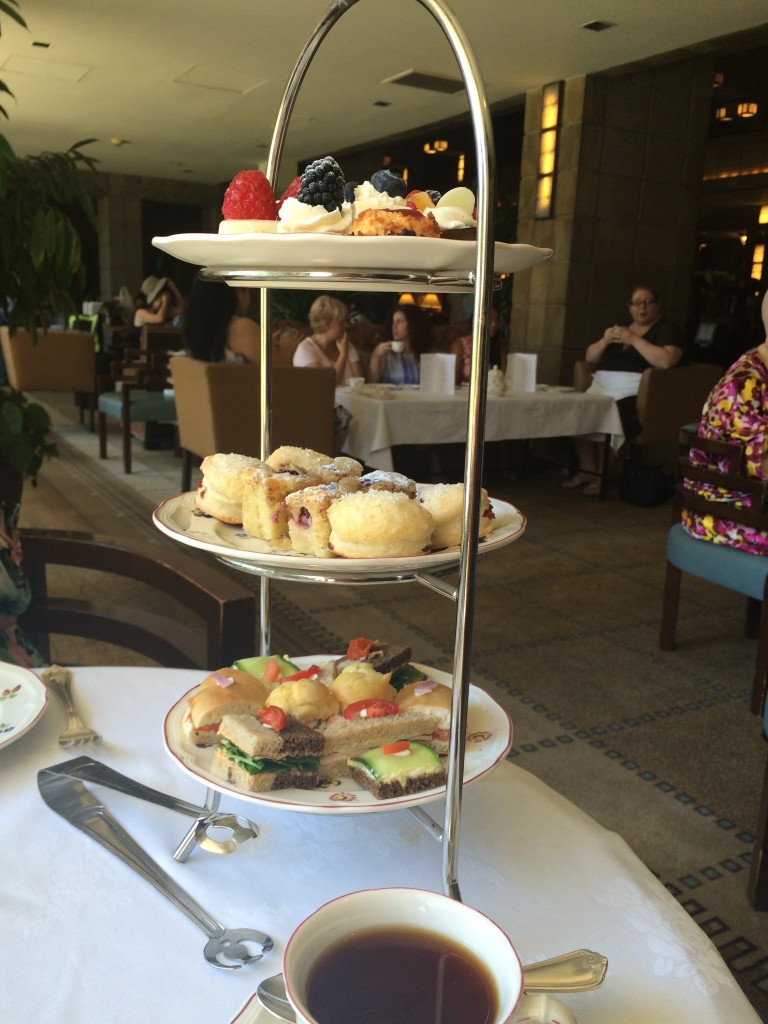 diabetics.  I ate every delicious morsel and watched for signs that I might be falling into a diabetic coma.  Seriously, I was buzzing from the sugar high.  Next time I will use a bit more restraint adding lemon curd, clotted cream, jam & preserves to the already sweet treats.
We started to make our way through the egg salad and Shrimp & fennel salad sandwiches sipping our lovely tea.  Our next tea selection was offered in both hot and iced tea.  Summer in Phoenix gets pretty darn warm, and I could not pass up on an iced cold beverage.  I selected the light and delicate White Ginger & Pear iced tea, and my friend enjoyed another of the tea selections.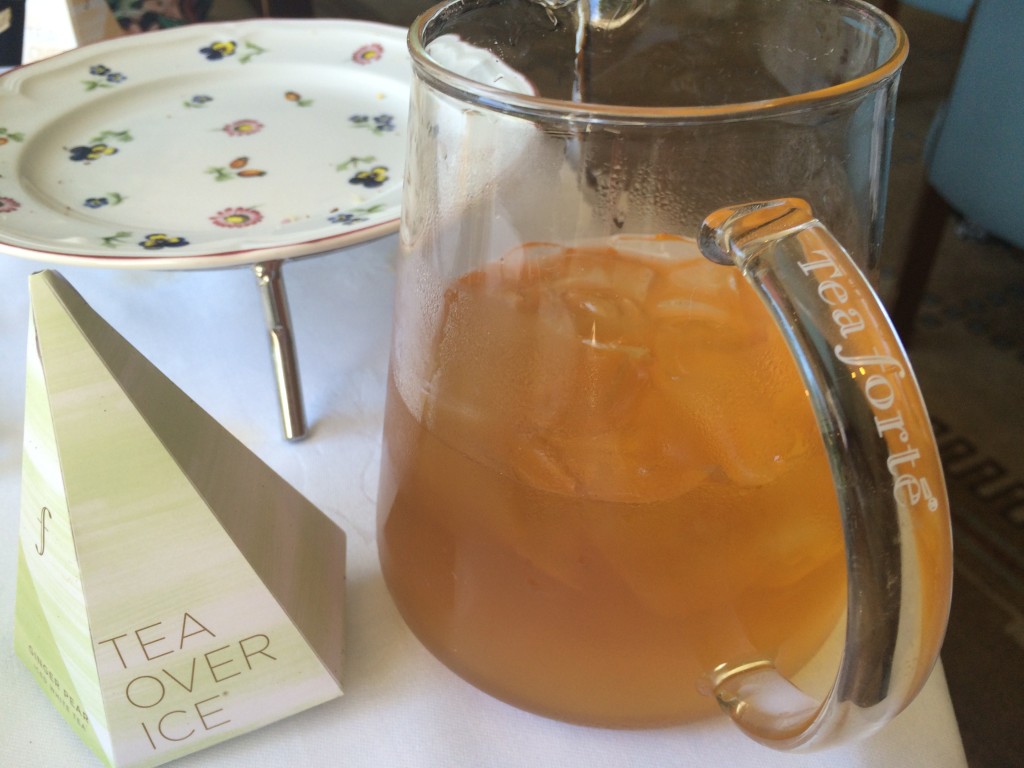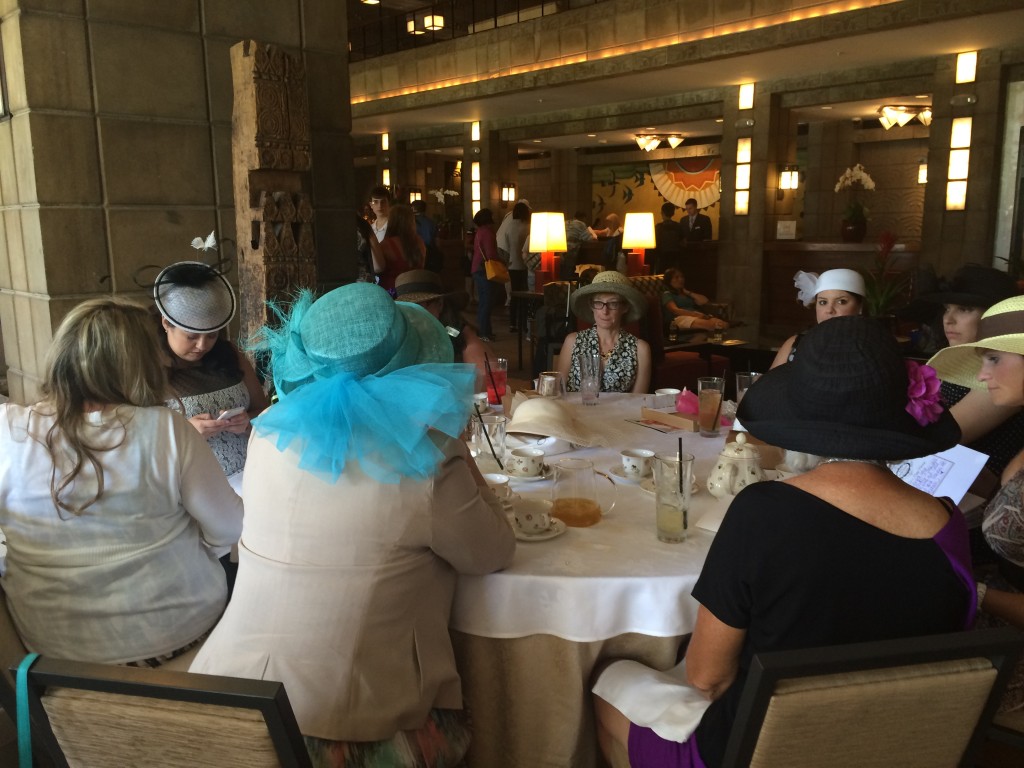 Before the end of our tea session, we were on our third tea course and stuffed with treats. An earlier seating group (reservations can be made for Noon or 2 pm daily) was wearing large summer hats, so we discussed various attire for tea.  Having a few friends from Ren Faire and the inevitable cross-over to Steampunk and other Historical Costuming, we asked about dressing up for tea.  We are not the first to think about it, apparently there many people that wear a variety of costumes and outfits for tea.  I already have a few friends in mind to invite for dress-up tea!!
The lost/wrong reservation was a bit of a rough start, and everything was fabulous for the remainder of our 3 hour tea!  Summer tea is $40 per person, and Royal tea (non-summer when the winter visitors are in town) is $50 per person for full tea and all of the tasty treats pictured.  Next time I will call the main phone number for the hotel for reservations.  Valet parking is free and right outside the lobby.  Do not bother using the parking garage, which they also validate so there is no charge.