Monkeys, Mangoes, and Mountain views – three of my favorite sights on Nevis Island!
Nevis is the best-kept secret in the Caribbean for nature lovers, foodies, history buffs, adventurers, and anyone ready to trade in cramped city hustle & bustle for secluded paradise. Plus, there are monkeys.
Located in the heart of the Caribbean, is the small country of St. Kitts and Nevis. While St. Kitts is a popular destination for cruise ships, Nevis island is a separate island state located directly to the south. Nevis is a secluded and upscale hidden getaway in plain view. This tropical island boasts more than just perfect weather, miles of beaches, breathtaking views of the Caribbean, and delicious rum drinks. Here are a few of my favorite things about Nevis!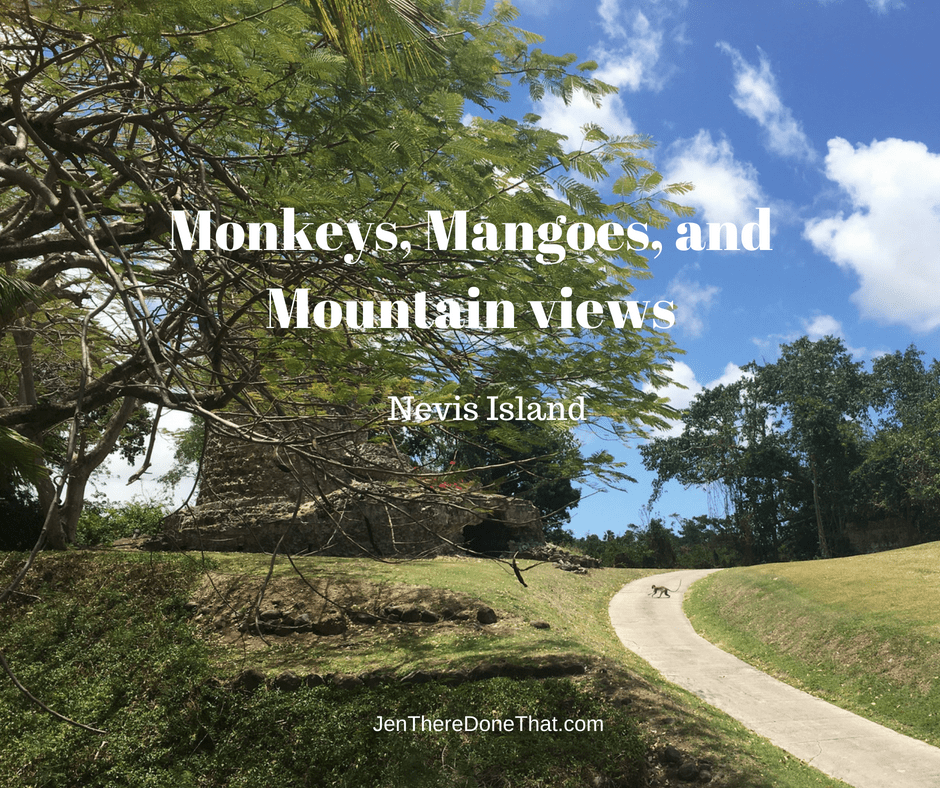 Monkeys and Local Wildlife
The small local population of 11,000 residents on Nevis is rumored to be outnumbered by monkeys. African Green Vervet Monkeys roam wild throughout the island, exact numbers are a best guess and various tribes live throughout the island with the majority residing in the dense forest mountain slopes. Originally brought to the island as pets in the 17th or 18th century, these monkeys now have free reign of the island and tend to get into a bit of mischief, as monkeys are prone to do. Early morning is the best time to catch a glimpse of these adorable long-tailed monkeys, about the size of a medium breed dog (up to 45 pounds). They love the local mangoes and fresh fruit from the residents' gardens.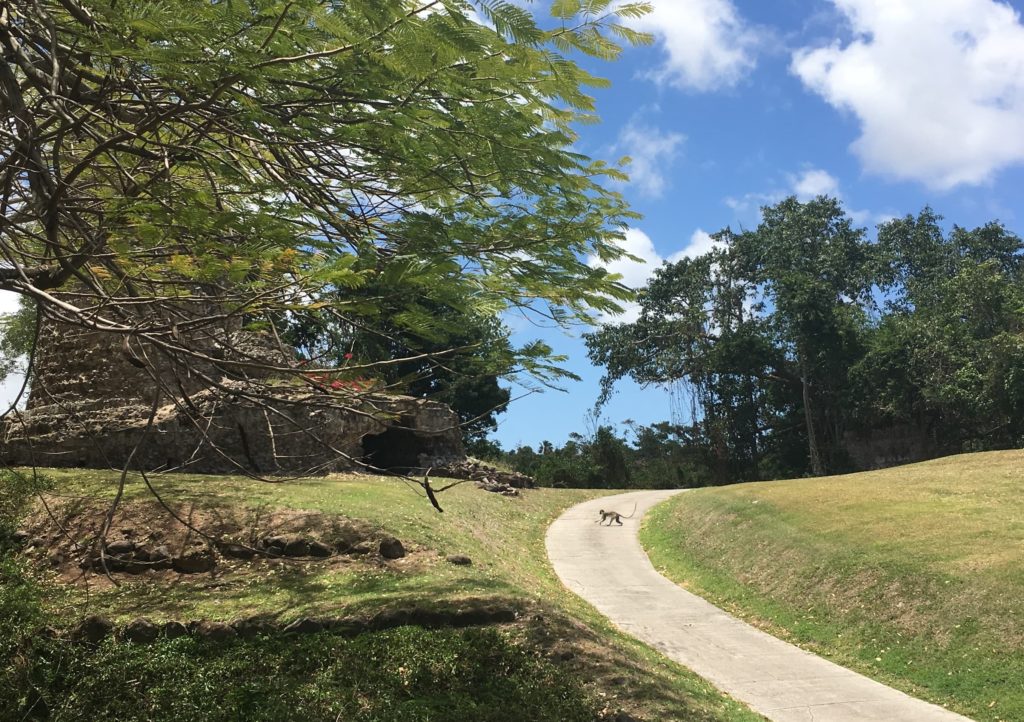 Mangoes and fresh produce
Fruit is a big part of the diet on Nevis, for people and monkeys alike. With year-round perfect temperatures, fruit grows in abundance. Some of the locally grown produce found at roadside fruit stands are coconuts, breadfruit, onions, tomatoes, cabbages, sweet potatoes, pineapples, watermelons, sweet peppers, squash, and of course, the most celebrated is the delicious mango. Nevis Island grows has over 40 varieties of mangos on the island, with distinct flavor profiles.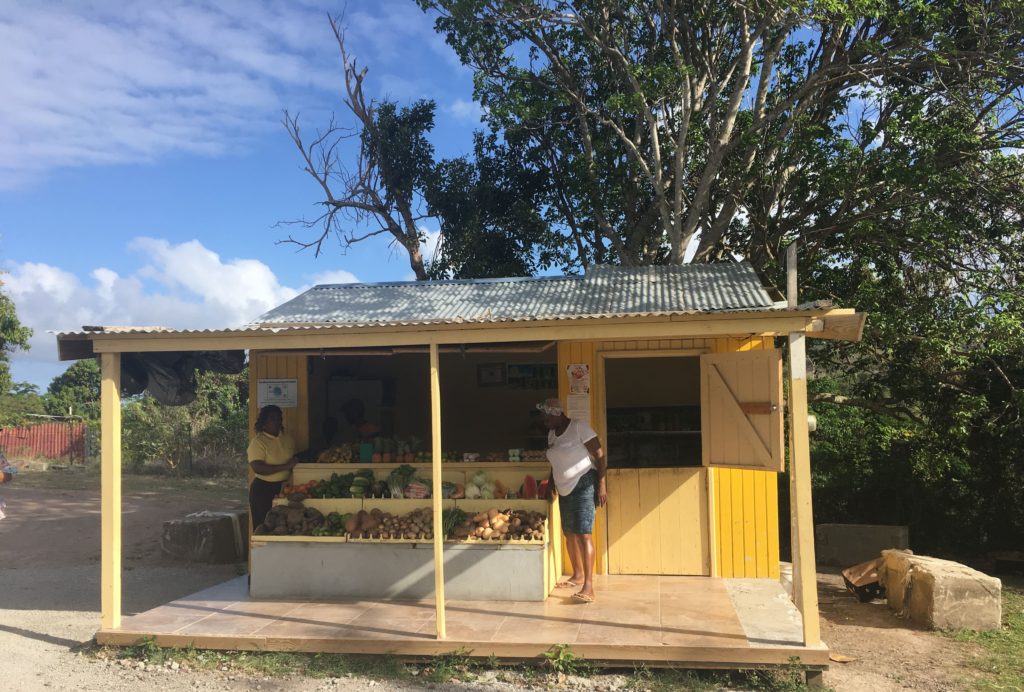 The annual Mango & Food Festival in July features mangos in every course of every single dish! This is a mango lovers dream of mango chutneys, grilled mango, mango infused salad, mango slaw, and sauces galore. Cooking demonstrations, celebrity chefs, festival atmosphere with Nevis charm, the mango festival is a food lovers dream. I am definitely adding the Mango Festival to my travel wish list and plan to attend the culinary event.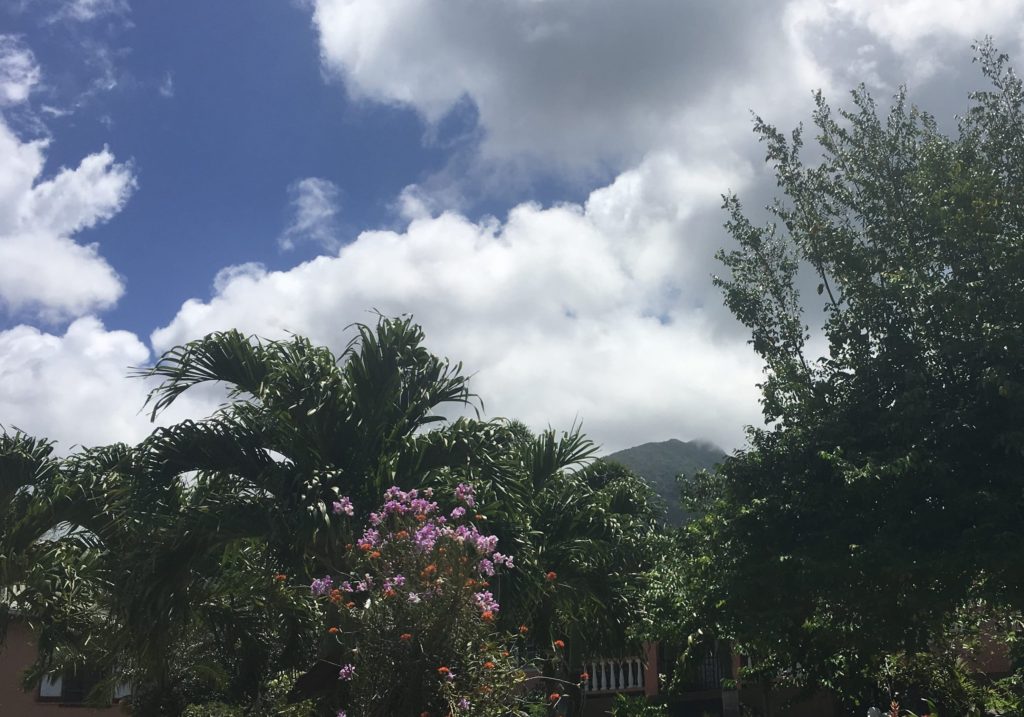 Mountain Views
The most striking landmark is Nevis peak. Visible from any spot on the 36 square mile egg-shaped island, Nevis peak is known as Nuestra Senora de las Nieves translated as "Our Lady of the Snows". The thick white clouds billowing at the mountaintop resemble a snow-capped peak, and the Spanish word for snow Nieves was shorted to Nevis for the island name.
While many of the roads lack street signs, they are well maintained and easy to navigate, especially with Nevis peak visible everywhere on the island as a guiding landmark. Cars drive on the left side of the road (British style) and Taxis are abundant. I was quite jealous of the visitors exploring the island on bicycles!
Tourism
The island thrives with tourism as the top industry, without feeling like an over-commercialized tourist trap. A local bar owner also runs a part-time mechanic shop, and cooks an amazing "goat water" stew on Sundays. Businesses are family owned and operated, from the charming husband & wife team at Compassionate Hands Spa to the spunky Mother & Daughter duo at Yachtsman Grill, guests are quickly welcomed to the family.
There are no chain restaurants or stop lights. There are plenty of Oceanfront restaurants, Mom & Pop operated businesses,  secluded beaches, hidden hiking trails, free roaming donkeys, goats, horses, monkeys, and more.
Disclaimer: Special thanks to the Nevis Tourism Authority for inviting me to visit as part of an all expenses paid familiarization tour of the island. As always, all opinions are my own.
Have you explored Nevis? Leave a comment below for any additional tips or questions!