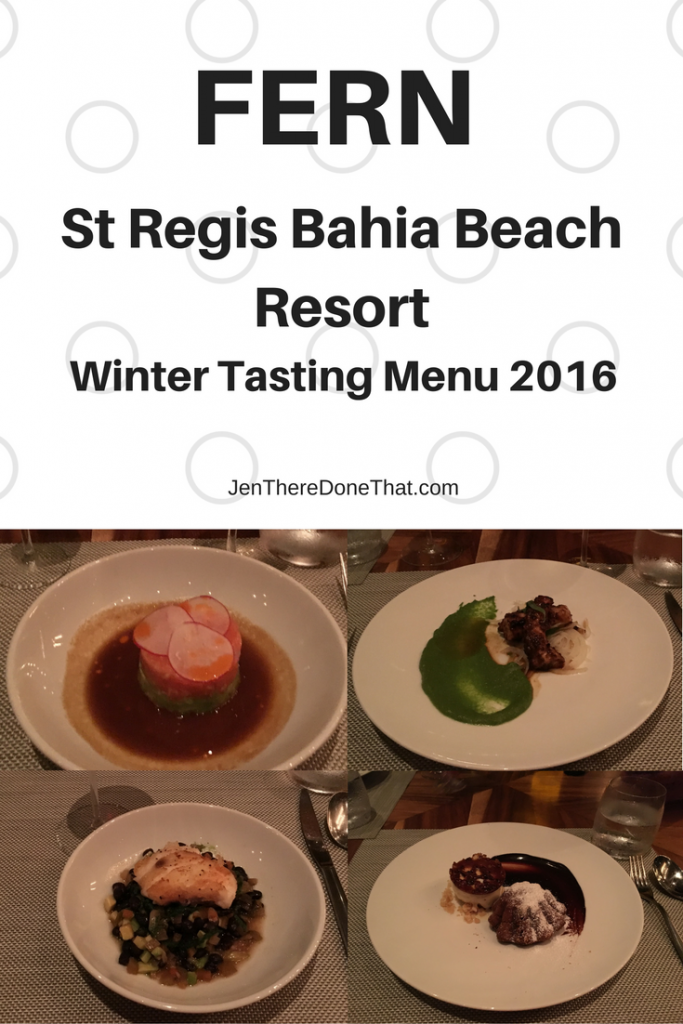 During our recent four-day stay at the St Regis Bahia Beach Resort, we ate a fantastic meal at Fern restaurant:  a six course Tasting Menu with wine pairings for a Friday night dinner.
What is a Tasting Meal?
A Tasting Menu is a multiple course meal (in this case six courses) chosen by the Chef to showcase the wide range and creativity of the Chef.  A Tasting Menu may include a variety of courses including, but not limited to, salad, soup, fish, pasta, red meat, and desert.  Portion sizes are small and typically start with the lightest dish to the heaviest, with desert to finish.  Many restaurants are able to accommodate food allergies and vegetarian options, always confirm when ordering (or call ahead to ask).
Fern's seasonal tasting menu showcased seafood with salmon, grouper, and octopus courses.  The menu will vary between seasons, and more often based on supply of fresh ingredients.  I would expect to find different courses and preparation for the tasting menu on another night.
Wine pairing is usually available for an additional fee.  Specific wines are served with each course.  Occasionally, a beer or liquor may be paired with a certain dish to bring out a unique flavor combination.  The serving sizes, like the food dishes, are smaller than normal.  Each wine (or beverage) is selected for you, no need to look at the wine menu after selecting the wine pairing option!
What is an Amuse Bouche?
Literally it means, "mouth amuser."  The amuse bouche is a small, often single bite size, nibble of food served before the meal.  The amuse bouche is a way for the chef to tease and show off his skills with this free off-the-menu morsel.
Six Courses for Dinner
Dinner started with a slow warmup.  The Salmon tartar was pedestrian but well executed, presented on a bed of avocado and topped with radish slices.
I love a little theatrical flair in a tasting menu. Fern did not disappoint!  The mushroom soup was presented first with a bowl of grated Parmesan cheese and sliced chilies.  Then, the mushroom broth was poured at the table for the fragrant release of the mushrooms and chilies.  The menu describes this as a mushroom tea to better name this lightweight broth, as "soup" understates the delicate dish.
Octopus was perfectly executed, tender, firm, not chewy.  Eating an intelligent, alien, unsustainable octopus makes me sad, and the mixture of emotions makes the dish that much more delicious.  I will not specifically order octopus, but it is a delicate treat that I have a hard time turning down.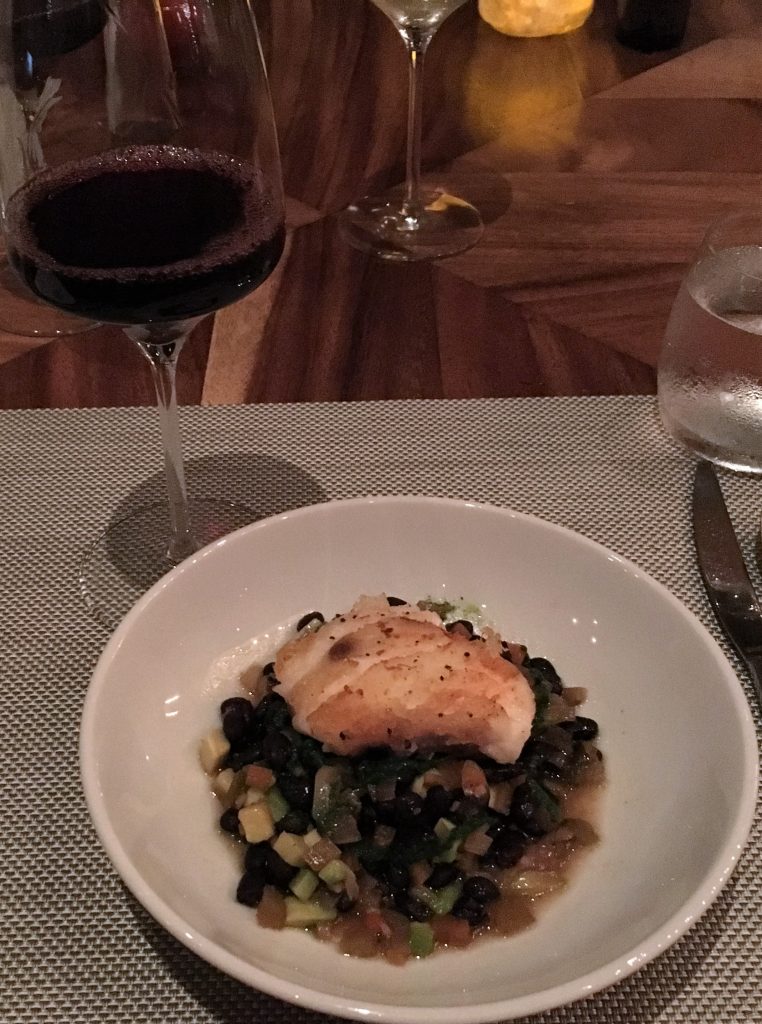 Grouper with bean "relish" was my favorite.  The beans were cooked firm, al dente but not undercooked.  The flavor combinations were hard to describe, each bite unlocked another delight.  Again, the grouper was perfectly executed and lightly crisped.  The Spanish red wine enhanced the flavor of the beans, as the main focus of the dish.
The only choice throughout the entire meal was how we like our tenderloin prepared (medium rare for me).  It was delicious, perfectly prepared, but unremarkable.  It seemed like a mandatory manly course among other more subtle offerings.  Served over savory, smoky tomato compote and paired with thick Cabernet Savignon.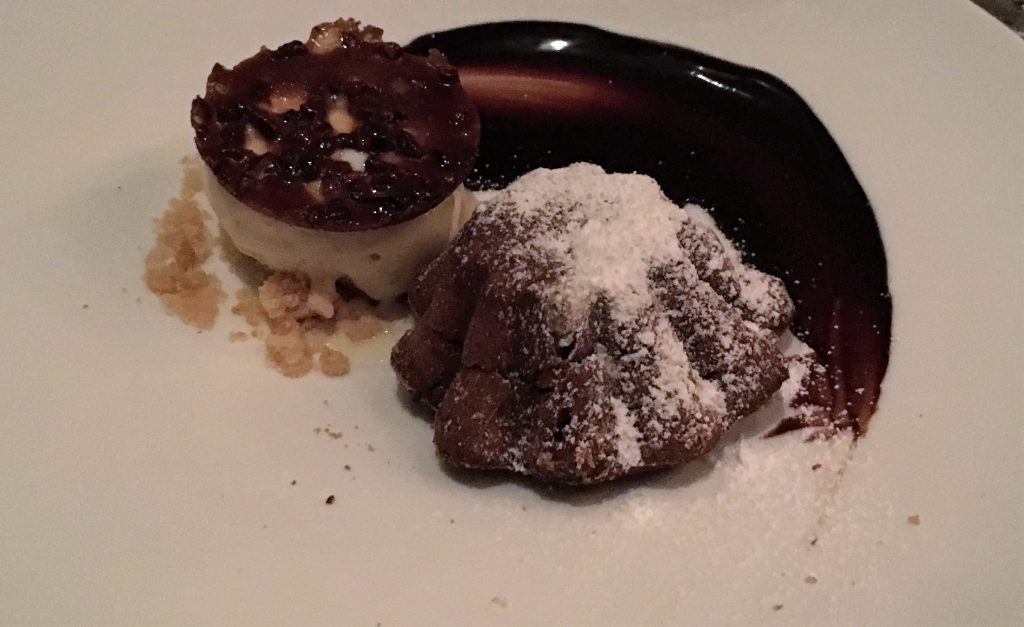 The chocolate cake oozed with warm fudgy goodness.  Both the cake and ice cream were not overly sweet and paired with a rich port wine.  After five courses, I was not sure if I would be able to finish desert, yet somehow I looked down at a very empty plate only a few moments after taking this photo.
There is a slight, planned pause between courses to complete the accompanying wine and allow diners a moment before the next course is served.  Our six course meal took 2.5 hours, so I recommend an early dinner reservation and allow plenty of time to enjoy.
More Information on Fern
Fern is located upstairs in the unfortunately-named Plantation House at the St Regis Bahia Beach Resort in Puerto Rico.  Fern is open for breakfast and dinner.  Dinner reservations are highly recommended, especially on Saturday night.  Fern small plate appetizers are available in the St Regis bar downstairs for a light dinner, or to sample the Fern flavors without a dinner reservation.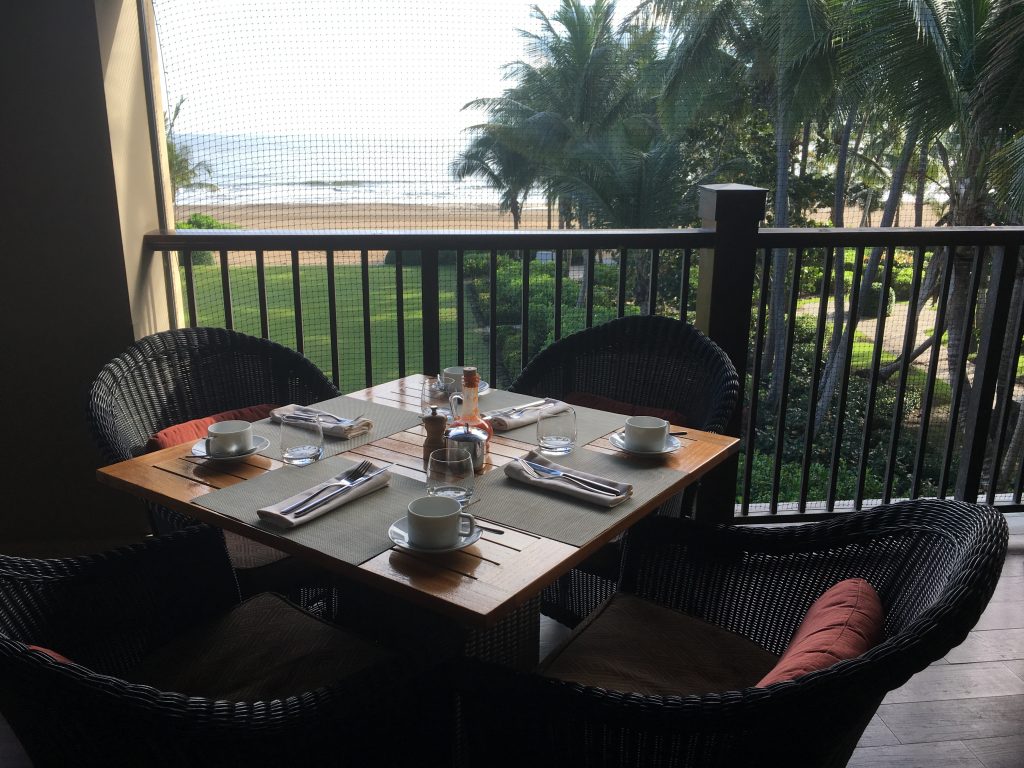 The Fern patio overlooks the Plantation House lawn and beach leading to the Atlantic Ocean.   The views alone are worth planning a meal at Fern, and the Tasting Menu is must-do splurge for any Foodie staying at the St Regis, or just visiting the Island!

Disclaimer: