Scottsdale, Arizona is home to many incredibly luxurious resort and spas, and so far, I have to say that I have found my favorite! When you are looking for extreme luxury in Scottsdale, look no further than the Fairmont Scottsdale Princess Spa.
Spa Tour
For first time visitors, or like me it has been awhile, attendants offer a quick tour of the facilities and answer any questions about experiences, temperatures, recommendations, and anything you want during your stay.
Photos and video in the spa are not allowed, so I tried to be as discreet and respectful as possible for other guests' privacy during my stay to film a Spa Tour video.
Spa Amenities
Amenities include cold plunge, large crescent shaped hot tub, swiss showers, sauna, stream room, inhalation room with lavender infusion, and relaxation room with fireplace in the ladies lounge.
Both the sauna and steam room are large to avoid any overcrowding in the spa.
If you have never tried the cold plunge, slowly step in and begin lowering your body. The extreme cold is perfect for swelling or inflammation. I usually submerge up to my chin for 1-2 minutes multiple times, with warm up breaks between "plunging". Pace yourself and do not push yourself to stay beyond your comfort level. Cold plunge is not for everyone. I particularly enjoy cold plunge after 15 or more minutes in the sauna.
The inhalation room is comfortably cozy with eucalyptus and lavender infusion that makes the room soothing and relaxing. Take deep breaths and exhale all the stress and worry from your body. The inhalation room was packed almost the entire day, but I was able to get about 15 minutes entirely to myself at the end of the day. I was surprised at how much I enjoyed the inhalation room, do not miss out on this simple little treat.
Wait to be called back for your treatments in the relaxation room. The fireplace adds an extra level of cozy warmth and ambiance. It was be very easy to snuggle up and fall asleep in one of the large lounge chairs near the fireplace.
Facial Review
I opted for the 90 minute facial treatment. Honestly, it was a relaxing blurr of service. My face felt fresh and clean after the treatment and looked glowing days later.
The spa products used are all-natural chemical free, and incredibly wonderful smelling. During checkout I purchased several products from my service recommended by the esthetician. Small but mighty, these products kept my skin looking good and glowing for several weeks after my treatment.
Overall, the spa services are excellent, but the real reason to stay all day is to thoroughly enjoy all of the spa amenities. I stayed the entire day until close to soak up the amenities, eat lunch, and relax.
Waterfall Grotto
The waterfall grotto is one of my favorite areas and I return multiple times during the day. Located between the Gentlemen and Ladies, this co-ed spot is usually filled with couples enjoying a soothing and romantic moment underneath the waterfalls.
The waterfalls and grotto pool are a warm 98 degrees F (37C) with three different pressure of water falling. This is the perfect spot for back and shoulder pain relief.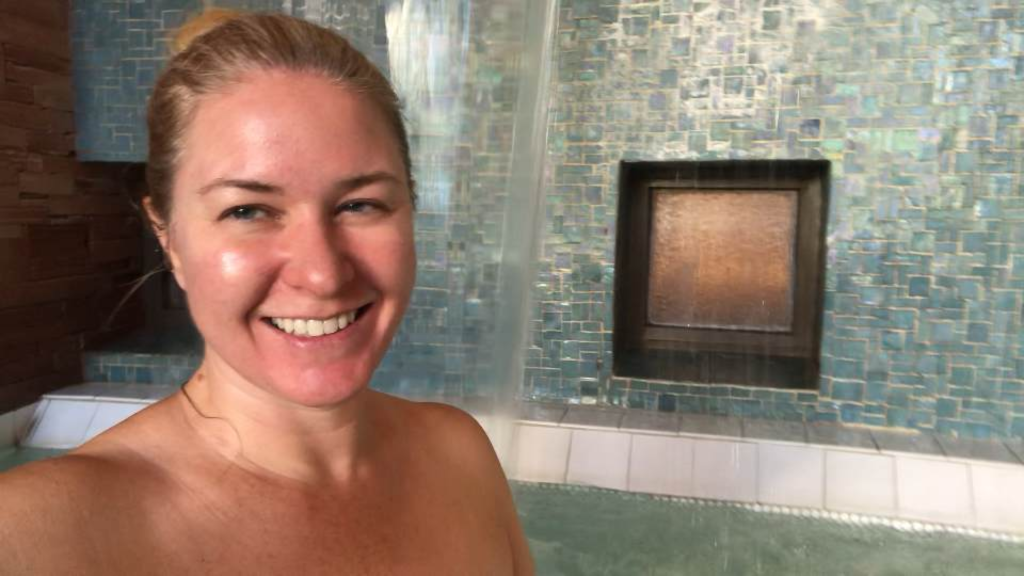 Dining and Snacks
There are a variety of hot teas, cold water, and light snacks including fresh apples and trail mix in the lounge.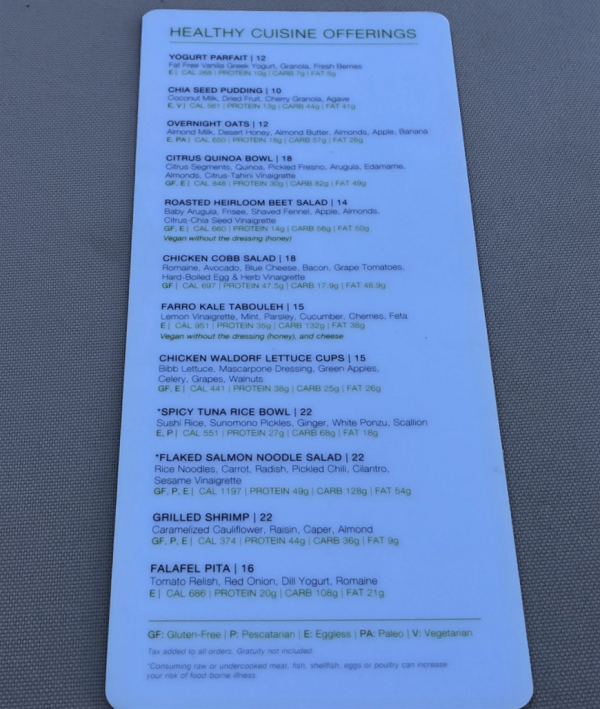 Healthy menu options for lunch and snacks are available at the rooftop pool area, as well as a full bar selection for beverages. Go ahead and splurge for a filling lunch and glasses of Champagne to top off your post-treatment pampering.
The Pools
Fairmont properties always deliver spectacular pools, and the Scottsdale Princess features a massive pool in the heart of the property. The pool area is a desert oasis complete with sandy beach under palm trees.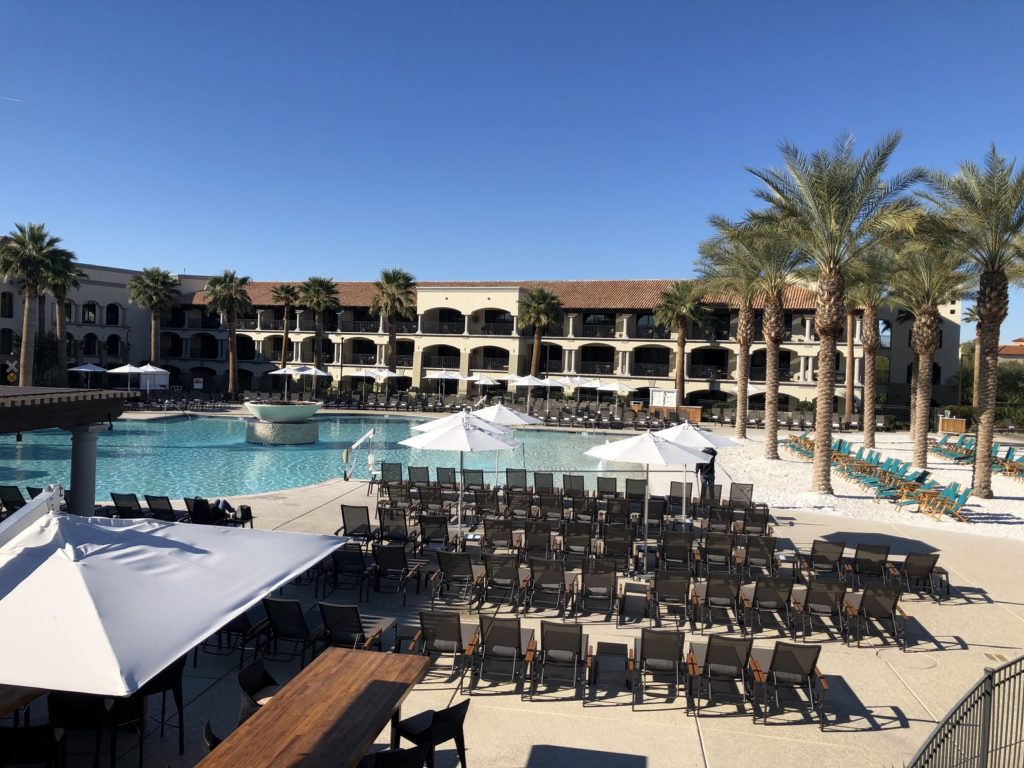 But, there is a private heated, rooftop pool exclusively for spa guests above the spa waterfall grotto that is even better.
The water feels about 78 degrees F (26 C) for a refreshing swim. Not quite bathwater warm, the water feels great on this chilly winter day, and the poolside gas fireplace adds an extra bit of warmth and ambiance.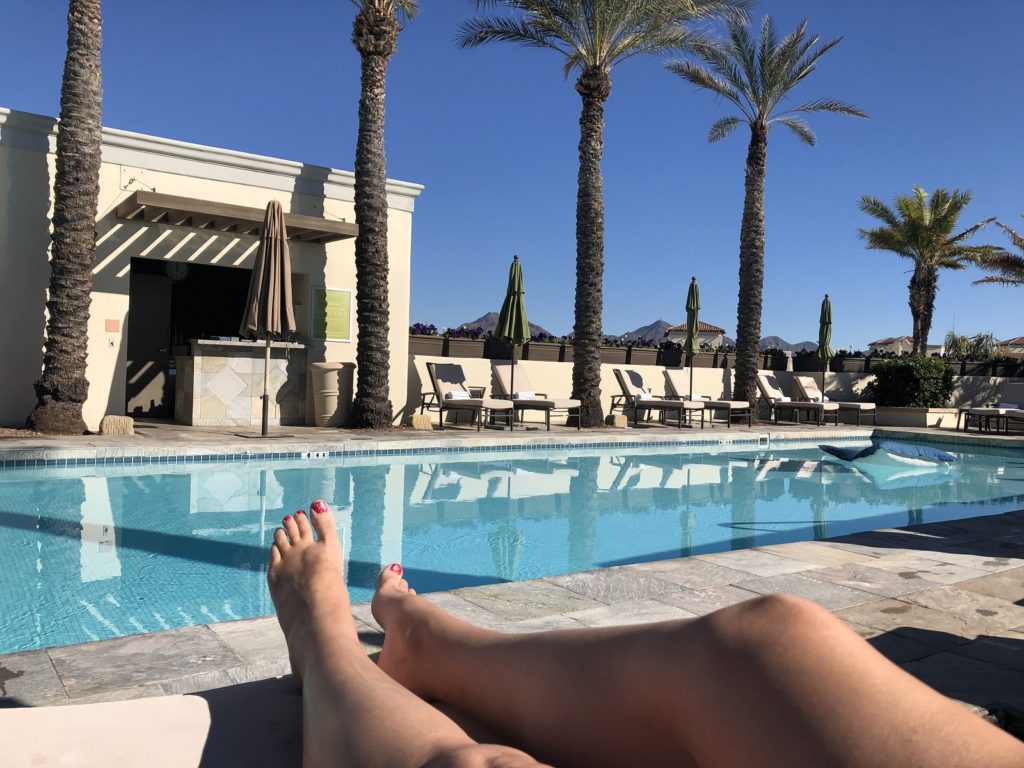 Surrounded by mountain views, the spa pool is the perfect spot to soak up the sun and enjoy a poolside lunch, healthy snack, and beverages.
Location
When it was originally built, the resort was at the far north end of Scottsdale, it seemed so far away from everything, now the city of Scottsdale has quite literally grown up around the property, which can be seen in every direction from the rooftop pool.
Conveniently located off the Loop 101, off of (you guessed it) Pima/Princess Drive exit, or the Hayden Road exit.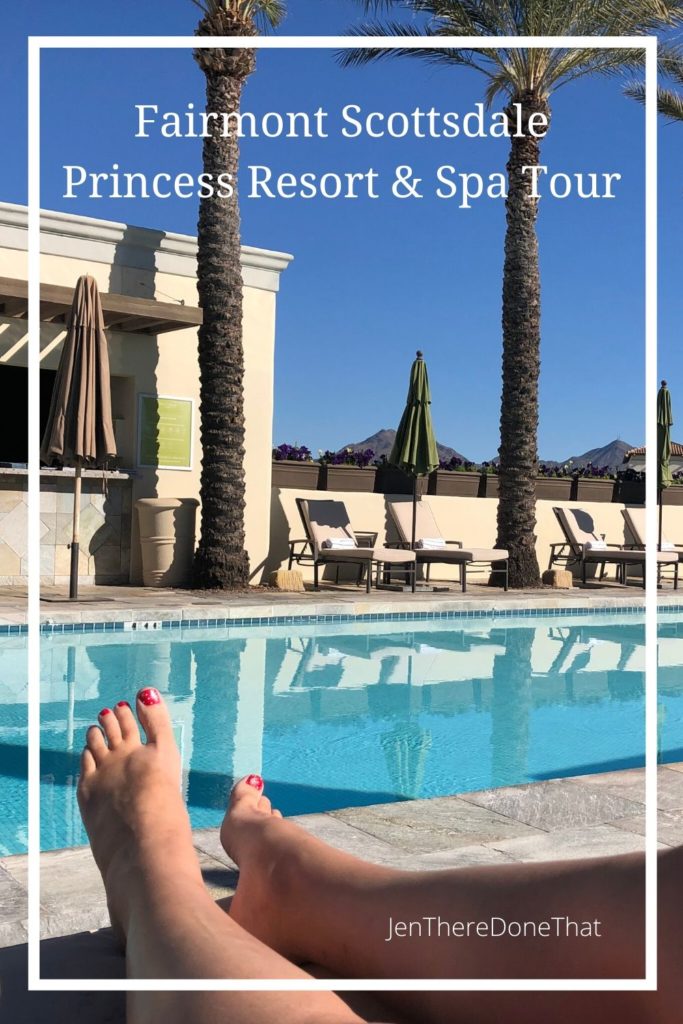 Weekdays and off season are less crowded, and even on weekends and peak tourist season, the spa is never that crowded. Whenever you go, it will be the perfect time for a great spa day!