Cork Restaurant is one of my favorite restaurants in the Phoenix area!  Every Sunday Cork offers a themed tasting dinner.  The theme changes each month, resulting in a fresh, seasonal, delicious special night out.  Here is a sampling from the "Taste of Spring" four course (plus an optional starter) dinner that I still dream about.  Hmmmm, yum.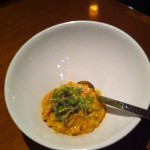 We started with the (optional) starter course of Braised Rabbit Risotto with Fava Bean, Taleggio, and Arugula.  Bold flavors and great texture started the evening beautifully.  The fava beans were a delightful surprise with the cheesy risotto.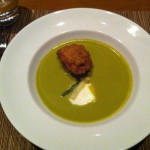 The first course of Watercress and Asparagus Soup with Dungeness Crab Fritter and Creme Fraiche was light and refreshing.  The crab fritter was slightly crunchy and paired nicely with the subtle sweet of the soup.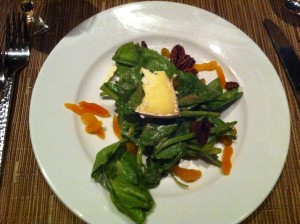 The candied nuts offered a sweet side to the creamy brie and tart greens in the Pen Tendril Salad with St. Andre Brie, Raisins, Apricots, Candied Nuts and Roasted Apple Vinaigrette.  The salad was a refreshing mid-point after risotto and soup, giving me the opportunity to slow down and savor all of the sweet, tart, creamy, savory flavors and prepare my taste buds for the next level of mouth watering goodness.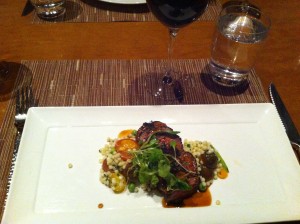 It was a tough decision between the  Mustard-Crusted Pork Tenderloin, or Char-Grilled Lamb Loin, or Pan-Roasted Halibut.  We compromised on both the Lamb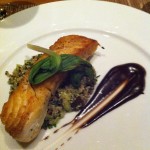 and the Halibut.  It was a tough choice between the juicy lamb and the perfectly seared halibut, but the lamb & wine pairing exploded with flavor and even though I was getting full, I still wanted more!

The evening ended with a light & fluffy Strawberry Shortcake with Grand-Marnier Marinated Strawberries.  Cork's pastry chef recreates classic desserts and improves upon them, the shortcake was no exception.  The strawberry reduction was flavorful without being too sweet.  It was the perfect ending to a fantastic meal!
The four courses were only $35 per person, and worth every penny.  I am excited to see what's on next Sunday's tasting dinner menu!