5 easy steps for doing your own taxes, plus advice on when to hire professionals.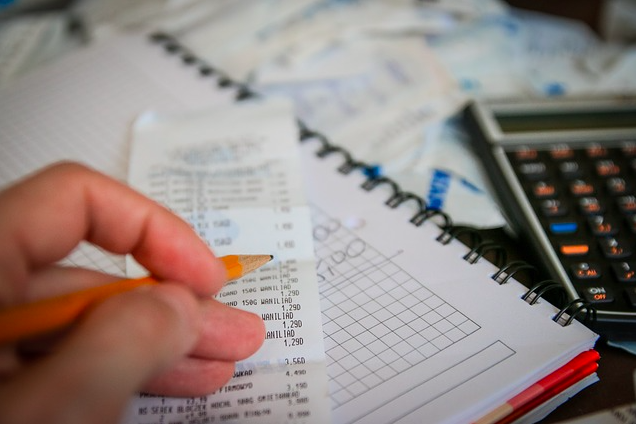 When I started filing taxes decades ago, it was a tedious process of convoluted tax tables and writing the information on the correct tax forms by hand.  There were separate instructions on exactly how to staple the W-2 income statements correctly to the exact page.  Annual returns were manually entered into the IRS system, introducing another person to make a mistake.  I remember double checking everything I had written before sealing the envelope, mailing my return, then waiting weeks and weeks for my refund check or correction letter.  While attending University for my Finance degree, I took many accounting classes, and worked for several accountants over the years, including an independent tax firm.  Admittedly, I have a complex tax return, and I pay a professional (after I have completed a preliminary return on my own) to file my taxes.
Today, tax preparation software makes the entire process less error-prone and much easier thanks to the software performing all necessary calculations, plus extra help from the questionnaires.  All information entered is automatically reviewed and anything the software detects as out of the ordinary is flagged for review and possible correction.
DIY Tax preparation can be completed and submitted in 5 easy steps.
Gather all of your tax Forms mailed at the beginning of the year.  W-2 Employment income forms and 1099's must be sent to you by the first week of February for the previous year income and tax withholding.
Select a tax preparation software. The big 3 programs are: Tax Act (usually the cheapest option), H&R Block (tiered pricing, easy to use, great user reviews), and TurboTax (tiered pricing, consistently ranked highest for ease of use, integrated mobile app, excellent customer service).  You will need to purchase Federal and State forms for every state in which you have an income.
Start entering your information and follow the prompts. Register your account and save frequently.  You may need to take breaks and gather more information (or your sanity).  Health care costs, car insurance, student loans, new spouse, new baby, charity donations, interest earned and other major life events will have a section or form to complete, based on initial questions and prompts.
If at any point there are too many forms and you feel overwhelmed, save and take a break. Maybe you entered something wrong and now it is asking for your Texas farm revenue, but you are not from Texas nor are you a farmer!  No problem.  There are review options and you can go back and correct or start over.
Perform the double check and read any alerts, flags, or errors from the tax software.  When everything checks out with the software and you have entered all your information, submit your return.  The software will provide IRS Federal & State receipt confirmation, progress reports, and refund/payment information.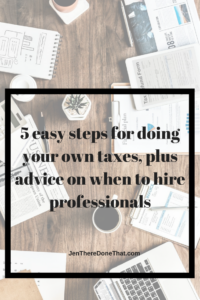 If for any reason you realize that you missed something, you can always file an amendment for the current year and for any return up to 3 years prior. Be honest and provide information to the best of your ability.  Do not be afraid to call in a professional.
Here are a few scenarios where you may want to hire a professional:
Self-employed – 1099-MISC
Starting, buying, or operating a business – Schedule C
Rental properties or multiple owned properties
Unexpected money from inheritance, large gambling winnings, or lottery jackpots
Foreign income and/or living abroad (you still have to pay US taxes)
Capital gains or losses – Schedule D
Extremely complex itemized deductions, if you struggle with any of the questions while doing these yourself.